Online Dating Study
The Truth About Dating in the Digital Age
Two studies by the Pew Research center — one on the role of tech in relationship management and one on finding love online — tell it like it is: dating and the digital age are a match made in heaven.
Do you and yours use smartphones, social media, and the web to stay connected? For better or worse, that answer is yes for most Americans. Some share passwords, text each other while they're both at home, and resolve arguments over SMS!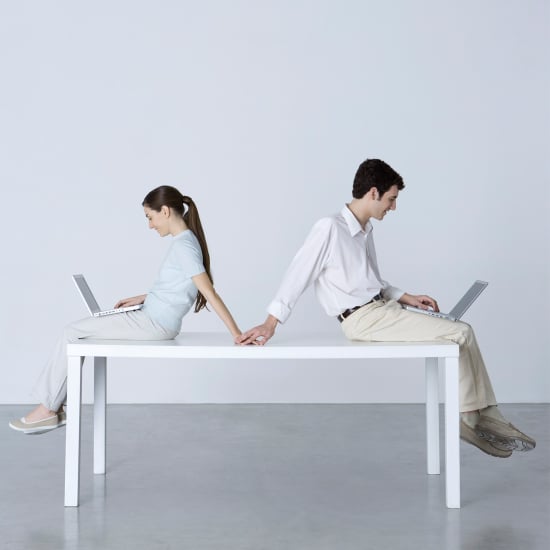 A Look at the Numbers
Here are some of the more interesting statistics about love in the digital age:
67% of users in a marriage or committed relationship have shared their password to at least one online account with their partner.
25% of married or partnered adults have texted their partner while they were both at home.
25% of cellphone owners have felt their spouse or partner was distracted by their device during alone time.
41% of 18-29 year olds have felt closer to their partner because of chatting or texting.
23% of 18-29 year olds have resolved an argument using digital means.
Online Dating Is More Prevalent Than Ever
According to Pew, the stigma against online dating is losing steam, and public approval of meeting significant others through digital means is way up. If you're an online dater, or shy about creating a profile on a site like OkCupid, eHarmony, or Match.com, consider these revealing statistics about what it's like to date in the virtual space and Americans' changing views of online dating.
We might as well call 2013 the age of digital dating. Apps like Tinder, OkCupid, and Grouper saw meteoric growth this year, and this quickly expanding market has significantly shaped public opinion of online dating, according to the Pew study.
More than half of all Internet users — 59 percent — agree that "online dating is a good way to meet people, which is a 15-point increase from the 44 percent who said so in 2005. This jump is most likely attributed to the fact that most people have witnessed the success of online dating for themselves. Forty-two percent of all Americans know at least one online dater, and more than half of those Americans know someone who has found a spouse or long-term partner via digital means.
They're also more likely to have used a dating site themselves. One in every 10 Americans admits to having used a website or app to find dates.
The most significant change, however, is that people in every major demographic group — not just young people in urban areas — are more likely to know an online dater and view partners that met on the web more positively. The Pew study found that old and young, male and female, and urban and suburban demographics were all more inclined to have an online dater within their friend circle, which was certainly not the case eight years ago.
Calling vs. Texting
Though smartphone users have garnered the courage to ask someone out, phone calls are still preferable to texting. More than half of smartphone users — 52 percent — have called someone to ask them out on a date versus the 37 percent who have texted the request.
Digital Wingwomen
Traditionally, a good wingwoman knows how to make introductions, what to say to make you look good, and when to step away. In this day and age, the platform has changed, but the role of wingwoman has not. Twenty-two percent of online daters have asked for assistance in crafting the perfect profile. Women are twice as likely (30 percent of female daters versus 16 percent of males) to recruit a wingwoman for help.
Control + Alt + Delete
Breaking up is tough, and dealing with the digital aftermath is even worse. Luckily, there are a few ways to ease the pain, and there's even an iOS and Android app called KillSwitch that removes all remnants of your ex from your Facebook profile.
According to Pew, 17 percent of social networking-site users go through the painstaking (but perhaps therapeutic) task of untagging and deleting photos of themselves with their ex. Some users (22 percent) go so far as unfriend or block their former flames.
The Not-So-Surprising Downsides
People filtered their online presence long before Instagam made it popular. The not-so-surprising downside to digital dating is that you never really know what you're getting until you meet them. More than half (54 percent) of online daters have felt that someone seriously misrepresented themselves and, more seriously, 28 percent of online daters have been contacted in a way that made them feel uncomfortable. Most of the reportedly harassed daters were women.
What has your dating experience been in the digital age? We want to hear about your success stories and horror dates in the comments below! Are you a caller or texter? Is deleting all digital traces of your ex the way to go?