Oregon Wildfire Wedding Photos
Wildfire to Thank For Breathtaking Wedding Photos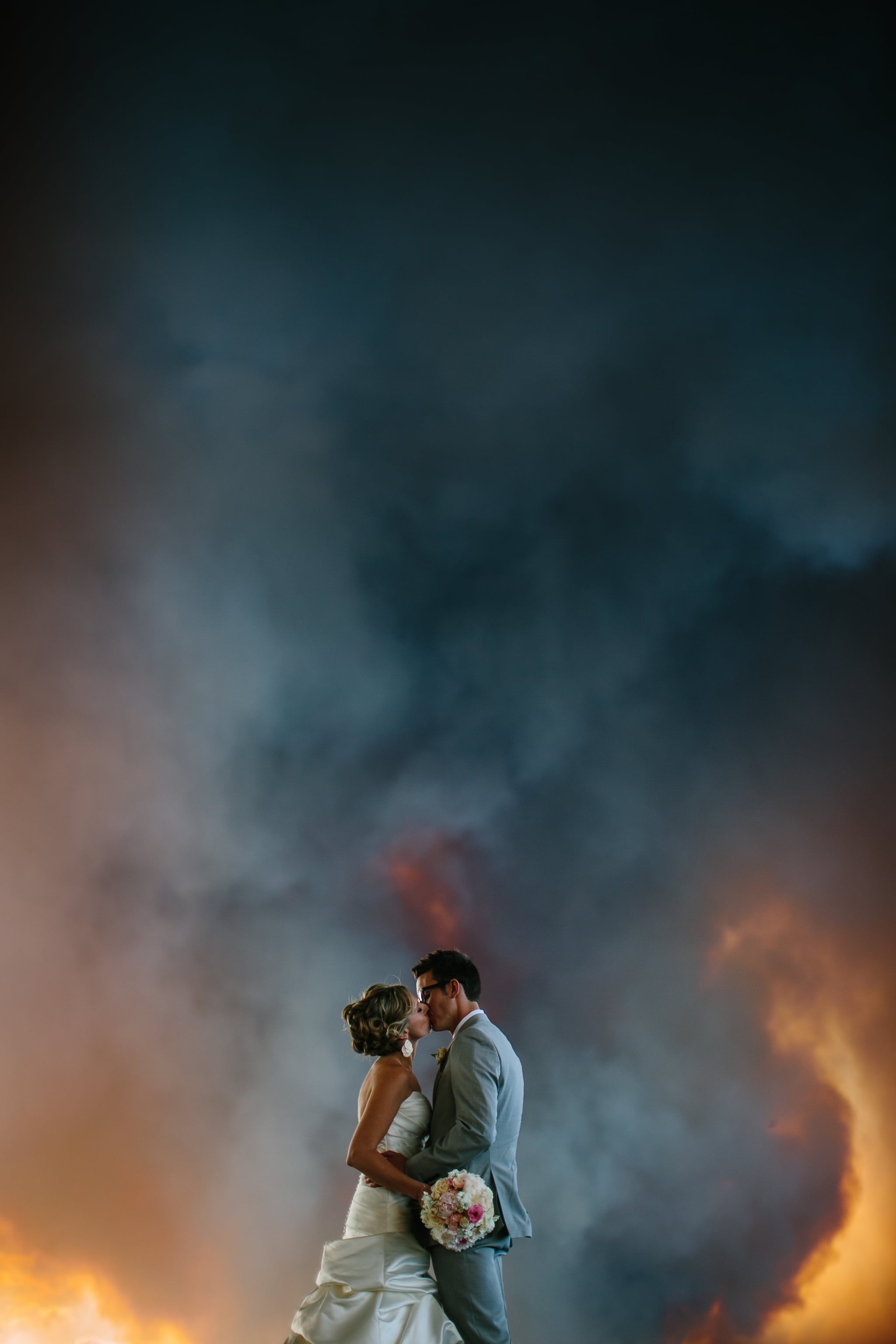 It's one thing to have rain on your wedding, but wet weather has nothing on a blazing wildfire heading toward your wedding destination. Michael Wolber and April Hartley faced this dangerous predicament when they tied the knot at Rock Springs Ranch near Bend, OR, over the weekend. In a situation almost identical to Mitch and Cam's Modern Family wedding, firefighters crashed the big day to order an evacuation, but luckily the two were able to rush through the ceremony and take some stunning photos with the fire in the background. Photographer Josh Newton shared the story on Facebook:
About 11 a.m., a small brush fire turned into a giant wildfire about 6 miles from the ceremony site. The wedding was at 4, and everyone was set up. Right as the bride was about to walk down, a firetruck came in sirens blaring and told the bride we had to evacuate. In tears, her father announced to all the guests that we had to move the wedding. Incredibly, the fireman then told us we could have the ceremony and then had to leave. I've never seen anything like what happened next. Everyone moved the entire wedding to a park in Bend, all with smiles and good attitudes. It showed everyone at the wedding what really mattered — the people and the couple. The location change didn't affect the wedding at all, it was the most beautiful day. In planning my own wedding, it was an incredible reminder to really value and cherish the most important things in life. While the guests, caterers, and DJ all moved to Drake Park and setup, we snuck away and got some of the most incredible wedding photos I've ever taken."
See more stunning photos from the wedding on Style Me Pretty.
Photos by Josh Newton via Style Me Pretty