Wedding Music Mistakes
The Biggest Wedding Music Mistakes You Need to Avoid
Bridal Guide shares 23 big mistakes you could make when it comes to your wedding music. Read this list to make sure the night runs smoothly.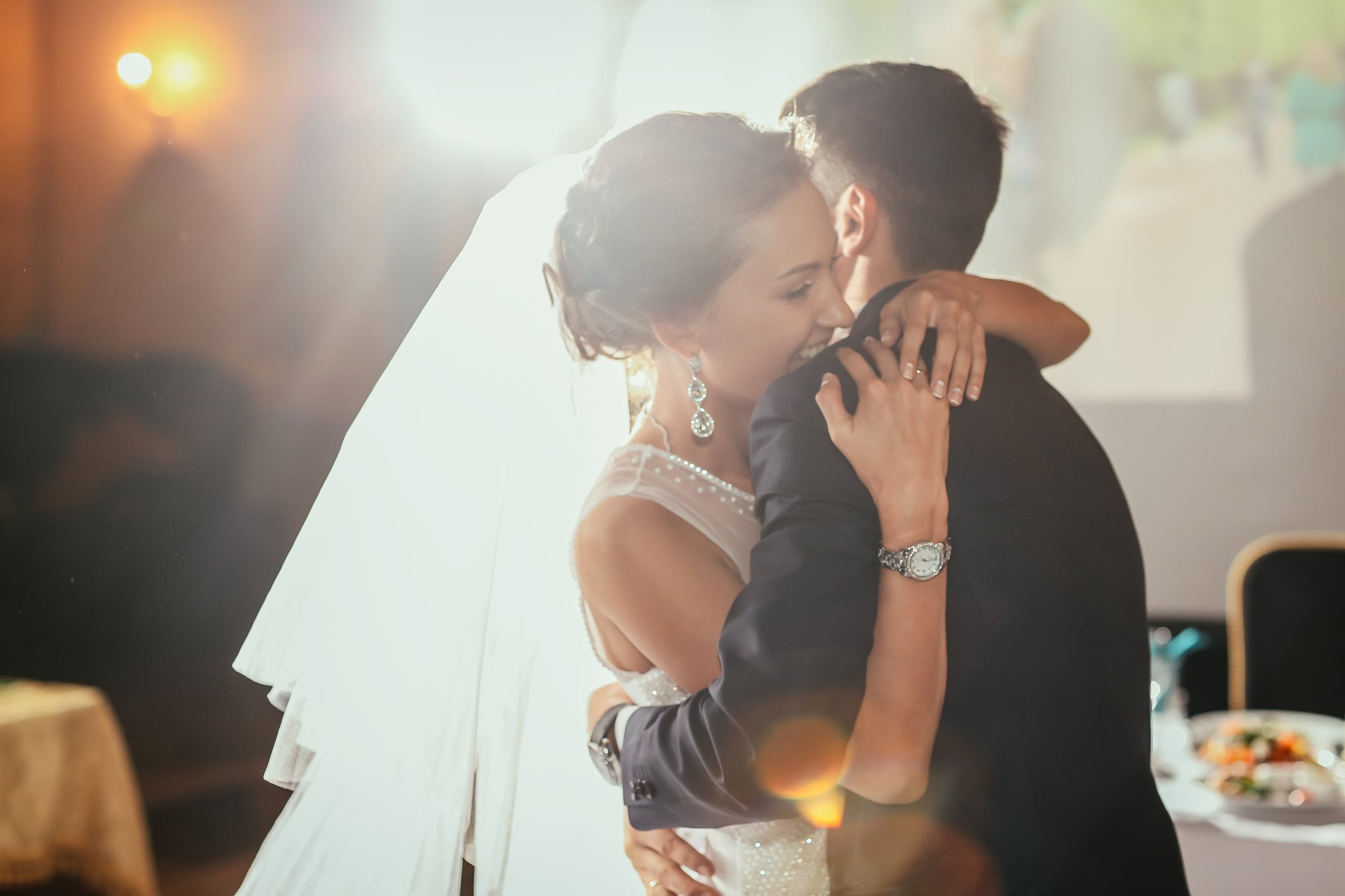 Although your DJ or band is responsible for entertaining your guests, there are some things that brides and grooms can also do to ensure that the soundtrack for their big day hits all the right notes. Here, wedding pros share the most easily avoidable wedding music blunders.
1. Not Playing Songs Your Guests Want to Hear
While your wedding should absolutely reflect your musical tastes, part of being a gracious host entails catering to the crowd for at least a portion of the evening. After all, "A little swing music, some early rock 'n' roll hits or even some classic rock can often bring out folks that wouldn't have otherwise put on their boogie shoes. Once the night wears on, and it's just the die-hard party animals, you can turn on whatever you want and jam out," says Nate Bellon from the band Josh and the Empty Pockets.
How are you supposed to know which hits will inspire everyone to leap out of their seats? Ask and you shall receive: "My wedding website included a section to capture song ideas. Guests completed the following sentence: You'll find me on the dance floor when they play ______," says Kristen Ley Green from Something New For I Do. The list then got sent to her so that she could share it with her DJ. Or you could include a prompt on the RSVP insert that guests can mail back to you, instead. Check out songs that'll get everyone dancing ►
2. Abruptly Switching From One Genre to the Next
Imagine this: You're enjoying a sweet slow dance when the MC brings it to a screeching halt: "Who's ready to party?!" Suddenly, you and your fiancé find yourselves in the middle of a salsa fest with no warning. "Guests will literally 'get into the groove' of a song and want to continue with that feeling for the next few tunes. Make sure your music flows!" says Anastasia Stevenson from How to DIY Wedding. A bassy hip-hop song shouldn't lead to an acoustic love song from the '70s straight to the Macarena.
"Find out if the DJ you're considering will know how to read a crowd. If they switch abruptly from one genre to the next, it could just kill the overall vibe," says Michelle Girard from Michelle Girard Photography. In addition to reading reviews and getting recommendations from friends and other trusted vendors, ask to hear examples of their transitions.
3. Sticking to Just One Genre
It's crucial to take all guests into consideration when selecting the music, especially if you have a diverse demographic audience. "When you appeal to just one subset — e.g. alternative rock or country — you will miss the mark," says Greg Jenkins from Bravo Productions. Andrea Freeman from Andrea Freeman Events tells us that when couples play one type of music all night long, "Eventually their entertainment slips into the background and people are just hanging out." Talk to your band or DJ about the breakdown of your crowd so they can suggest cross-generational hits to keep things lively for everyone.
Also, once the dance floor has opened up for the evening, keep the energy up with a majority of up-tempo songs. "You can get away with a few more mid-tempo tunes interspersed throughout, but nothing sucks the energy off a dance floor like too many slow songs," Bellon says.
4. Not Including "Play" and "Do Not Play" Lists
Jot down music requests together with your partner — include songs that have special meaning in your relationship and to your families, as well as those you would prefer to skip. "I've seen some newlyweds get so overwhelmed with the planning process that this task never gets done. However, these tend to be the same couples who get upset when the music they wanted to hear isn't being played," Freeman says. Jazz, R&B, and pop can mean different things to different people, so it's critical to sit down with your band leader or DJ and review all of this info.
"Sometimes couples will say things like 'Play something I can dance to' or 'I like stuff that sounds like hip-hop but not really.' These requests are way too generic," says Marshall Weinstein, aka DJ Martial, the CEO and founder of SET Artist Management. Identify specific genres and bands, and your DJ will put together an arsenal of great songs that you'll love. Plus, the DNP (do not play) list comes in handy when "The couple's cute little cousin requests Lady Gaga or the drunk couple from work asks for another Barry Manilow song. If these artists are on the list, the performers know not to play their songs and can suggest something else, instead," says Mark Weiser from Shake Rattle & Roll Pianos.
5. Choosing Songs With Awkward or Inappropriate Lyrics
Avoid music with cringe-worthy lyrics, especially when it comes to your special dances. "The biggest blunder is playing songs that aren't particularly romantic just because they're popular for the moment," says Dorian Smith-Garcia, the founder and editor-in-chief of The Anti-Bridezilla. She cites Bruno Mars' "Marry You" as an example ("We're looking for something dumb to do, I think I want to marry you"). "Always a Woman" by Billy Joel is another repeat offender ("She can kill with a smile, she can wound with her eyes, she can ruin your faith with her casual lies"). "If we had a nickel for every time a couple requested it but never listened to the opening lines, we'd be rich," Weiser says. See some of the worst song requests, here ►
Then, there was the bride and groom who wanted "Baby Got Back" by Sir Mix-A-Lot for their first dance! It's respectful to keep the music in good taste, as you may have a lot of guests from the older generation or children, and it wouldn't be appropriate to play certain types of songs. "Most weddings are a family event, but I'd had couples play rough music that is very derogatory and drops the F-bomb. That might be what they listen to on a regular basis, but it shouldn't be something they add to their wedding playlist," says Courtney Lutkus from Simply Radiant Events.
6. The Music Is Too Loud
Ideally you want to send guests home with favors and fond memories, not a pounding migraine! Keep the sound level reasonable since not everyone will be able to appreciate a dance club atmosphere. "Ask your DJ or band leader to avoid making it too loud to the point in which guests can't converse throughout the reception. Also, be conscious of where they place the speakers so that you don't upset any guests that are too close for comfort," says Aviva Samuels from Kiss the Planner.
Research the sound ordinance laws in the town you're getting married in, and ask your venue if they have any noise level restrictions to avoid having your party shut down.
7. Hiring a DJ or Band Without Enough Experience
Determine whether they are a well-rounded, successful entertainer who can bring a level of expertise and versatility to your event. "You want to ensure that your DJ isn't a one-dimensional part-timer, but a true performer whose had varied and extensive experience performing in front of different (and tough) audiences," says DJ Kev Sakoda from Scratch Weddings. Keep in mind that "If they work at nightclubs, but they've never done a wedding, then they may not be as interactive with guests as a well-versed industry vendor," says Kate Whelan from Kate Whelan Events.
Unlike an amateur DJ or family friend, a professional wedding band or DJ risks their business reputation and livelihood with every job they do. "They receive much of their business from referrals, so they will work hard to make sure that guests have a blast and recommend them for future events," Stevenson says.
8. Not Meeting the Master of Ceremonies Before the Big Day
You should have a good connection with your MC since they'll be the one responsible for entertaining your crowd. "If they can't impress the two of you, how will they be able to entertain a large room full of people with varied tastes and personalities? That person should reflect what you hope to portray on your big day," Samuels says. Listen to their music demos or watch wedding performances to get a sense of how they will interact with your guests.
Also, make sure the members you see live will be the same ones performing at your event. "Some bands book themselves out two or three times on the same day, and have a stable of musicians to call on," says Raymond "Ray" Novack from the wedding band Horizon and the Horns.
9. Glossing Over Contractual Terms
Thoroughly review the contractual terms when selecting all of your entertainment. "If you miss the costs associated with the rider clause or payment terms, it could result in chaos and additional costs you didn't anticipate," Jenkins says. Check out six things you should know about wedding contracts ►
10. Ceremony Snafus
Go over any processional and recessional cues with your musicians. For example, let's say that you want them to play a particular song for your bridesmaids and another tune for your flower girls. They should know exactly how many people to see walk down the aisle before switching. (Avoid choosing a song that isn't long enough for all of your bridal party attendants to walk down the aisle, so it has to be looped multiple times.)
"I've seen musicians start playing the recessional music right when the bride and groom kiss, only to stop abruptly when the officiant announces the couple or gives brief instructions to the guests. Even worse is when there's an awkward silence after the kiss because the musicians are waiting for some cue that wasn't discussed!" says Erin Kelly, a professional cellist. Ask your officiant to check in briefly with your musicians before the ceremony so that everything goes smoothly.
11. Not Providing Adequate Shade During an Outdoor Event
Even if there are plenty of trees at your ceremony or venue site, musicians should be in the shade at all times since instruments are sensitive to heat and need to be protected. "I think that often, a couple will check out a venue during the off-season and the shade provided may seem adequate at the time. However, by the time a summer wedding rolls around, it will be nonexistent," Kelly says. Work with the venue to provide a canopy or umbrella that can be adjusted as the sun moves.
12. Technical Issues
"If the venue is historic or a hotel that was built before big weddings became popular, you may not have enough power to accommodate a large (or even small) band," Samuels says. Doing your due diligence in advance will allow you to contract a generator or distribution panel to remedy the problem, or avoid paying for a band that you can't use.
Also, your DJ or band should hold a sound check to test whether their equipment works properly in your venue and pinpoint any potential issues before the reception begins.
13. Picking a Lackluster Song For the Reception Entrance
"The couple's entrance sets the tone for the rest of the party, so their song should be extremely high-energy," says Tracie Domino from Tracie Domino Events. The DJ or band will typically play the entrance song for a short amount of time, so it should be familiar to guests since they'll only hear a portion of it and lyrics might get cut off. Get song recommendations for your reception entrance ►
14. A First Dance Song That's Too Long
The first dance should be no longer than two or three minutes max so that guests don't lose interest. Have a fun pre-wedding dance party to "test" out your favorites and narrow them down. "Sometimes the bride and groom can't decide on just one song, so they end up combining a few, and they tend to lose the crowd," Weinstein says. He encourages couples to pick the one that's the most meaningful and to move the rest of the favorites to the playlist later in the evening so that it's a win-win for everyone.
Also, don't be afraid to ask the band to learn a new song or two, if necessary. "If they're true musicians and practice regularly, then this shouldn't be a problem," Novack says. Check out popular first dance songs ►
15. Letting the Speeches and Toasts Run On
Making guests sit through speeches and formalities for the first 30 minutes to an hour can kill the party atmosphere. "I've seen so many brides, grooms, and guests roll their eyes and nearly doze off by the sixth wedding speech! I've also witnessed toasts that took up to an hour to get through because so many people were allowed to say something," says Dannis Winston, band leader, and CEO of Winston's Crew Collective. Give each toast-maker a specific time limit to help them stay on track.
16. Radio Silence as Guests Switch Rooms
If your cocktail hour will take place in a different location than the main reception, the last thing you want is for guests to walk into a totally silent room, which kills the mood. Ditto for bands taking a break. Ask the venue if they can play house music or pre-recorded tunes from your band over their sound system until the musicians are ready.
Rental sound systems are also an option, but keep in mind that they include operation, setup, removal and transportation expenses. "Make sure to mention if you need to hook up an iPod or the like since it's not a default option offered on most sound systems," Bellon says. If all else fails, even a little Bluetooth speaker can work for a few minutes until people begin to fill the room.
17. Too Many Food Courses
Everyone wants a great meal for their celebration, but sometimes there can be too much of a good thing. If you have dinner and dancing, consider how long it takes to serve and clear each course. "A four-course meal may sound lovely but it's a long time to be sitting, and it's a lot of food to consume before guests shake their booties. Consider trimming the number of courses down to a starter and a main course, and offer cake later in the evening," says Larissa Banting of Weddings Costa Rica.
18. Waiting Until the Last Minute to Select Spotlight Dance Songs
"Many couples don't think about their parent dances until a few weeks before the wedding and then they rush to select songs. They should have some sentimental significance but if not carefully selected, then they'll have minimal meaning," says Randi Martin from Trilogy Event Design. Start the process at least six weeks before the big day so it remains fun and productive. If you plan on doing multiple spotlight dances with other family members as well, you may want to space them out. Browse father-daughter and mother-son songs you'll both love ►
19. Not Choosing a Cake-Cutting Song
Having a cake-cutting ceremony? The pros advise selecting the background song in advance. "Sometimes my clients don't want to be fussy or make a big deal of that moment, so they choose not to select a song. However, it takes some time for the cake to be brought out, the couple to figure out how to cut it, eat it, kiss, take photos, etc. Those minutes tick by with your guests totally focused on the moment. And either you have no music (boring), or some random song is playing that is getting a lot of attention," says Viva Max Kaley from Viva Max Weddings.
20. Disorganization
"After 40-plus years of playing over 1,000 weddings, I have seen problems that stem from the band not being in sync with the wedding coordinator. In some cases, the coordinator cannot be found at key times, and the band leader or DJ, right or wrong, is forced to take charge," Novack says. For example, Mom and Dad might go missing at the start of the parent-child dances. Work with your function coordinator and DJ or band to come up with a timeline regarding the order of events.
21. Micro-Managing the Playlist
A big part of a DJ or band leader's job is to read the room and select each song based on the mood of the dance floor. Sometimes an amazing song just isn't a perfect fit for that moment in time. It's crucial to let go of total music control, so everything flows seamlessly. "Some brides and grooms are too controlling, and it hurts them in the end. They become a sort of 'puppet master' if you will," Weinstein says. "Standing behind a performer telling them what to play or do will only cause anxiety and force the party into a different direction."
Couples should trust in the professionalism and skills of their performers and feel confident with their choice. "When you talk to your DJ, they should be excited about your event. They should get a sense of your musical history and feel confident they can pick songs you would like even if they are not on your list," Kaley says.
22. Not Scheduling Breaks or Feeding Your Vendors
Not only will your musical entertainment need to use the restroom but they'll also need to eat and rest their vocal chords. If you're using a live band, this is especially important. "I always tell my customers that we play better on full stomachs," Novack says.
Discuss breaks with your DJ or band in advance so that you know what to expect and avoid any potential upsets. "I once worked with a couple who only wanted to hire the live band — they never wanted a DJ or iPod to be used. They were upset when the reception ended early because the band was exhausted. The situation could have easily been avoided and only required a tiny bit of flexibility on their end," Freeman says.
23. Assuming That a Raging Dance Floor Is the Only Way to Have a Fun Wedding
If the thought of dancing for hours makes you cringe, or you just prefer to have a long elegant dinner, instead, don't fret. "Sometimes people think that a good wedding has to have a crazy, wild hopping dance floor to be a success. Although a rocking dance party can be super fun, it's not the only way to enjoy a wedding. Think about you and your guests' personalities and priorities and choose musical partners accordingly," Kaley says.
For example, stylized entertainment such as a string quartet or Brazilian jazz group are fun choices regardless of whether you're on the dance floor or not.
— Stefania Sainato
Check out more great stories from Bridal Guide: