What Is a Bridechilla?
The 1 Reminder That Helped Me Calm the Eff Down and Become a "Bridechilla"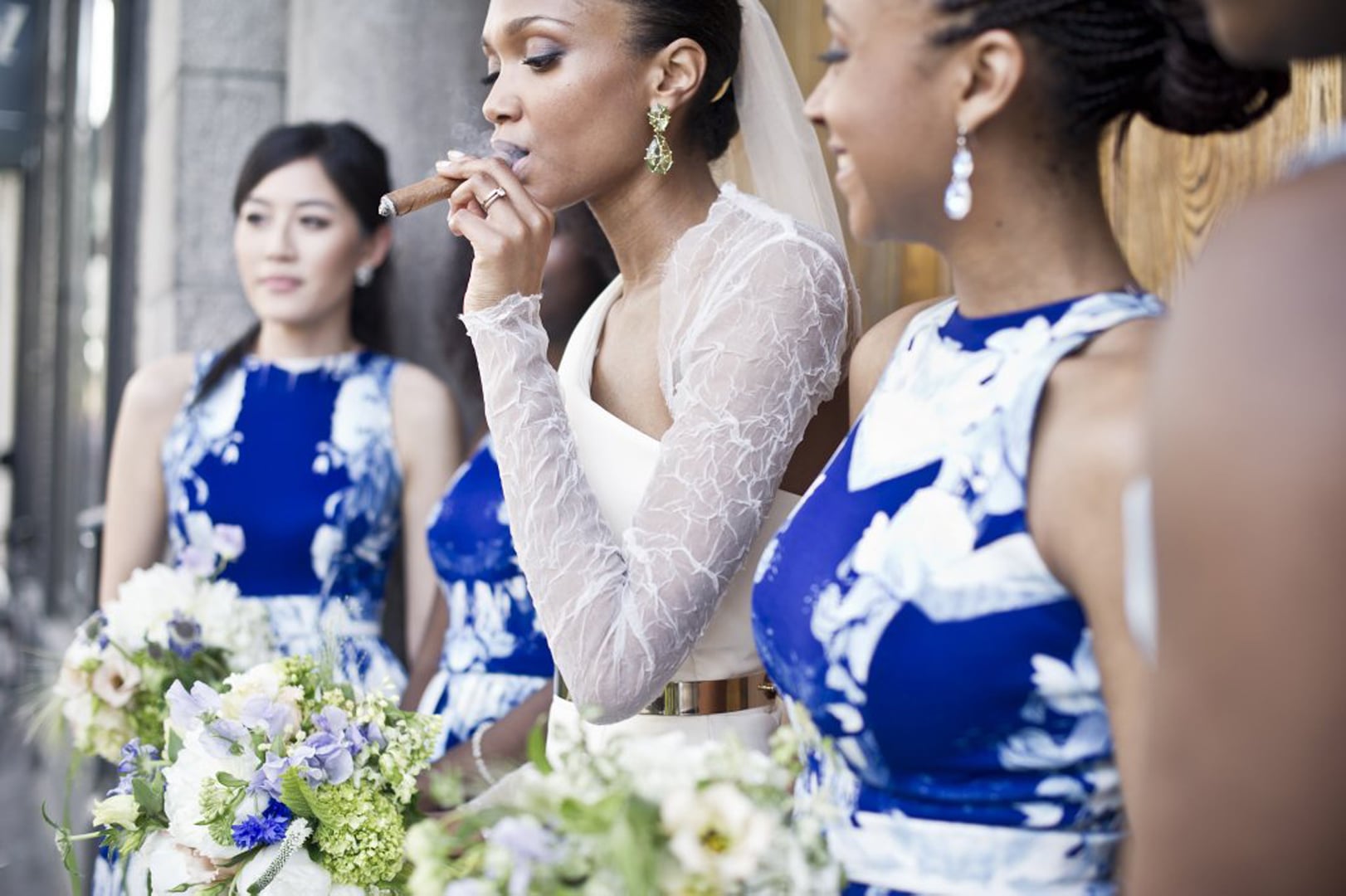 Four months into my engagement, a friend asked me how my wedding planning was going. When I replied that, in fact, there was no wedding planning yet because I'd been so slow to commit to anything, she laughed. "You're like the opposite of a bridezilla," she informed me, adding, "You're the ultimate bridechilla." Now, over six months into being a fiancée, I have a bit more wedding planning under my belt — but her statement about me being a bridechilla still rings true.
I wasn't always this way. Sure, I might've casually announced my engagement with a picture of chili cheese fries, but after the initial excitement of saying "yes" to my longtime boyfriend died down, there were many aspects of wedding planning that stressed me out beyond belief.
Who to invite from my and my fiancé's massive blended families, who was going to pay for what, how to navigate the stress of being a people-pleaser while also attempting to plan a budget wedding . . . the list goes on. Halfway through my first round of venue tours, I came down with the worst flu of my life; I had a 102°F fever and was bedridden for over a week. To this day, I'm convinced that I literally worried myself all the way to my f*cking sickbed after hearing the prices for San Francisco venues with a capacity for 200+ guests.
I was being a real Monica when I desperately needed a dose of Phoebe, and it turns out that all it took was a single comment from my fiancé to bring me down into bridechilla zen.
I was being a real Monica when I desperately needed a dose of Phoebe.
It happened in the midst of a now-regrettable and embarrassing moment. I was so frustrated after asking my fiancé what sort of venue he liked, whether my second cousins would shun me at family reunions if we didn't invite them, and what colors he liked for potential table linens, only to be met with shrugs and "I trust your judgement, babe"-s. Eventually, I snapped in a tone that was dripping with bitter sarcasm: "If you could muster up an ounce of care about this wedding so that it doesn't all fall on me, that'd be soooo great."
At that, he turned from whatever mundane household task he'd been doing to where I sat, stressing myself into sassiness amid a pile of wedding magazines and price-quote sheets. He plopped down, looked me in the eye, and said, "Look — at the end of the day, will you and I be married? Because that's what I care about. The rest is just extra." He also assured me that, if I wanted, we could abandon the wedding plans and head to city hall that week if it would make me happier.
Y'all . . . I felt awful. I'd gotten so caught up in details of throwing a big, expensive party that I'd become detached from the whole point: I am making a commitment to spend the rest of my life with someone who makes me incredibly happy (and also happens to have an incredibly cute butt).
When did I become a girl who freaks out over linens? And, more importantly, when did I become the sort of person who took it out on my partner?
We didn't head to city hall that week, and we're still planning a large, undoubtedly pricey wedding. I still don't have it all figured out, and I'm still somewhat concerned about my relationship with those uninvited second cousins.
But where I used to be filled with anxiety about every detail, I now feel a profound sense of calm — after all, when everything is said and done, I'll be hitched to the best human I know. It's easy to be a bridechilla when you remember to prioritize your marriage over your wedding, and I can thank my future husband for that reminder.
Damn, I think I'll marry that guy.