Admit It: You Still Fantasize About These Sex Scenes From American Horror Story
American Horror Story has never shied away from delivering some of the steamiest (and most WTF-worthy) sex scenes ever aired on television. Sure, technically it is a horror show and it's supposed to be frightening for viewers to watch, but it's hard (pun intended) to be afraid when you're slightly turned on. Ahead, we've rounded up the top 10 raunchiest moments from the series that you'll want to go back and replay over and over again.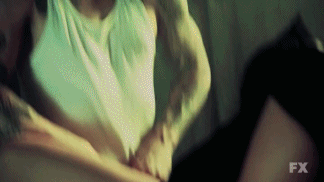 Leo Morrison and Teresa, Season Two
Maroon 5's front man Adam Levine had not one but two (!) memorable sex scenes during the show's second season, American Horror Story: Asylum. In this scene, Levine played a newlywed photographer Leo Morrison, who used his own saliva as lubricant for his wife Teresa (Jenna Dewan Tatum).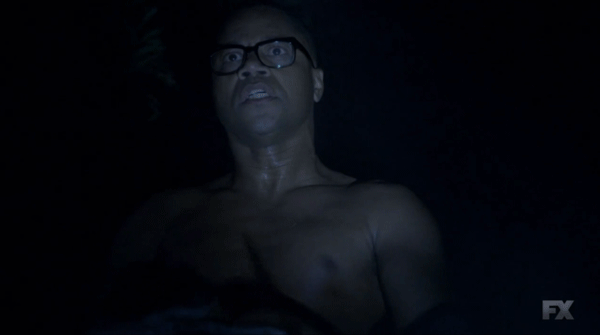 Scáthach and Matt, Season Six
Lady Gaga made a special guest appearance in episode seven of the show's sixth season, American Horror Story: Roanoke. The singer portrayed a powerful witch named Scáthach, who seduces Cuba Gooding Jr.'s character, Matt, into having sex with her before they are caught by his wife, Shelby (played by Sarah Paulson).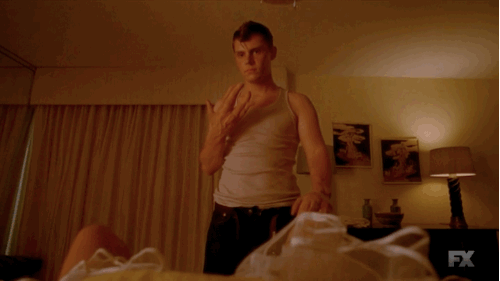 Jimmy Darling, Season Four
Evan Peters proved he was quite the handy man when he took on the role of Jimmy Darling in the series fourth season, American Horror Story: Freak Show. Jimmy, born with a medical condition which caused his fingers to fuse together, used this to his advantage by pleasing the many women who visited the freak show he was a part of.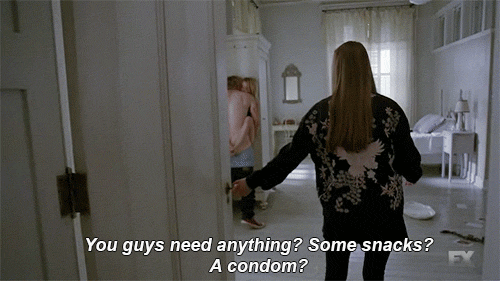 Kyle and Madison, Season Three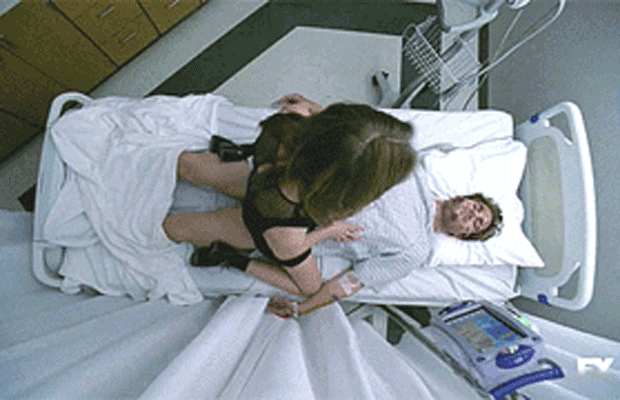 Kyle and Zoe, Season Three
Ryan Murphy gave the phrase "p*ssy power" a whole new meaning during season three of American Horror Story: Coven. At the start of the series, Zoe, played by Taissa Farmiga, quickly discovered that she had a dark power: she could induce brain hemorrhaging in any guy she had sex with.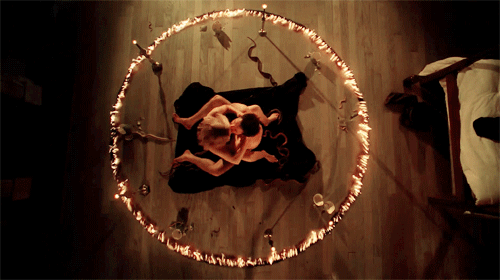 Cordelia and Hank, Season Three
Sarah Paulson received some steamy onscreen action in the third season of American Horror Story: Coven. Her unforgettable sex scene included a creepy pentagram, fire, and, of course, snakes — which could be a turn on if you're into that sort of thing.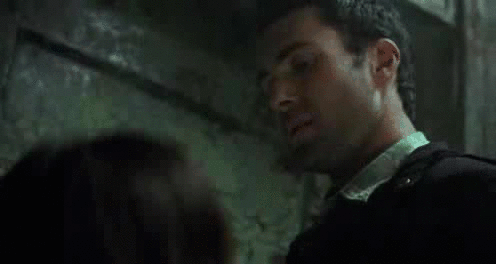 Leo Morrison and Teresa, Season Two
Remember that other Adam Levine sex scene we mentioned earlier? Here's a GIF of that mind-blowing moment. You're welcome.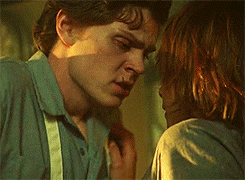 Kit and Grace, Season Two
Once again, the hotness that is Evan Peters found himself playing a character in the series who made time for some loving. This passionate kitchen sex scene from American Horror Story: Asylum is a personal favorite.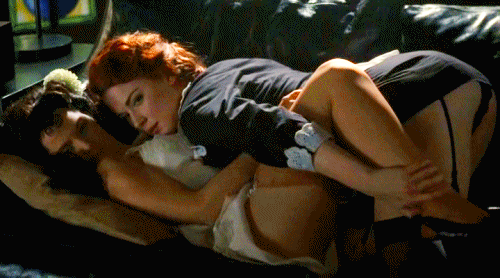 Moira and the Black Dahlia, Season One
The first season of American Horror Story: Murder House kicked off with a girl-on-girl sex scene that is still tantalizing to watch.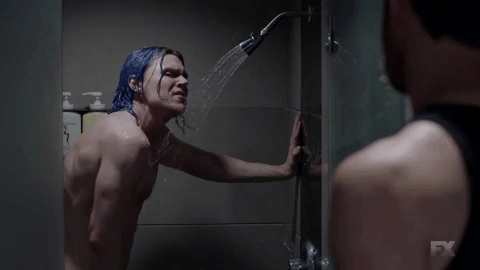 Kai Anderson, Season Seven