These Influencers Are Normalizing Dating While Disabled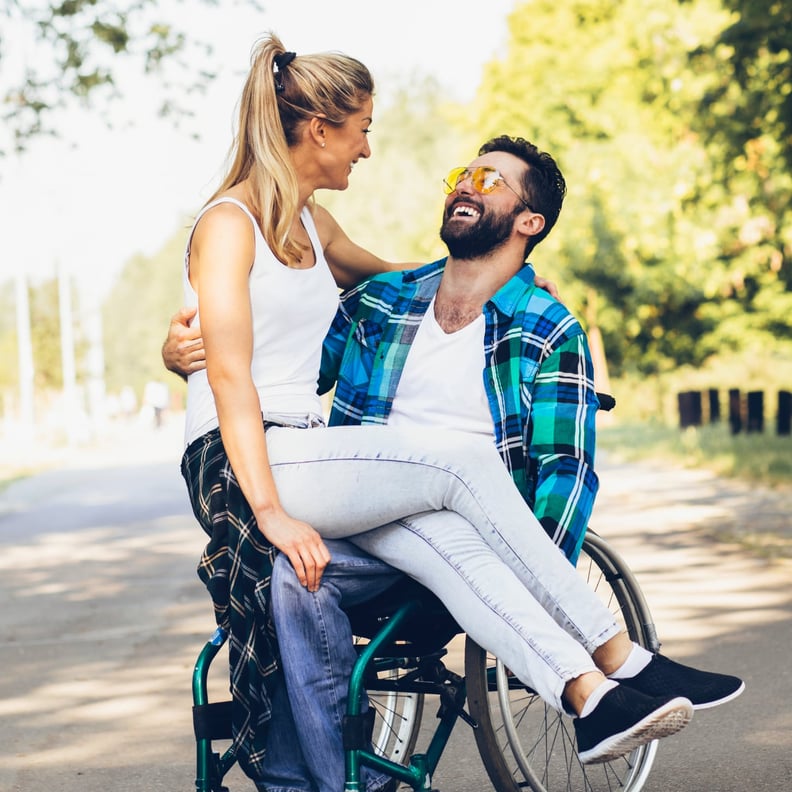 As clinical psychologist and sex expert Dr. Danielle Sheypuk told POPSUGAR recently in an email interview, "Dating is difficult for everyone, disability or no disability." Being open, honest, and ultimately vulnerable with another person can cause more than just a couple of butterflies, but having to educate that person on a disability just adds another layer to the mix.
With platforms like TikTok and Instagram, people within the disability community are using TikTok to openly share their experiences around dating, relationships, and sex, and calling out how others treat them based on their disabilities. These encounters have inspired social media users to have open conversations with their followers regarding dating as a disabled person. Check out these disabled daters who are changing the narrative.
01
Paula Carozzo (@pauuzzo)
Disabled blogger, inclusive advocate, and model Paula Carozzo uses her TikTok platform as her way of "redefining disability." When she was 5 years old, she was diagnosed with cerebral palsy after a malpractice from surgery in Venezuela, and since then, she's navigated a world that is not always accepting of her disability. She uses social media to educate others, share her experiences, and break down barriers when it comes to dating, with refreshing honesty. She's living out her Instagram bio by "changing the perception of disability one cane at a time."
Learn more about Paula by checking out her TikTok and Instagram.
02
Alex Dacy (@wheelchair_rapunzel)
03
Joci Scott (@jociscott)
Performer and creator Joci Scott takes to TikTok to share her feelings, experiences, and stories around her spinal cord injury. The wheelchair-user also posts dancing videos, dating content, and funny clips that have racked up the likes. Get a peek inside her relationship, and learn more about the performer through every post.
Learn more about Joci by checking out her TikTok and Instagram.
04
Ryann Kress (@chronically_ry)
Ryann Kress's Instagram bio says it all: "Advocate. Nurse. Keynote Speaker. Sex Educator. Athlete. Professional Gay. ON WHEELS ♿️" The Ms. Wheelchair Virginia 2020, 2021 winner has Ehlers Danlos syndrome (EDS), which is a genetic disorder that affects connective tissue, primarily the skin, joints, and blood vessel walls. When the nurse is not using her platform to spread awareness about the need for more disability visibility and accessibility in mainstream media and society, she's posting cute pictures of her and her girlfriend and normalizing dating for everyone.
Learn more about Ryann by checking out her Instagram.
05
Christina Schulz (@rarebonesx)
Christina Schulz is a disabled advocate who works toward creating acceptance and equality for all people. She has fibrous dysplasia and uses her TikTok platform to highlight her body, talk about sex, and debunk misconceptions about dating someone who is disabled.
Learn more about Christina by checking out her TikTok and Instagram.
06
Spencer West (@spencer2thewest)
After losing both legs from the pelvis down at the age of 5 due to a genetic disease, Spencer West has learned to navigate life without legs. With a huge following on TikTok, Spencer's videos dive into what it's like to be disabled, the kinds of questions he gets while dating, and how to be an ally. From love to life, his content is changing the way people see disabled bodies.
Learn more about Spencer by checking out his TikTok and Instagram.
07
Angela Sandland (@deerheart_woman)
Back in the dating scene, Angela Sandland knows that if someone doesn't accept you for who you are, they aren't worthy of your time. Due to her scoliosis and CMT, she uses a walking stick, and if people don't like that, she doesn't care. Her TikTok features videos about acceptance and dating, opening the door for more discussions on self-love and relationships.
Learn more about Angela by checking out her TikTok and Instagram.