Selling Sunset's Christine Quinn's Wedding Included Edible Spiders and a Bleeding Wedding Cake
If you watch Selling Sunset then you know that Christine Quinn knows how to throw a party. The third season of the Netflix reality series concluded with Quinn's wedding to retired software engineer Christian Richard, and — just like her season two engagement party — her nuptials put the "extra" in extravagant . . . and that's putting it lightly! But that shouldn't be a surprise, considering both celebrations were planned by Lisa Lafferty (pictured with the couple above), a high-end event planner, creative director, and culinary curator that's catered to some of LA's biggest stars. POPSUGAR recently spoke to Lafferty to get all the details on Quinn's lavish, gothic, winter-wonderland-themed wedding.
According to Lafferty, Quinn had a very specific vision for her big day. "Christine initially described her wedding vision as a winter wonderland dream with lots of snow, ice, dreamy twinkling lights, a lot of theatrical elements — oh, and a bleeding cake," Lafferty told POPSUGAR. "After the bleeding cake comment, I knew this wedding needed to have a wicked side — classic Christine Quinn-style. So, when [we] discussed the thought of doing a wicked twist, Christine and Christian loved it." Must-haves for Quinn included falling snow, smoking cocktails, live swans, show-stopping ice sculptures, and — of course — that bleeding cake.
For the winter wonderland ceremony, Lafferty drew inspiration from Chronicles of Narnia with a touch of Swan Lake. Then, for the "wicked" reception, Lafferty gave the space "sexy, gothic movie" vibes with skulls, gargoyles, and dramatic music. Since the same room was used for both the ceremony and the reception, Lafferty says the most difficult aspect of the event was transforming the winter wonderland ceremony space into the "wicked wonderland" reception in only 90 minutes while guests enjoyed cocktails outside (but, luckily, Lafferty and her team had over 130 staff members to help out). Keep scrolling for even more incredible details and photos of the unforgettable event.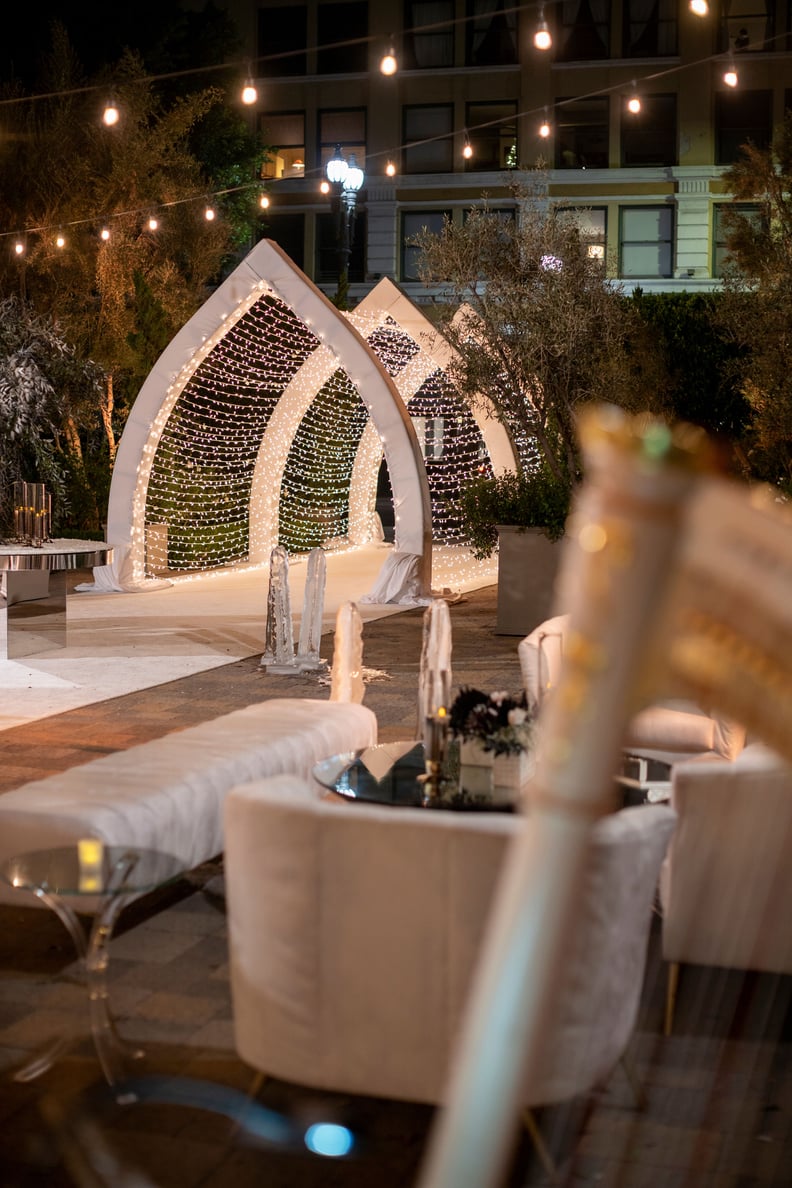 The Venue
Quinn and Richard's wedding took place on Dec. 15, 2019, at the Cathedral of Saint Vibiana in downtown Los Angeles. Vibiana was LA's first Archdiocese Catholic cathedral and is one of the city's few remaining 19th century landmarks, though now it's better known as a wedding, events, and performing arts venue.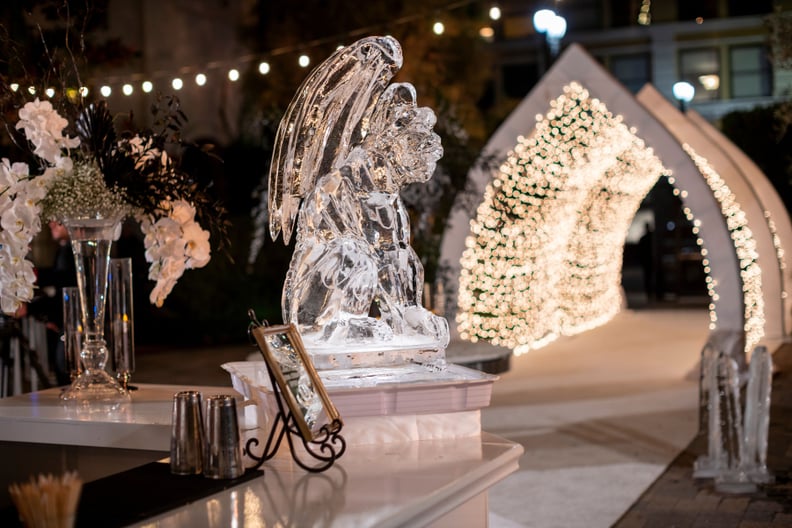 The Ceremony Theme
Guests arrived to a winter wonderland-themed "welcome hour" before the ceremony, where they could enjoy lounging areas with fur throws, a harpist, four-foot 3D gargoyle ice sculptures, and a premium bar with craft "smoking" cocktails. The post-ceremony cocktail hour took place in the same space, where disembodied hands wearing rhinestone gloves served guests onyx-tinted champagne through a wall.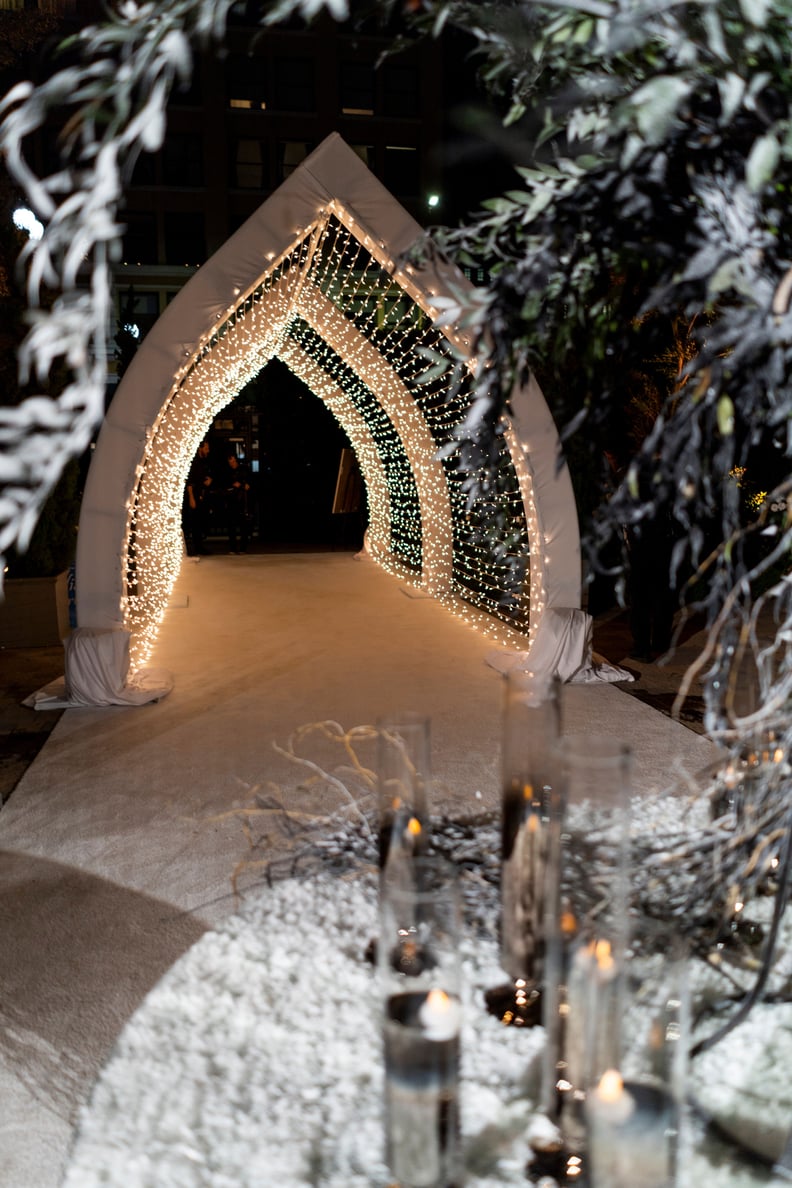 The Entryway
After the welcome hour, guests entered the ceremony space through a towering twinkle light tunnel.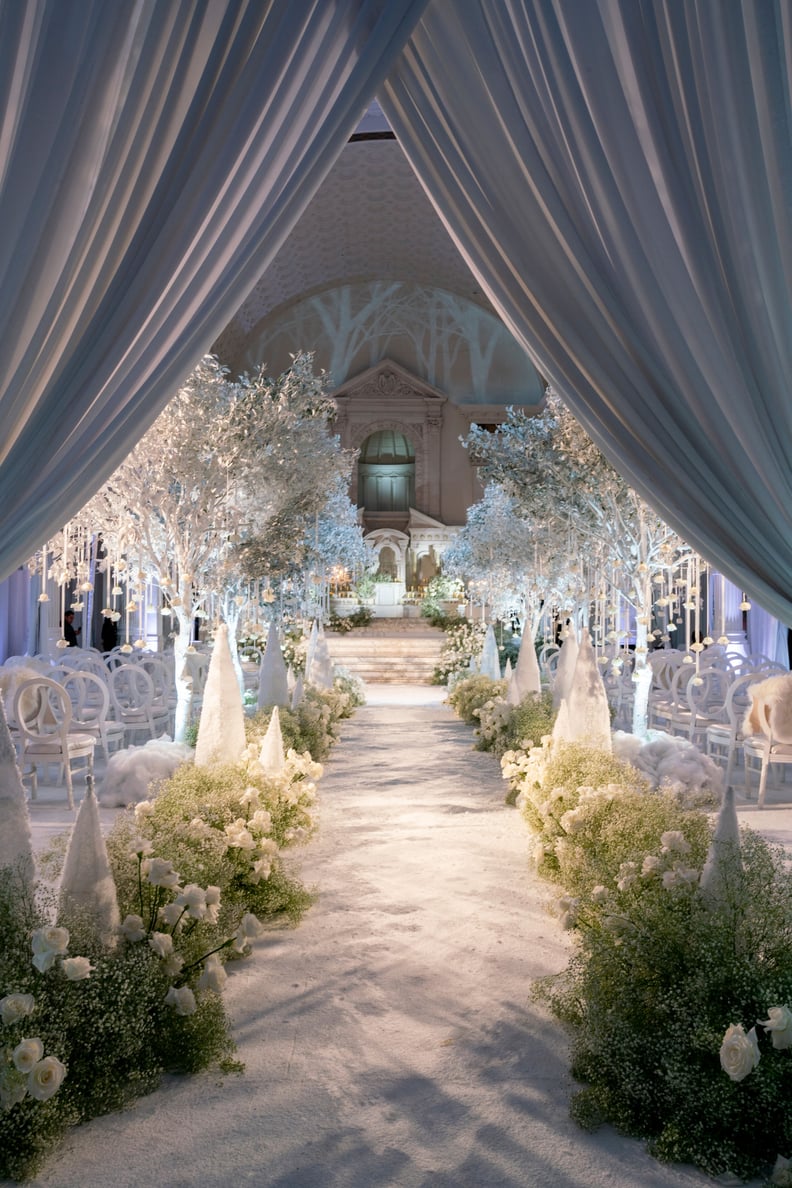 Decor Details
Inside, guests were greeted by large crystal chandeliers, towering trees with dangling white roses, snow-covered icicles lining the aisles, a dewy covering of snow and fog on the ground, and white chiffon everywhere.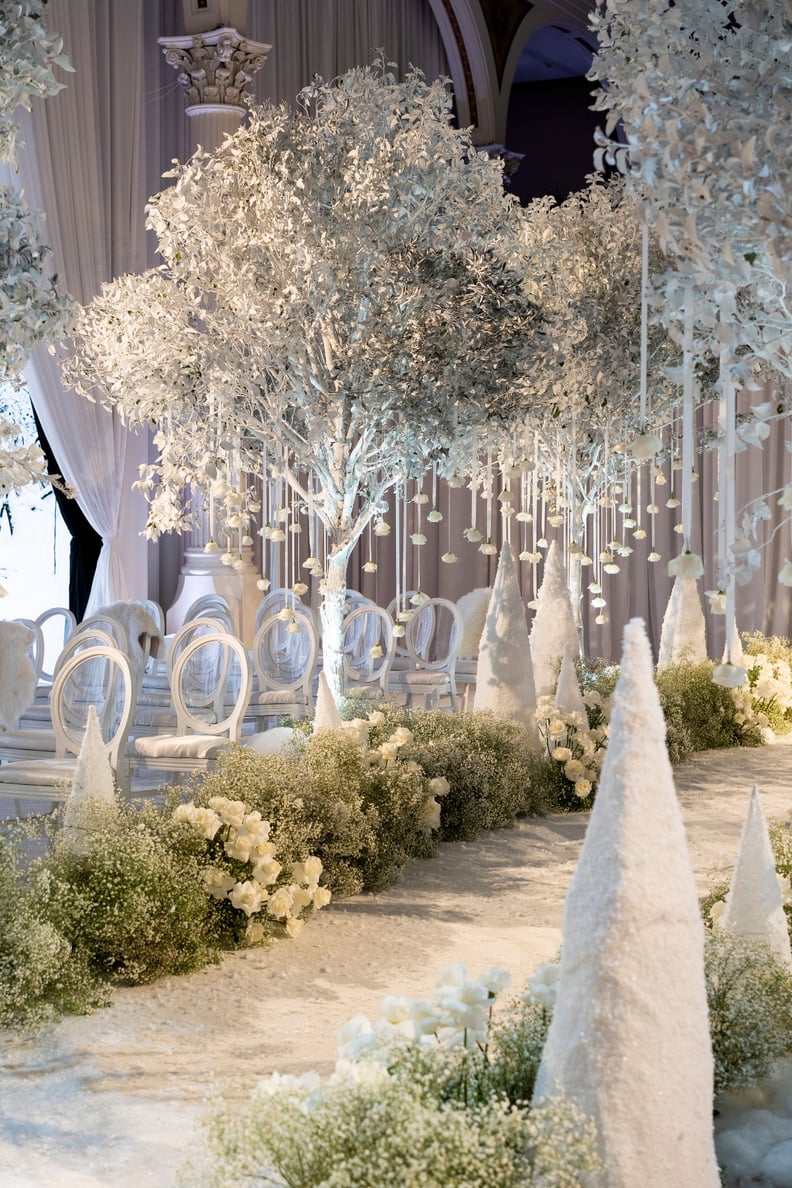 All in the Details
Ice sculptures were provided by The Art of Carving Ice, while Shawna Yamamoto was in charge of floral and event design. Amber Event Production was responsible for the audiovisuals, lighting, and production.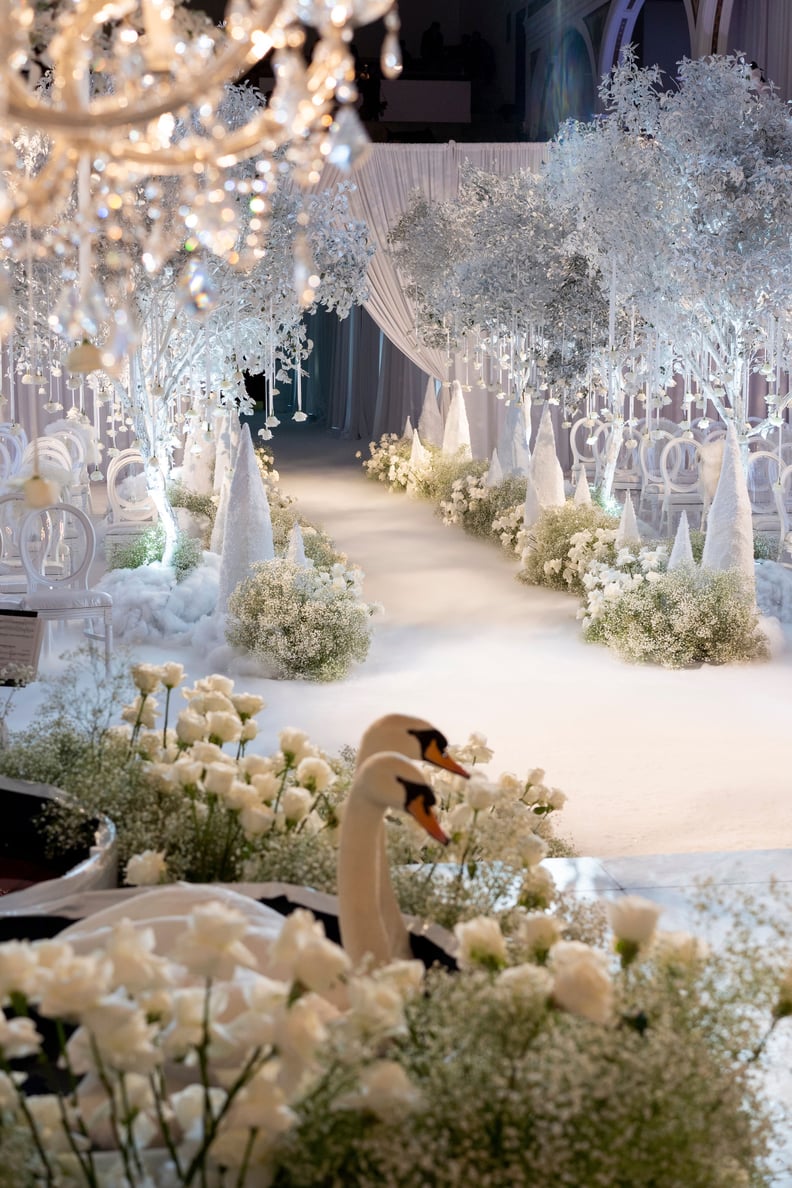 The Swans
There were also two white swans in their own ponds at the altar.
The Dress
Quinn arrived at the ceremony in a horse-drawn carriage with two black stallions, wearing the first of two bespoke black wedding dresses that Galia Lahav designed for her.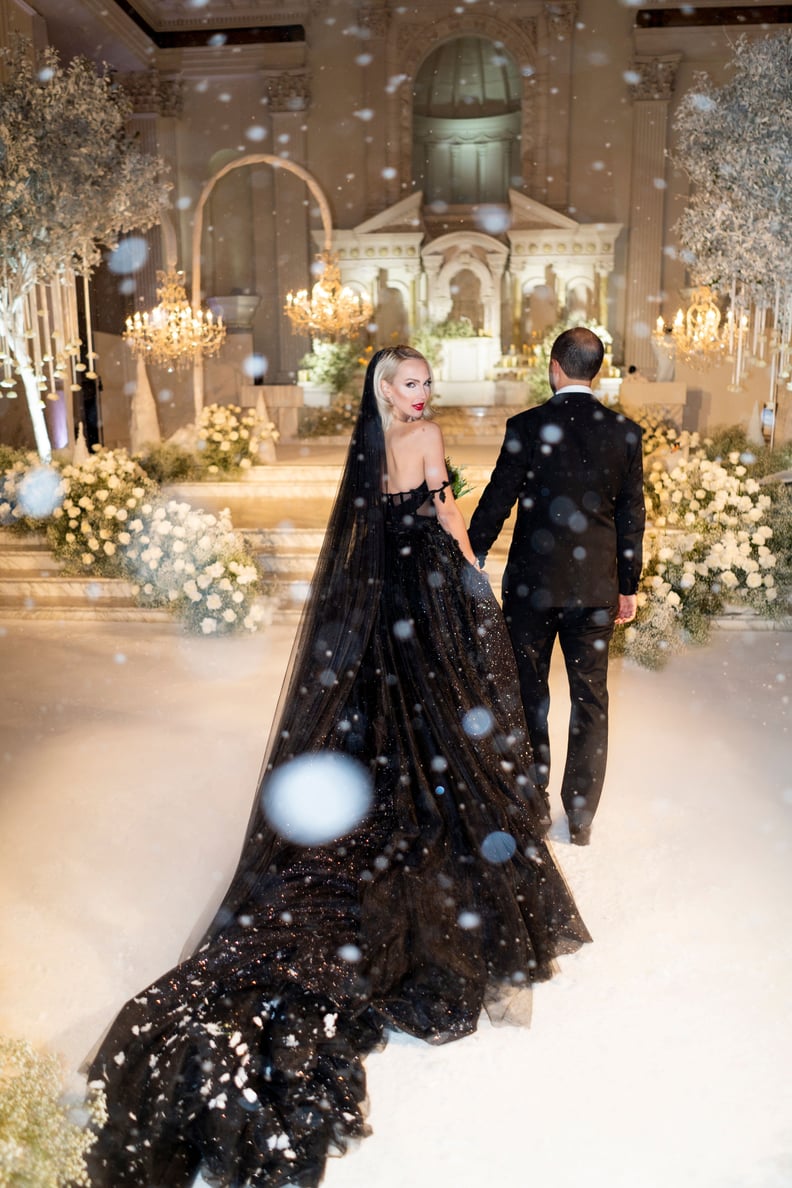 The Snow
The aisle was fogged with snowy dew, and real snow fell as Quinn walked down the aisle while a string quartet played "Sweet but Psycho" by Ava Max.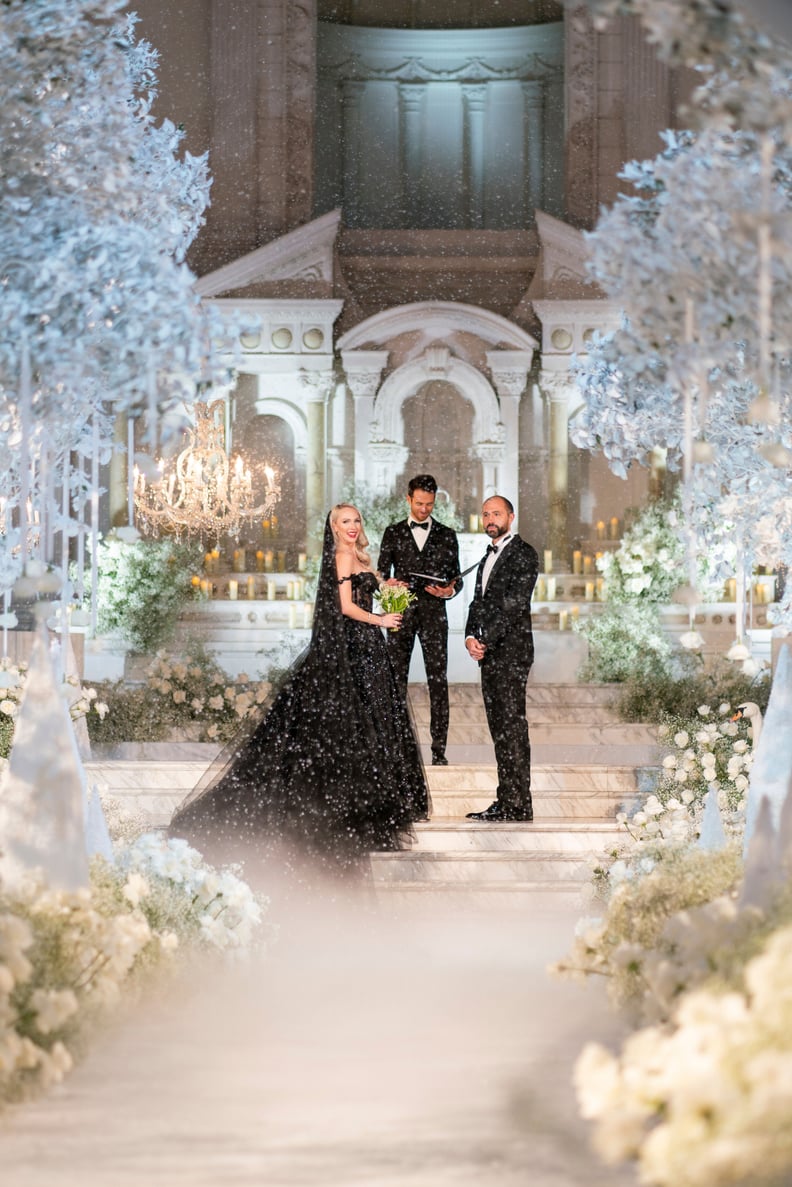 The Flowers
Quinn carried a Lily of the Valley floral arrangement — the plant is known to be poisonous if ingested.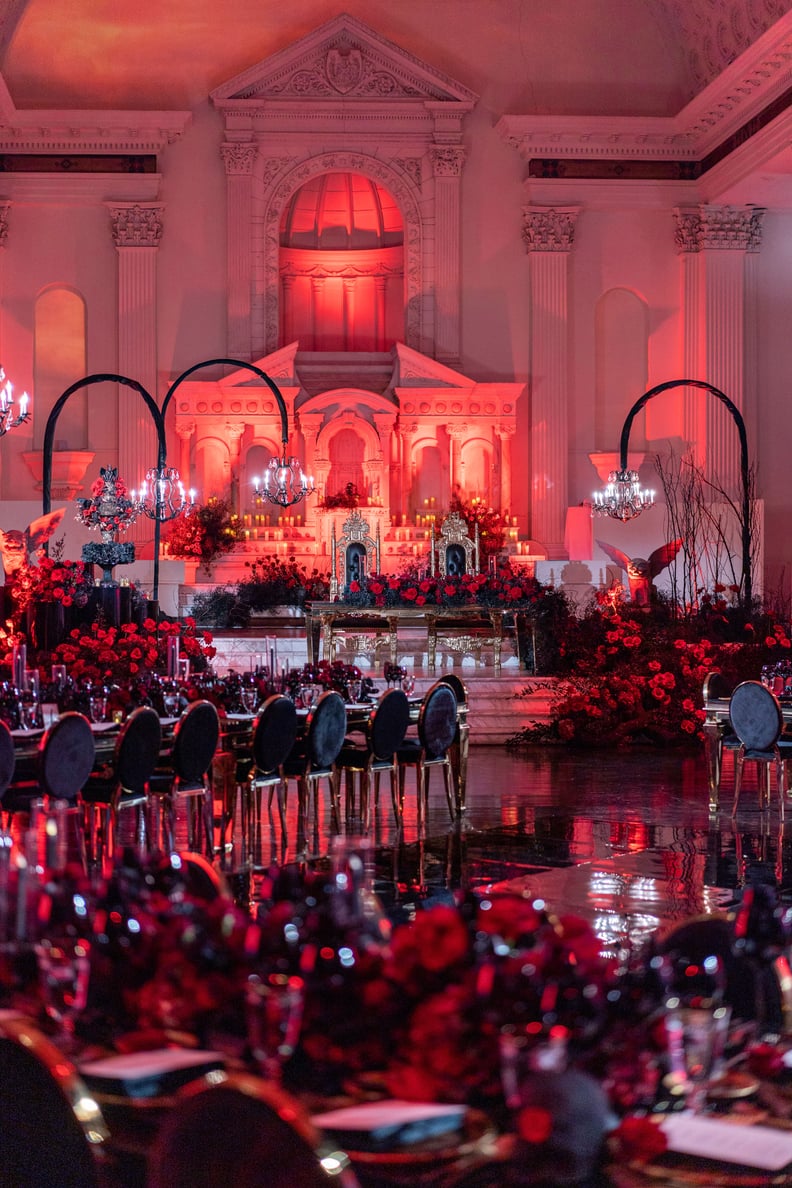 The Reception Transformation
As guests sipped cocktails outside, a crew of 130 transformed the winter wonderland ceremony space into a "wicked wonderland."
The Wicked Theme
Decor for the reception space included black velvet lounge areas and black mirrored tables with gold legs and accents. Large gargoyle statues and towering bare branches filled the room, and two six-foot black-and-gold thrones were set up for the bride and groom at a sweetheart table. Chandeliers were switched to black goth-style wrought-iron light fixtures.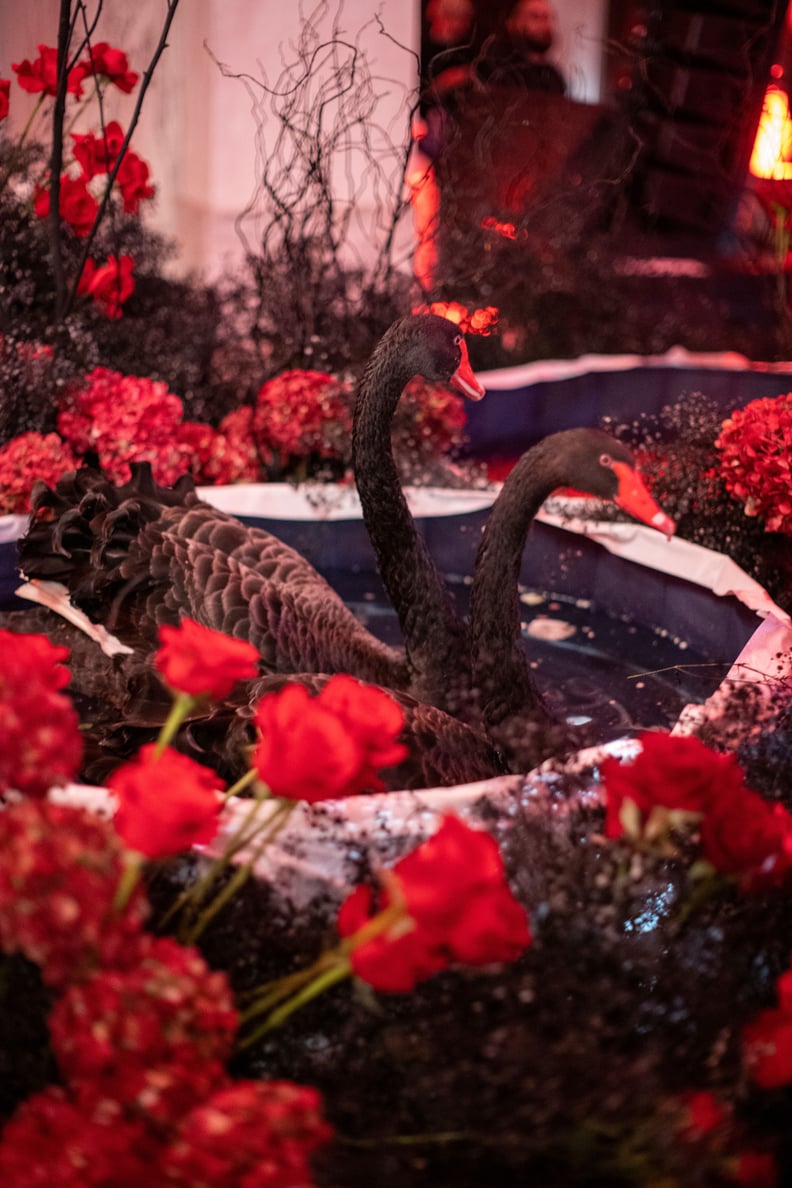 The Black Swans
Cathedral draping was switched from white to black chiffon, and black swans replaced the white swans.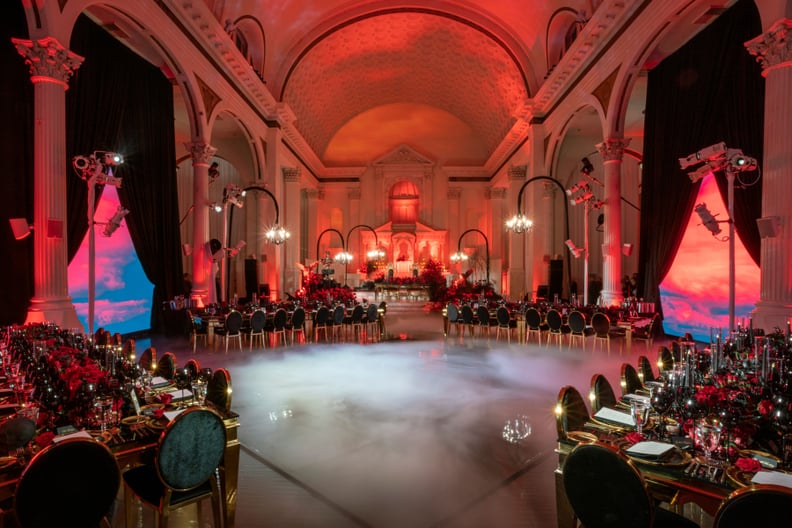 A Haunting Affair
When guests entered the reception, they were greeted with the song "Pyre" by Son Lux, while fog filled the room and red lighting set the mood.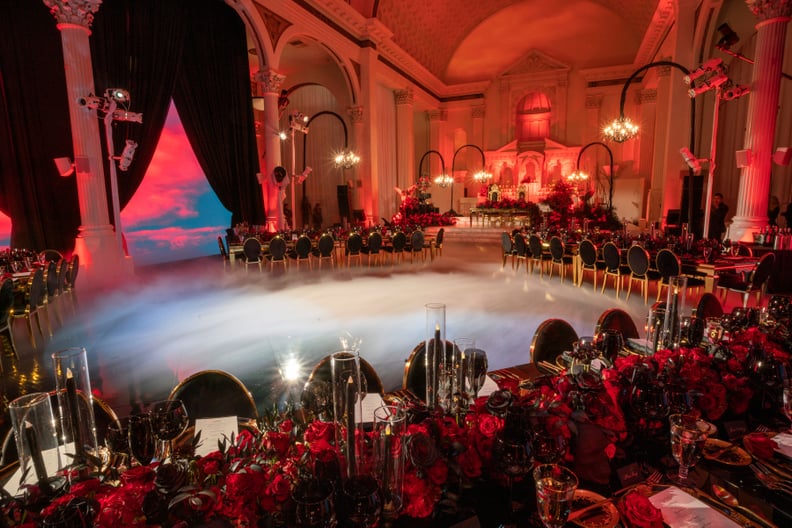 A Thunderstorm Entrance
The bride and groomed entered to a faux thunderstorm, with lightning bolts striking on the LED screens on the walls and ceiling of the venue. Later, the couple's first dance was to the Phantom of the Opera Overture, and the entire room turned into Vincent Van Gogh's "The Starry Night," where the ceiling took on a blue hue with stars everywhere.
The Bleeding Cake
Julie Simon made a towering 55-inch, four-tier cake that bled when cut into. The initials C+C were carved into the cake, and handmade items included a black gargoyle on top of the cake, blood-red poppies and black orchids, black lace, sequins, black velvety petals, withered branches, and black ravens — all made of sugar.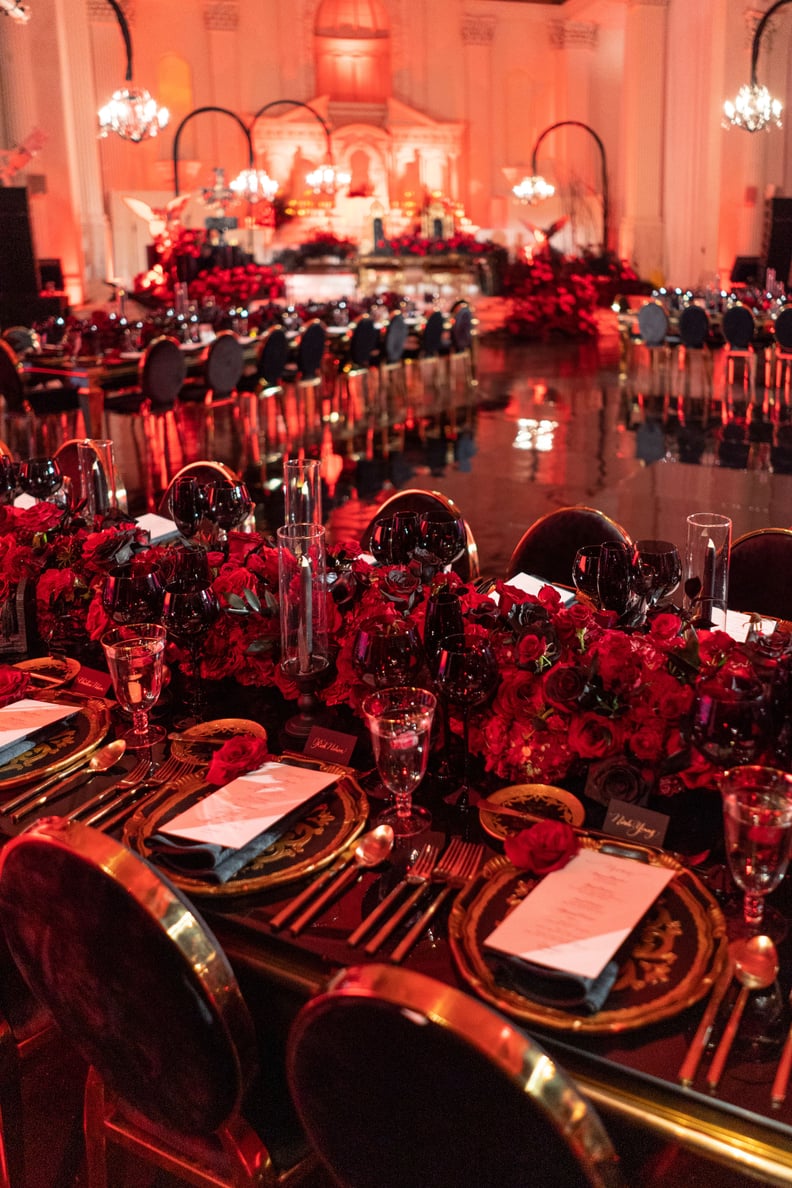 Table Settings
Table settings included smoke-colored glassware, gold-brushed flatware, baroque-style chargers, and hand-drawn calligraphy place cards.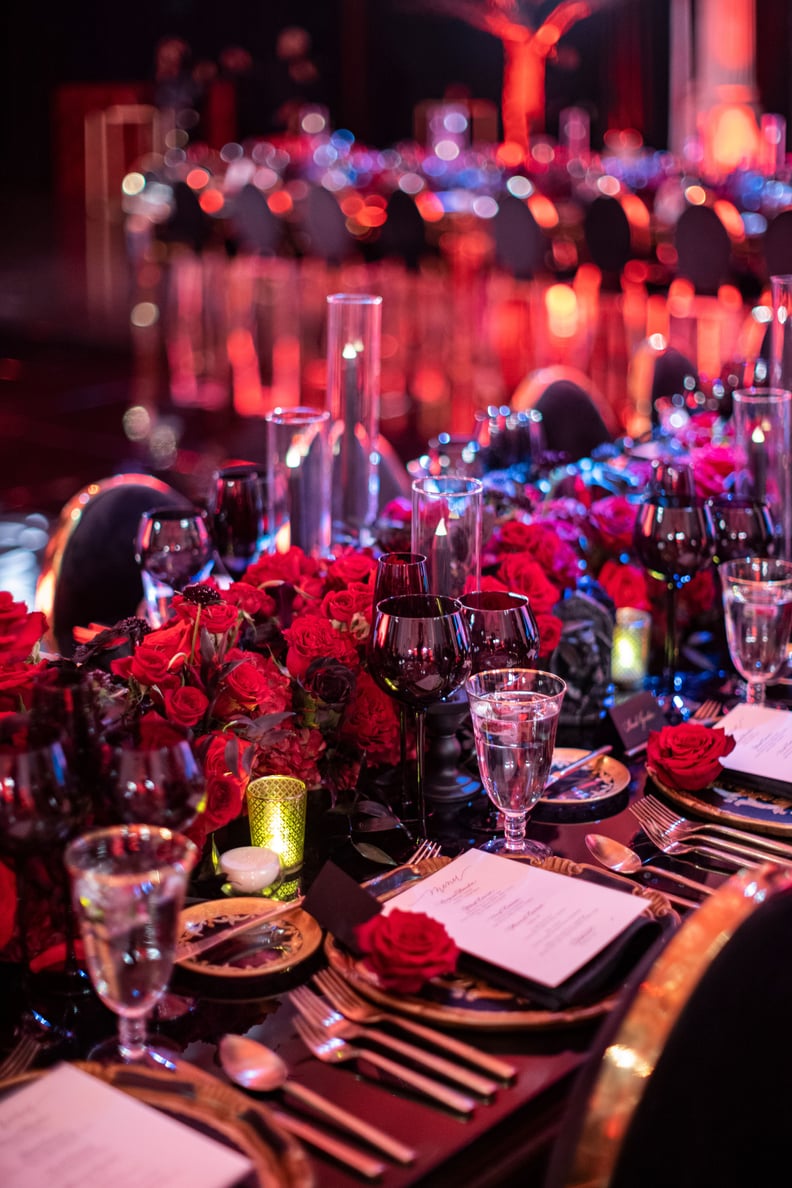 Dark Accents
The tables were also decorated with black calla lilies, red and black roses, skulls, smoked-tapered candles, and gargoyles. Each water glass had a custom ice cube with edible mini red roses inside.
The Menu
The tabletops were designed by Lisa, while the calligraphy was provided by Calligraphy Katrina. Pastry Chef Chris Ford created breakable glittery chocolate skulls for guests with a custom calligraphy note reading, "Til death do us part." Guests also received a custom mallet engraved with the wedding date, which — when cracked — revealed black heart truffles, spider webs, and edible spiders.