Ava DuVernay Quotes on Weinstein and Incarceration
Why Ava DuVernay Wasn't Surprised by Weinstein: "I Work in a Den of Sharks"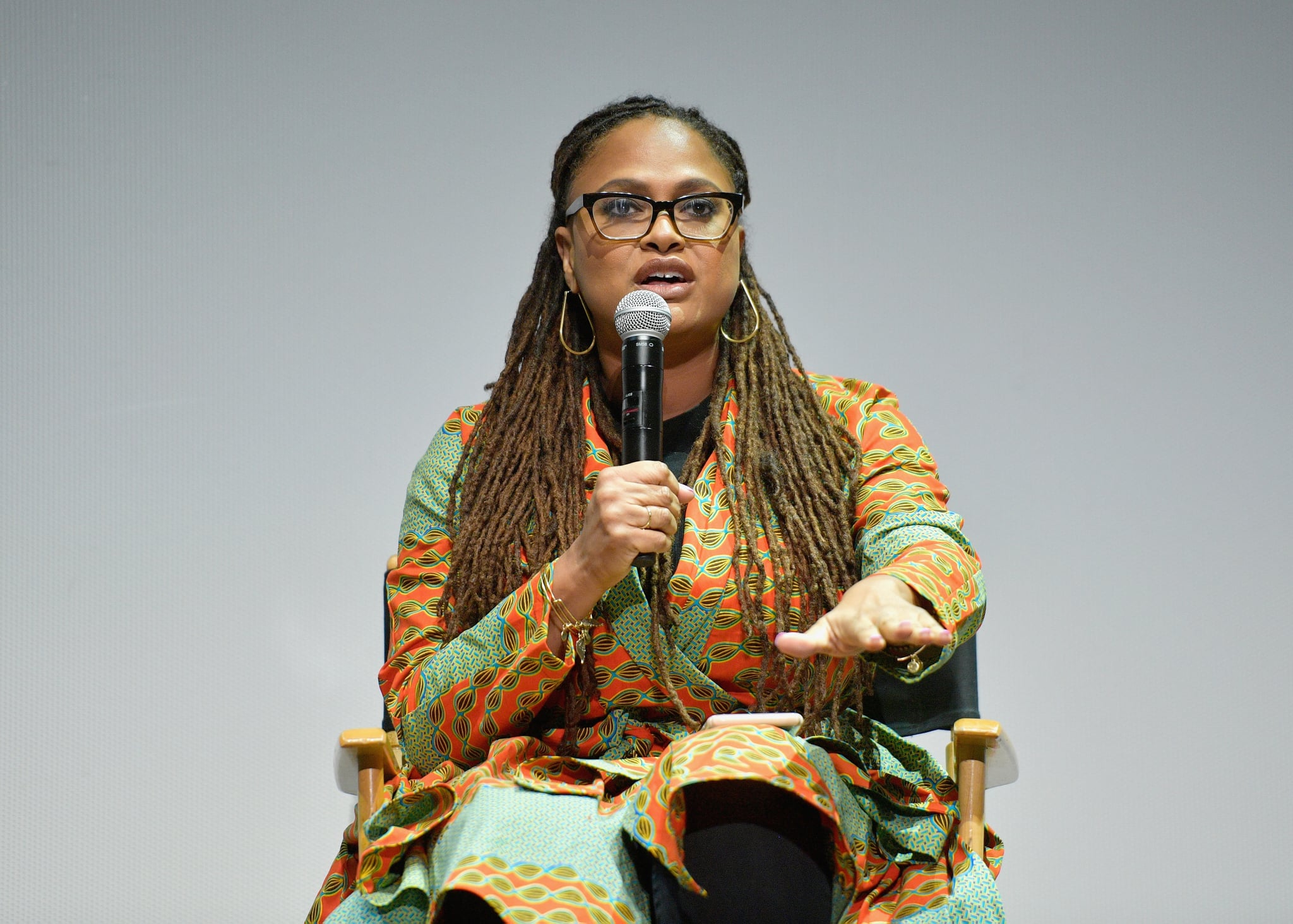 Filmmaker Ava DuVernay is busy. Her adaptation of the Madeleine L'Engle's classic A Wrinkle In Time is prepping for a major 2018 release, but on Nov. 7, she was in LA to discuss a matter she has long woven throughout her work: social justice. Specifically, DuVernay took on incarceration in America and sexual harassment and assault.
Incarceration was the subject of her 2012 film Middle Of Nowhere, about a wife navigating life after her husband is sent to prison. It's a plotline in her OWN produced television show Queen Sugar as one of the show's main characters is a formerly incarcerated man who copes with the ongoing effects of the system. Her 2017 Oscar nominated, Emmy-award-winning documentary 13th traces how pervasive and cruel the American prison system is.
This problem greatly impacts women, particularly women and girls of color, yet in many ways their struggles are seen as miniscule in the matter. The Atlantic brought together an assortment of artists and activists, politicians, and thinkers to explore the problem at Defining Justice: The Experience Of Women And Children Behind Bars, a three-part series taking place across the country that seeks to understand and explore incarceration.
DuVernay's thoughts came out in a conversation with writer and The Atlantic correspondent Ta-Nehisi Coates in Los Angeles. The two — among many other speakers — explored complex issues that extend well beyond prison, from women in Hollywood to folding in activism with art. These were five of the biggest takeaways from DuVernay's conversation with Coates:
On How Incarceration Affected Her Childhood
DuVernay has always been concerned with how incarceration shapes her surroundings. Growing up in Los Angeles' Compton neighborhood, she saw the grasp prison had — and it consumed her.
"I was constantly and totally preoccupied with the people who were missing in my community," DuVernay said. "These were people on my block, these were brothers and fathers of my friends, that just disappeared." DuVernay saw this issue as pervasive at the time, noting that she "grew up in a Compton that was very Samoan, Latino, Thai, black." The matter of incarceration affected everyone, in her eyes.
Coates asked DuVernay if she, as a child, grasped this issue as something bigger than her community or black Americans. She says she didn't realize the scope of the issue until college, attributing this understanding to "reading more" and getting in touch with her black identity through her "red, black, and green phase."
On Getting Representation of Women and Incarceration Right
To create a film like Middle Of Nowhere, DuVernay explained that she "wanted to get it right" by talking to and engaging with women involved with incarceration firsthand, to explore related issues like familial financial instability and increased trauma and stress for children.
"The women really took on the burden of keeping that connection [with inmates]," she explained. "I thought that was remarkable, in the reality in what it is, but also remarkable that we don't comment on it and unpack it enough, in terms of what women — mostly women of color — are doing to maintain the bonds to our loved ones behind bars."
"I talked to several hundred women over three years writing the script," DuVernay said. "The stories broke my heart."
On the Importance of Keeping her Work Political
America's prison system is huge. The United States has roughly 5 percent of the world's population but 22 percent of the world's prison population. Moreover, it costs the country $182 billion a year and directly affects communities of color most, black Americans being 5.1 times more likely to be imprisoned than white Americans. DuVernay hopes to place the problem directly in front of audiences so that there is no other option but to confront it.
"It's so over there," DuVernay pushed her hand to the side, alluding to how many Americans — particularly white Americans — see the problem as removed from them. "People are able to kind of look at it, and comment on it, and feel bad about it, and donate something, and watch 13th and be like, 'That is is horrible. It moved me so much. And god bless you.'"
After an audience chuckle, DuVernay pointed out that something like 13th and storylines about prison on Queen Sugar are "made to activate, it was made to trigger," asking viewers to reflect on their participation in these systems. "You can no longer say you didn't know anymore because now you know," she said. "If you now decide not to do anything, that's clearly and squarely on you."
On the False Allure of Progress
In reflecting on 13th and its impact not only on audiences but on America, DuVernay expressed some discontent as a result of the country's seeming backslide after the 2016 election.
DuVernay traced 13th's production — from the bipartisan support explored in the film to grassroots organizers whose work was given a platform to the championing of voices like Michelle Alexander and her book The New Jim Crow to sum up that "we were on an edge" toward making progress that she isn't sure still exists. "What are we doing now?" she wondered, frustration lingering.
"I made [13th] in such place of hope that there would be a forward movement, and it seems like even things that are in the film now," she trailed off. "It's a backslide . . . It wasn't even a year ago: the film didn't come out a year ago."
On How the Harvey Weinstein Story Is a Lesson in Speaking Up
Coates wisely brought the issue of incarceration and women to another mistreatment of women: the current harassment and rape allegations rocking Hollywood, particularly the claims against Harvey Weinstein.
"It wasn't shocking, not in the instance of him," Duvernay said. "I work in a den of sharks . . . Of all the sharks, I have to find ways to get my work through and squeeze it out. But, perhaps, there's more that we need to be doing, more that we need to be saying, really interrogating the idea of silence and when we're quiet. The only thing we have are our voices."
"Weinstein, Trump," Duvernay expanded the subject, reflecting on speaking up. "I just gotta say something. Open my mouth and say something . . . Even the little things, because the little fissures become cracks and divides."
Image Source: Getty / Matt Winkelmeyer