Big Freedia LGBTQ Pride Personal Essay
I Came Out at My 13th Birthday Party, and I Never Looked Back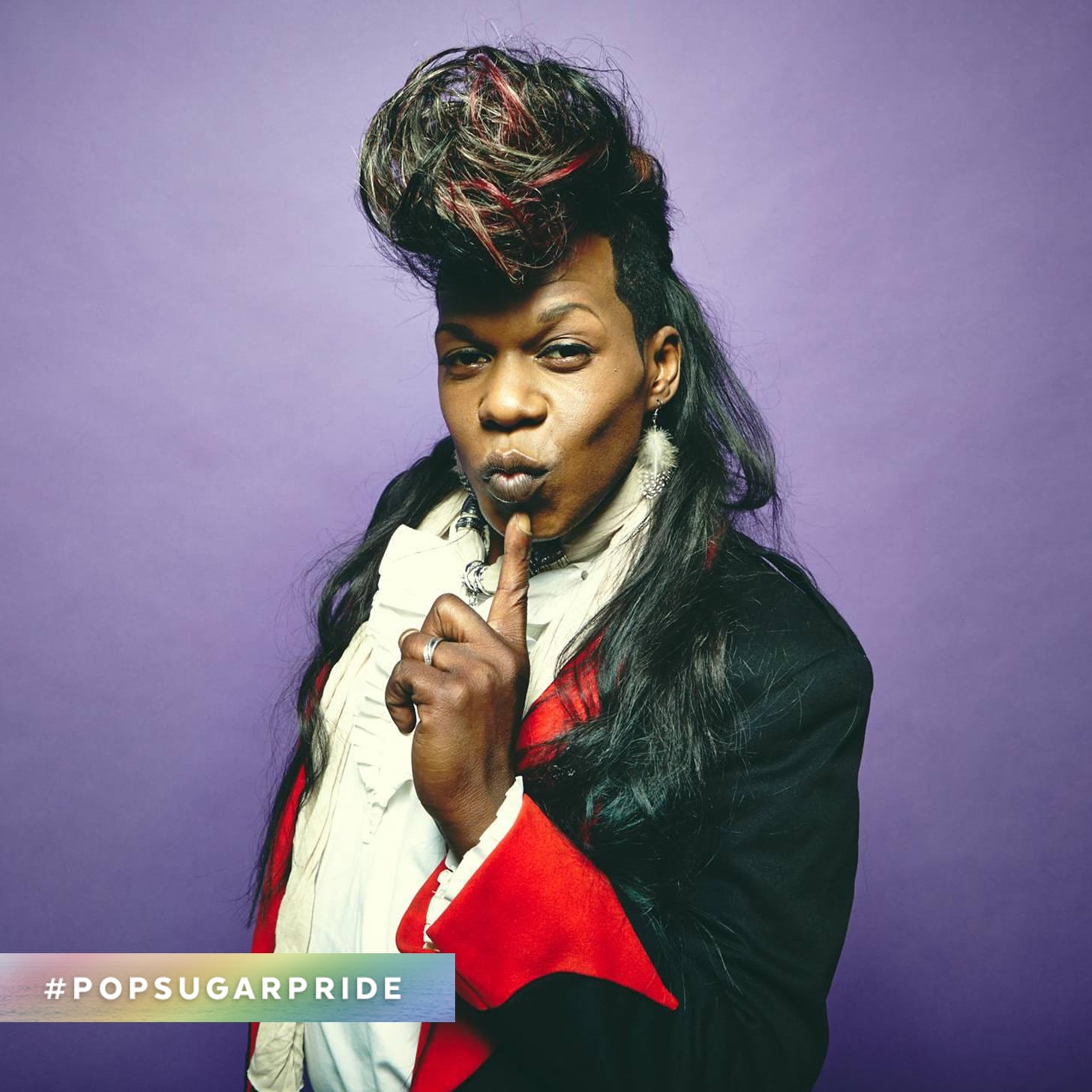 Big Freedia is the star of Big Freedia: Queen of Bounce on Fuse and the author of God Save the Queen Diva!.
I have many proud moments, but my most memorable was my 13th birthday. My mom, Ms. V as we called her, always did my birthday right, but my first as a teenager was extra lit. We lived in a small house on Josephine Street in Uptown New Orleans at the time and everyone knew me as Freddie.
I had been anticipating the party for weeks, and the day was finally here. Outside, in the back yard, my mom had decorated some fold-out tables gold and black with carnation centerpieces. Tied to the backs of chairs and on trees were blue and white balloons. When I came out of my room to help, Whitney Houston's "I'm Your Baby Tonight" was blasting out of the speakers. The whole family — Crystal, Adam, my Aunt Betty, Aunt Debra, Uncle Percy, Aunt Dawn, Donald, his kids, my cousins Leonard and Junior, my best friend Addie and his momma — was invited.
As people arrived, the pile of gifts on my table grew. I was lighting candles when Addie walked outside.
"Come on," I waved him over and walked into the kitchen, hoping to steal a moment with him. "I'm gonna tell her today."
Addie's eyes got big. "Oh, Freddie, your momma gonna kill you." I could see the fear in his eyes.
"I don't think so," I said, more to myself.
"You sure you ready?" he asked. "It's time," I said. "I can't hide anymore." Just then, Aunt Debra walked into the kitchen.
"Happy birthday, sweetie!" she said, putting a casserole dish into the refrigerator, moving on to greet the rest of the guests in the back.
Addie looked at me and said: "You're so brave, Freddie."
We went outside and I took my place at one of the tables. Mama had cooked for three days straight. The tables were loaded with all my favorites: grilled crawfish, fried chicken, seafood and smoked sausage, and deviled eggs.
After dinner, my sister Crystal and Ms. V came out of the house together holding up the most magnificent vanilla cake from Mc Kenzie's Bakery. It was square, and it was covered in blue, green, and white frosting. Everybody sang "Happy Birthday." As they placed the cake in front of me, I took a huge breath and blew out the candles. My wish was that one day, I could be myself.
Afterwards, we all danced and sang again, this time to my mom's favorite Frankie Beverly and Maze album. At one point, I looked over at Ms. V. She was sitting alone. It was my moment. I was practically too big for it, but I climbed on her lap like I had been doing all my life.
"You having fun, baby?" she asked.
"Mom, I'm gay." Just like that I said it.
She just looked into my eyes for the longest time without either of us saying anything. My heart was pounding so hard I thought I'd faint — I couldn't tell if she was irate or not, since half the time when she was mad her face didn't move. "Baby. I already know," she finally whispered.
"You do?" I said jumping off her lap.
"Yes, child," she responded. I stood completely still, waiting for her to rage at me or yell that I was going to burn in hell. But she didn't. She just stood up, hugged me hard and said, "God got you," and then walked over to the table and sliced herself a piece of cake.
It was as if nothing had happened. It seemed to me there was some unusual whispering between my Aunt Debra, my sister, and my mom, but no one said anything to me. Could she be waiting to punish me later? I knew it wouldn't just be forgotten. I crawled into bed that night, full on cornbread and cake, strangely serene that it had finally been said.
As she passed my room, she tucked her head in the door, "Happy birthday, Freddie," she said.
"Good night, Momma," I replied. After she had gone, I pulled my blanket over my head and prayed. Dear God, I know this is hard for Mama. Please help her understand."
The next morning Ms. V came in and sat on the edge of my bed. Her eyes were red and swollen. "Is it something I did?"
"Momma! No, of course not," I reassured her.
"Did someone hurt you?" she asked.
"Momma. Nothing happened. God made me like this."
Tears streamed down her pretty brown cheeks. "You're choosing a difficult path, Baby. But it's your life," she said.
I took both her hands in mine. "That's just it, Momma," I said. "I didn't choose this. I have been this way since I was born."
She shook her head like she didn't believe me. "That's not what God says, but I love you no matter what anybody says," Momma responded. I felt relief and fear at the same time. Relief that she wasn't going to throw me out, but also apprehension because I knew I was on a hard road, and this was just the beginning.
Image Source: Photo courtesy Big Freedia