Cyclist Flips Off Trump Motorcade in Virginia October 2017
We Are Forever Indebted to This Cyclist Who Flipped Off Trump's Motorcade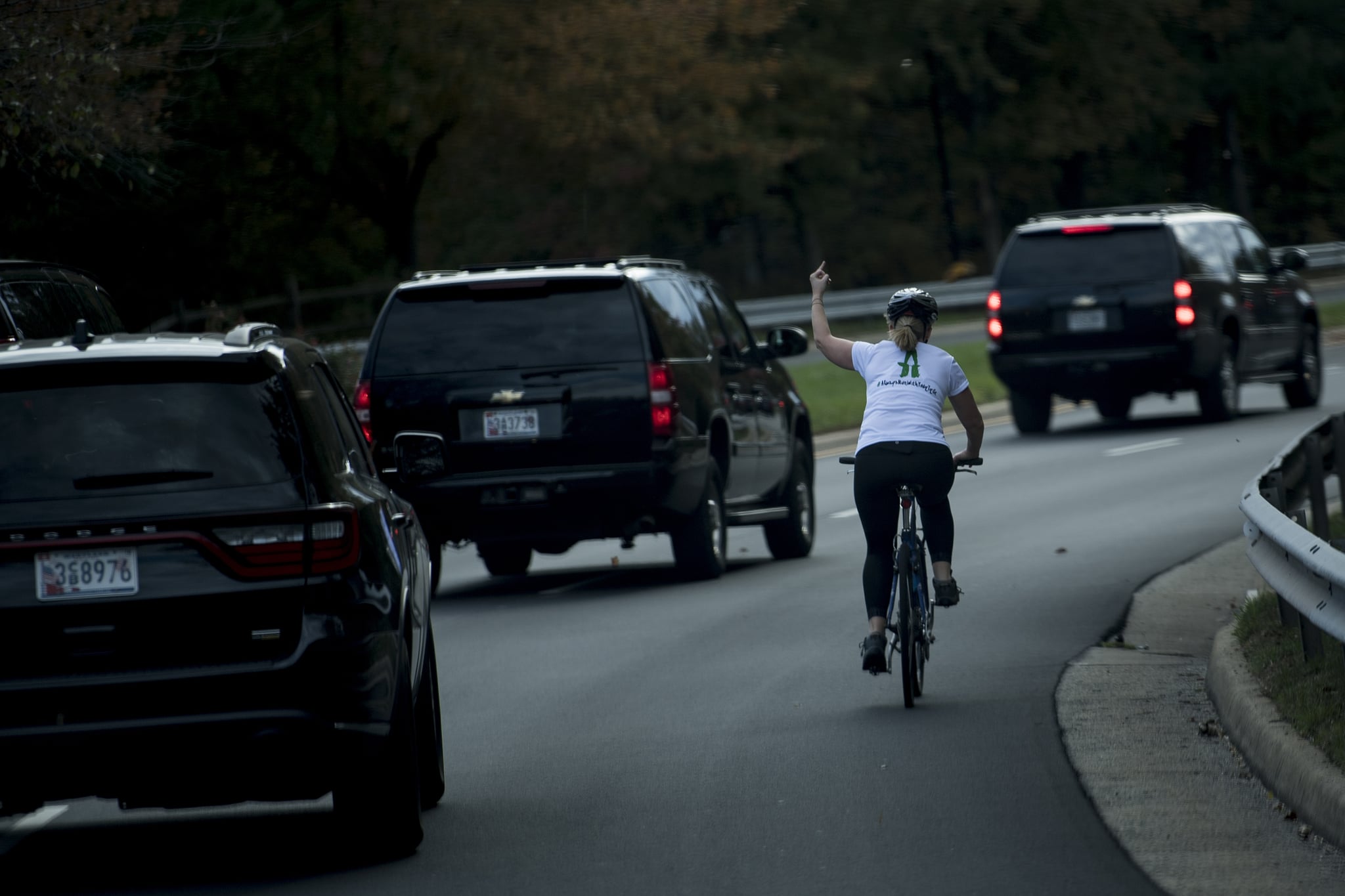 Update: On Nov. 6, it was reported that the female cyclist, Juli Briskman, had been fired from her job as a government contractor after the photo went viral in October.
Original story:
Following the news that his former campaign manager would likely be indicted in just a few days, Donald Trump decided to hit the golf course. On Oct. 28, as the president visited the Trump National Golf Club outside Washington DC to hit a few rounds, he was given a taste of the world outside of 1600 Pennsylvania Ave. when a female cyclist proudly raised her middle finger as she rode alongside the presidential motorcade.
Fortunately, a photographer was able to capture the defiant moment. Though the cyclist has yet to come forward — nor has she been identified — she quickly became an internet sensation, embodying the frustration, hopelessness, and anger many Americans feel about the current political state.
"Superheroes don't all wear capes. Sometimes they wear safety helmets." https://t.co/NOX3Pg4sfC

— Mrs. Betty Bowers (@BettyBowers) October 29, 2017
Will the gutsy cyclist who flipped off Donald Trump in his motorcade please contact me? I'd like to buy you a beer.🍺 #ImpeachTrump pic.twitter.com/BPrraRGi1E

— Jon Cooper (@joncoopertweets) October 30, 2017
The Guardian's David Smith was also thankfully on the scene and able to document the events as they unfolded. After the motorcade passed by a pedestrian giving a thumbs-down sign, Smith reported, "It overtook a female cyclist, wearing a white top and cycling helmet, who responded by giving the middle finger. The motorcade had to slow and the cyclist caught up, still offering the finger, before turning off in a different direction."