Donald Trump Comments on African Americans
Trump's Comments About African Americans Are Outrageous — Even For Trump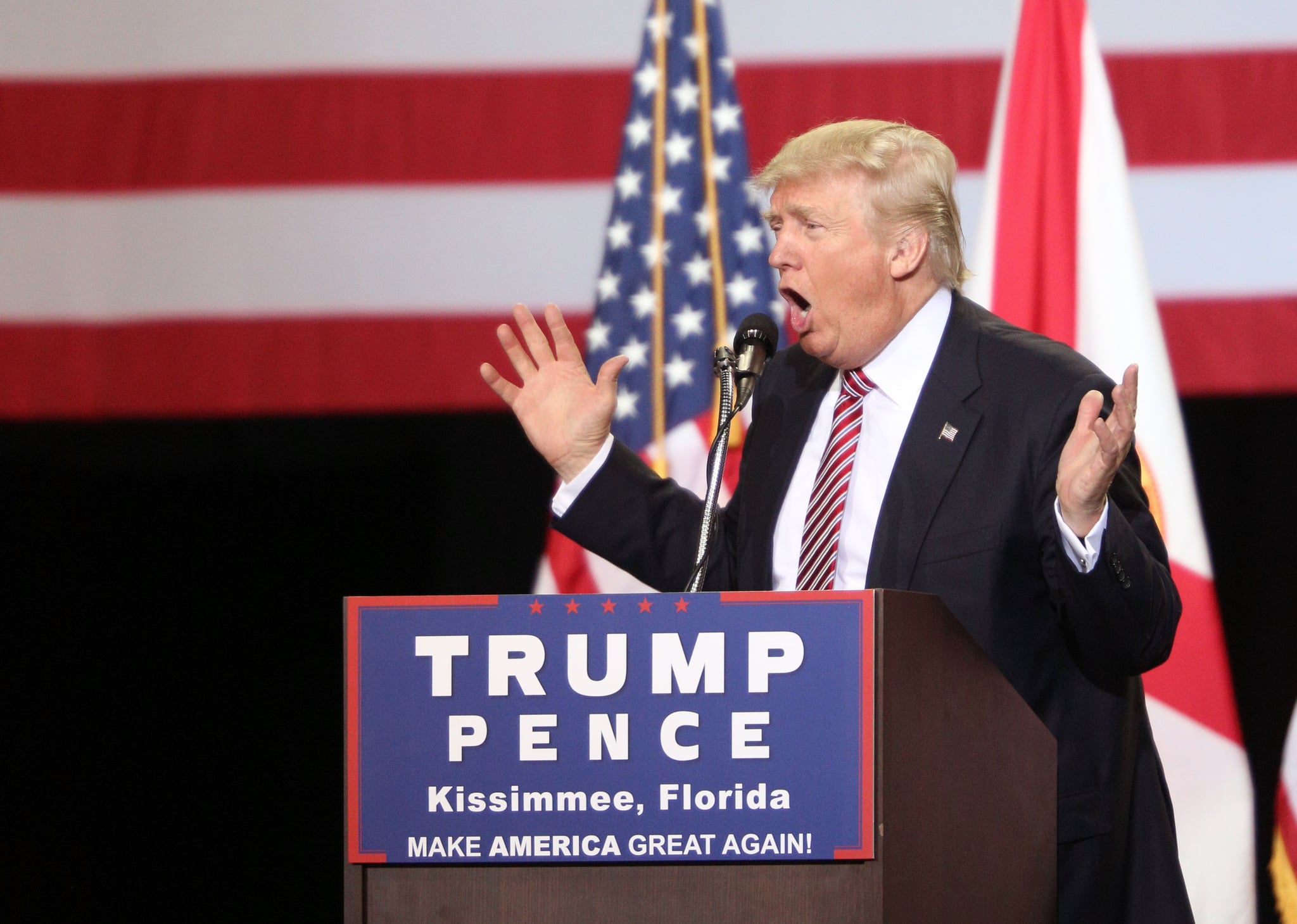 Donald Trump tried to appeal to black voters this week. But he might want to try a less offensive approach next time. Speaking in Dimondale, MI, on Friday, he fumbled his outreach, essentially insulting African American communities. He said:
"What do you have to lose by trying something new, like Trump? What do you have to lose? You're living in poverty. Your schools are no good. You have no jobs. Fifty-eight percent of your youth is unemployed. What the hell do you have to lose?"
In 2012, 95 percent of black voters cast a vote for President Obama, according to Gallup, and Hillary Clinton has continued to enjoy strong support. Over the past couple of days, Trump has argued that Democrats take for granted the votes of African Americans. And in a speech outside of Milwaukee, WI, on Tuesday, he even accused Clinton of "bigotry" for exploiting the community for votes.
That's a rich accusation from Trump, who took his time to renounce the support of white supremacist David Duke earlier this year. And in June, even fellow Republican Paul Ryan called Trump's comments about a judge with Mexican heritage "textbook racist."
Making disparaging and broad statements about "your schools" or "your youth" probably won't help Trump broaden his base. Then again, maybe that's not the point, considering he's making these statements at rallies mostly attended by white supporters.
Here's how some on Twitter reacted.
.@realDonaldTrump shows how NOT TO TALK TO BLACK VOTERS. Wow. According to him MY LIFE SUCKS. I am steaming. Livid. pic.twitter.com/MzHoAHeJmr

— Hercules Mulligan's back b/c that energy is needed (@johnvmoore) August 19, 2016
TRUMP: "I will get over 95% of the African American vote. I promise you."

He's currently polling at 1% with African Americans.

— Kyle Griffin (@kylegriffin1) August 19, 2016
Basically, Trump's pitch to Black people is, "your lives suck, vote for me."

Me: pic.twitter.com/MIyYWazeZI

— Zerlina Maxwell (@ZerlinaMaxwell) August 19, 2016
There's at least one disastrous Trump comment per week. Telling all black voters that we all live in poverty and are unemployed qualifies.

— Jamil Smith (@JamilSmith) August 19, 2016
Trump just asked for black vote in a place where racial makeup is 92.7% White & 0.7% African American. Wow. https://t.co/jQVdWFQKTR

— Gavin Newsom (@GavinNewsom) August 19, 2016
So @realDonaldTrump can go all the way to suburban Michigan and Wisconsin to talk about black people but he can't take the subway to Harlem?

— Keith Boykin (@keithboykin) August 19, 2016
Image Source: Getty