Donald Trump Looks Tired at the Third Debate 2016
Did Trump Roll Out of Bed Just Before the Debate?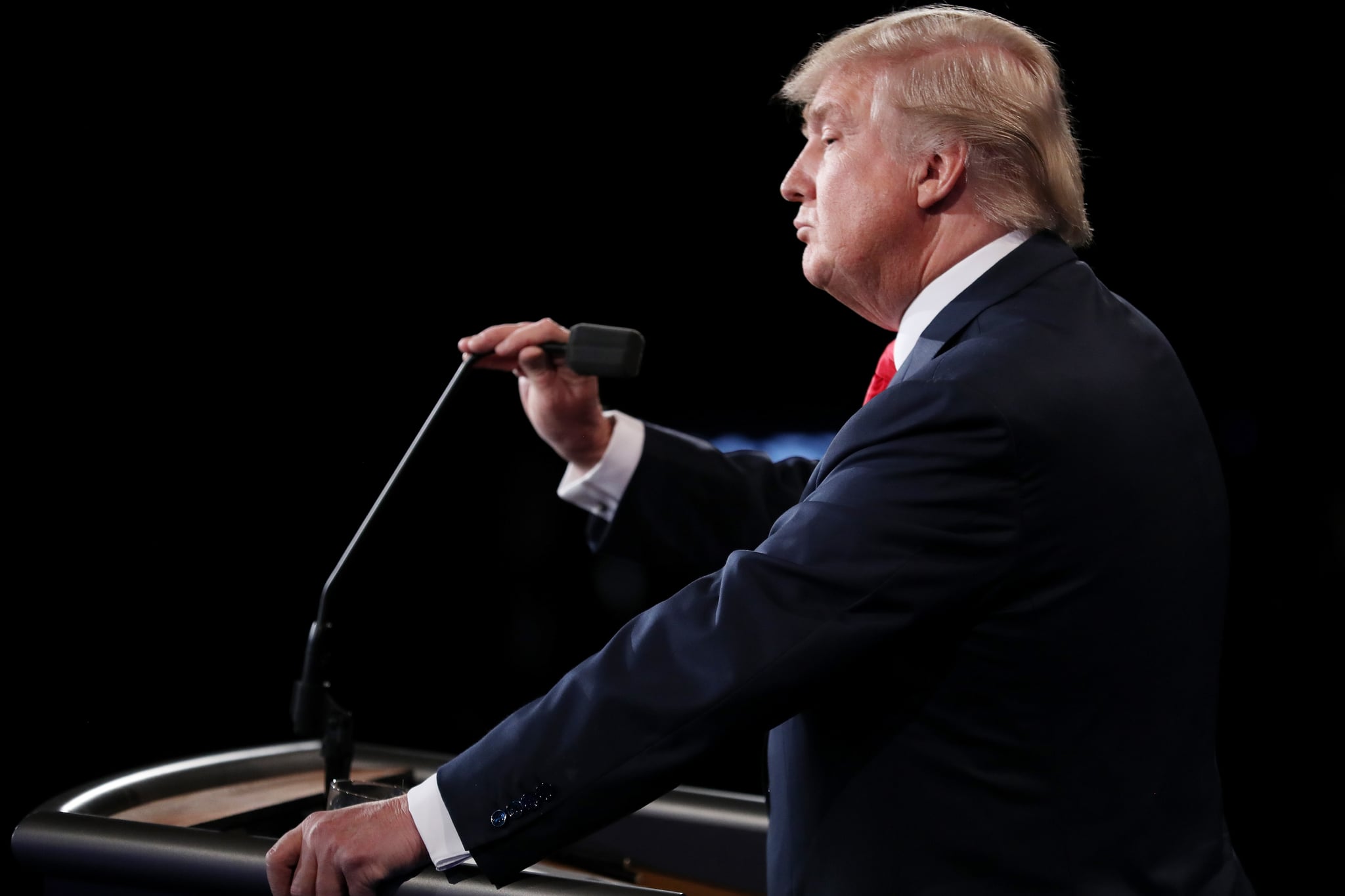 The third and final presidential debate started off on a sleepy note. After the candidates took the stage at the University of Nevada, Las Vegas, moderator Chris Wallace wasted no time and dove right into questions. As Hillary Clinton addressed the first question, we couldn't help but notice that Donald Trump looked like he just rolled out of bed. His signature side-eye glance was hindered by the fact that he could barely keep his eyes open. Naturally, Twitter started buzzing about Trump's snoozy state, with one user even creating the Twitter handle @Sleepy_Donald.
Did someone give Donald Trump a sedative or is he just really sleepy. #debatenight

— Elise Tollefson (@entollefson) October 20, 2016
Donald Trump: tired af

— Ryan Does Extra Life (@RyanM3890) October 20, 2016
Trump looks like he is about to eat a fetus. #debatenight

— John (@linnyitssn) October 20, 2016
Is Donald Trump sleepy or high? I'm falling asleep here #debate

— Christian Calgie (@christiancalgie) October 10, 2016
Huh, what happened? What did I miss? #debatenight @CNN #DonaldTrump #HillaryClinton pic.twitter.com/jhSZl7DIjy

— Sleepy Donald (@sleepy_donald) October 20, 2016
Donald Trump looks like an old, tired, flamingo.

— Averee Vaughn 🌐 (@AvereeVaughn) October 20, 2016
Low energy Trump tonight. Sad! #debatenight

— POPSUGAR News (@popsugarnews) October 20, 2016
Donald trump looks sleepy #debate

— Josie Valero (@josielicious07) October 20, 2016
Trump sounds like his handlers tranqed him so he would act like an adult for tonight. #debate

— Meki Pierre (@mekipierre) October 20, 2016
Donald Trump sounds like a tired vegetable vendor at 5 pm in Monda Market. #Debates2016

— Deepak (@writtenbyDK) October 20, 2016
.@realDonaldTrump looks like he just got out of bed #debatenight

— Jordan (@JordanChariton) October 20, 2016
I can't tell if Donald trump has a sore throat or if he's just so tired of hearing his own bullshit that he's slowing fading his speech out.

— tahlie (@tahlie_Jaye) October 20, 2016
Anyone else think Donald Trump is trying to be calm and try to seem intelligent, but just seems tired?

— Chantal Rondeau (@ChantalGRondeau) October 20, 2016
Wtf? I think Donald Trump is on downers so he doesn't come off as aggressive, instead he is coming off as sleepy. #DebateNight

— Bev Spires (@bevgrrl) October 20, 2016