Donald Trump's UN General Assembly Speech 2017
The Most Batsh*t-Crazy Things Trump Said During His UN General Assembly Speech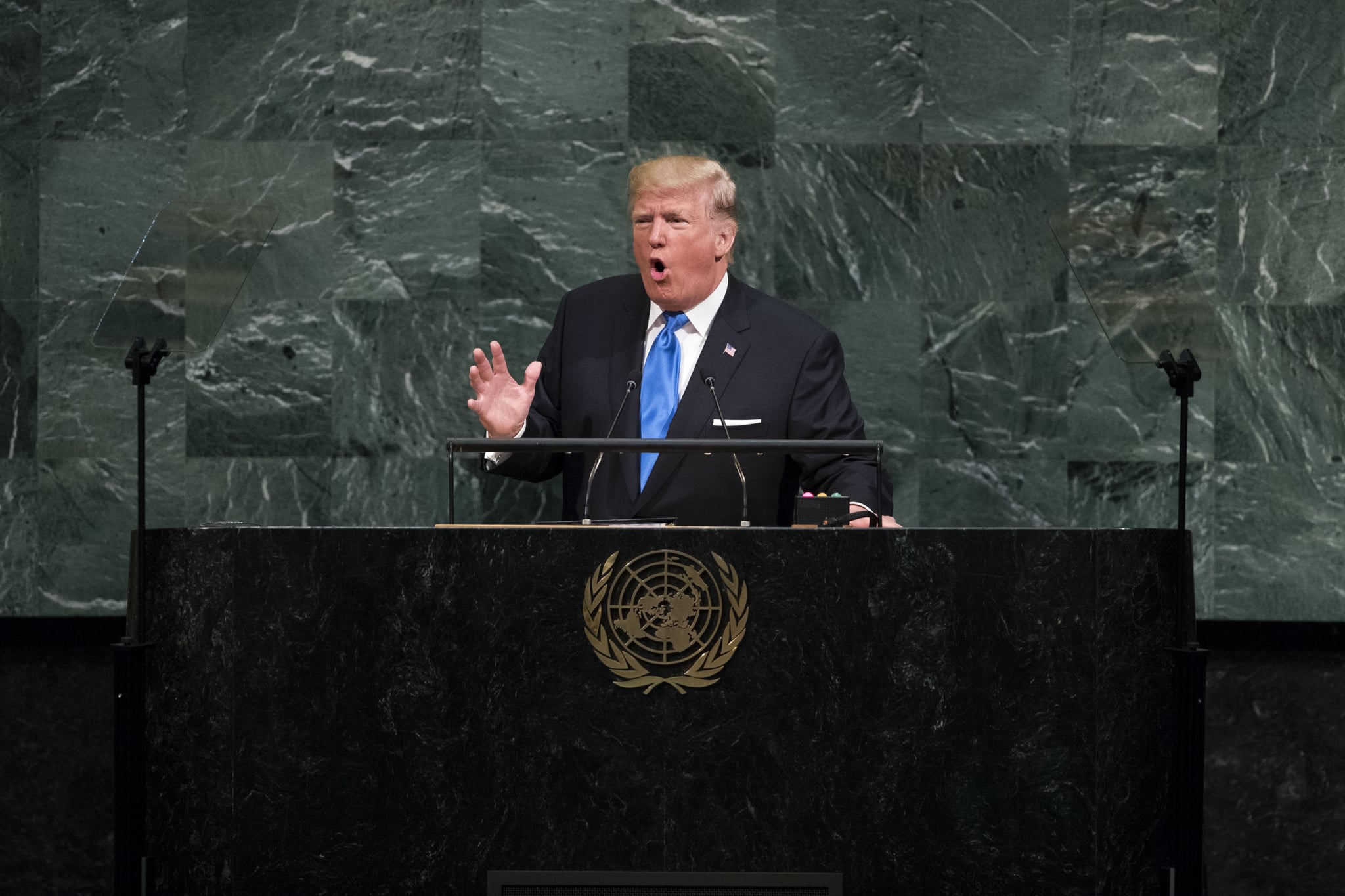 President Donald Trump made his debut at the United Nations General Assembly on Sept. 19, where he made a wide-ranging speech that was, well . . . memorable. While addressing an auditorium filled with the world's most powerful leaders, Trump dished out threats to North Korea and took the opportunity to rehash his gripes with the Iranian nuclear deal. The president struck an angry, nationalist tone throughout his remarks that bore an uncanny resemblance to the "America-first" sentiments from his inaugural speech.
Below, we've broken out a few of the highlights (or lowlights, really) from President Trump's first UN General Assembly speech. Brave souls can read through the full transcript here.
Naturally, Trump made sure to mention his election win (and make some boastful claims) within the first few minutes. "Fortunately, the United States has done very well since Election Day last Nov. 8," Trump said, before claiming that "because of our regulatory and other reforms, we have more people working in the United States today than ever before." As The Washington Post pointed out, Congress hasn't actually passed any such reforms yet.
Then he invoked the might of Elton John (yes, that Elton John) against North Korea. Trump lashed out at the nuclear-armed nation during his address, asserting that if the United States "is forced to defend itself or its allies, we will have no choice but to totally destroy North Korea." He then turned his attention specifically toward North Korean leader Kim Jong-un, labeling him a "rocket man" who is "on a suicide mission for himself and for his regime."
The speech contained some major themes of doom and gloom. Rarely one to err on the side of optimism, President Trump stated that "major portions of the world are in conflict, and some, in fact, are going to hell." Inspiring stuff.
Trump also used some shockingly casual terminology in front of the UN. He described an ongoing effort between the United States and its allies to "crush the loser terrorists," which is probably the first time anyone has described any group as "losers" to the General Assembly.
Finally, Trump explained that nations should work on solving their problems alone . . . but also together? Throughout Trump's address, he spoke about his belief that each country should take care of its own problems, claiming that individual countries should take "a greater role in promoting secure and prosperous societies in their own regions." But then in the conclusion of his address, Trump seemingly attempted to backtrack with a tone of unity, stating that "our message to the world" will be to "fight together, sacrifice together and stand together for peace, for freedom, for justice, for family, for humanity and for the almighty god who made us all." It was a confusing end to an overwhelmingly baffling speech.