Hope Chatbot Platform Helps You Take Action Against Trump
Meet Hope, a Platform Designed to Turn Your Trump-Related Anxiety Into Action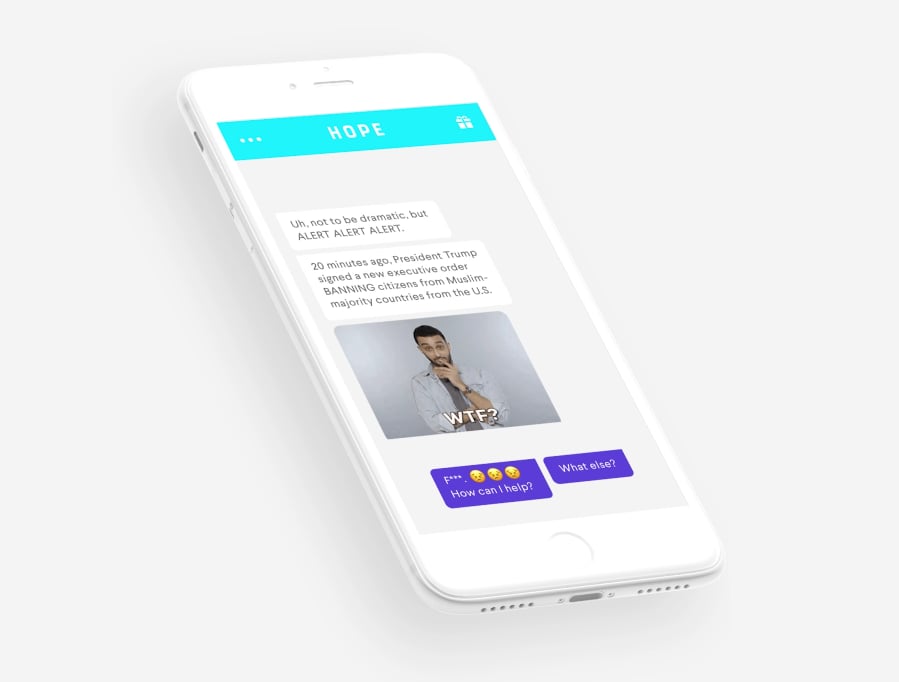 Nearly a year after the 2016 election, one thing is for certain: it's exhausting to live in President Donald Trump's America. It's hard not to get lost in the cycle of outrage and fear; with more threats to our freedoms being piled on with each successive day, keeping up with the issues as well as the constant barrage of political battles and Twitter spats is damn near impossible. For many, that also means it's increasingly daunting to figure out just what one can do to make their voice heard on the things that matter most to us as Americans. Thankfully, a company called Purpose recognized this problem — and it came up with an innovative solution named Hope.
"We were concerned that the chaos and fear that this administration was causing might actually make people turn away from participating in our democracy, or might make people feel powerless," Purpose's head of labs and the executive director of Purpose Climate Lab Jessy Tolkan tells me over the phone on Oct. 11. "So we were searching for a way to help people break down and understand the news and also feel empowered to make a difference in this really remarkable and unique political moment."
The solution Purpose ultimately landed on took the form of a pseudo-chatbot. Hope is there to tell you via text or your browser that something's going on — and, based on how you interact with a series of resulting questions, guide you toward the right type of action. But to be clear, there's no artificial intelligence or machine learning involved here. "This political moment requires really savvy, smart human beings who are strategic in driving citizens to meaningful action," Tolkan says, adding, "Hope is powered by savvy millennial ladies who are helping their peers across America to navigate these really tricky times."
Purpose sees the tool as a "political advisor" for the masses, the "friend in the political know" who's there to provide you with insider information when you're feeling completely anxious about the news or paralyzed by a lack of clarity around what you can do to help. And with so many things going on at the same time these days, it's a relief to know that you've got someone in your back pocket that will actually tell you what you need to know — not just entice you with a push alert that drags you in to reading a 10,000-word treatise on the state of the world.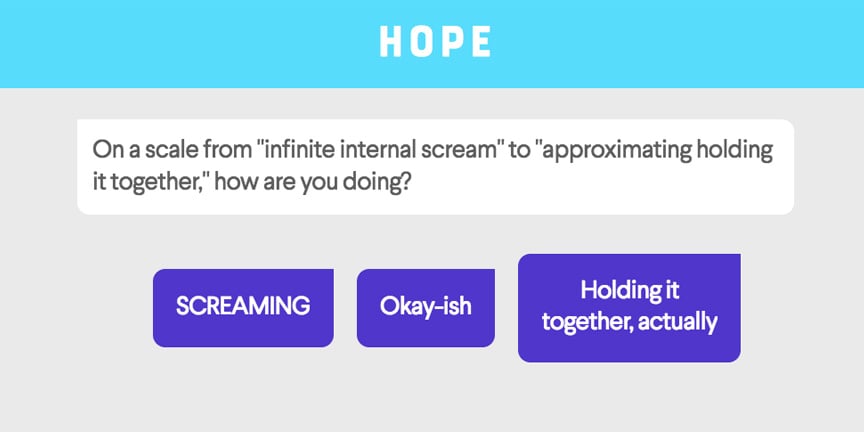 But it's not just about one issue or one article. . . and that's a tricky line to toe. Hope is the direct ancestor of hybrid newsletter-and-call-to-action organizations, ones that Tolkan herself says upfront that she's got a lot of love for. But the scope of their ability to enact change is limited to a single cause per email and often comes several hours too late after the fact. "Maybe you receive that email and you care about that topic — and maybe you don't. But the Hope experience is designed to give you a lot of choice, to follow the story that matters to you, that inspires you, to take the kind of action that feels right to you," she says.
And in using the platform, that sentiment comes through in spades. It's customized to you, your feelings, what you are most comfortable with. "It's a bit of a choose your own adventure," Tolkan says. "It really is designed to give people a chance to be in conversation with Hope. And I think that's important, because the truth is some days we want to fight back against horrible immigration policies, and some days we want to fight back against the misogyny that Trump is perpetuating across America, and some days I want to scream from the rooftops, 'I can't believe, President Trump, that you will not condemn the behavior of white supremacists!' But there's a lot — and I want to be able to have a platform that gives me the opportunity to act on a whole plethora of issues."
It's important to note that Hope isn't there to tell you to do things that won't have any concrete impact. "In an era where there's a lot of fakeness going on, Hope is not giving you actions that are going to make no impact — she's not telling you to call Congress when calling Congress isn't going to do sh*t," Tolkan says. "If something terrible happens and the truth is there's not a lot we can do in that moment, Hope is going to tell you that. Hope is going to give you a moment to say the best thing you can do today is go home and hug your family and remember that tomorrow is a new day." Hope exists to create a conversation, to start a dialogue — and the express purpose of that dialogue is to have an honest, real conversation about what's going on in the world. It's from there, Purpose believes, that real change and real (lowercase h) hope can be born.
"We refuse to lose hope in this moment. We really believe — I so believe — in the power of people," Tolkan tells me. "I have to say that as a youngish woman — a proud member of the millennial generation — I really believe in the power of my generation to push back on what's happening right now. And I wanted to put in the hands of my peers a tool to be able to do that better, and it felt like her name had to be Hope. Because I do think that this tool is part of what gives me hope, and it's part of what enables all of us to ensure that our voices and our beliefs and our demands are not lost in this moment."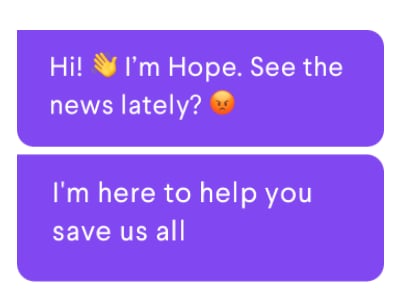 Going forward, the idea is that Hope will continue to grow and adapt and become more integral to the conversation about activism and standing up for what we believe in as American citizens. And she won't be alone in that effort; there will be friends joining Hope on her mission to educate and empower.
"People who sign up for Hope are going to be introduced to lots of Hope's friends in the weeks and months ahead," Tolkan says. "And that might mean hearing from the heads of advocacy organizations like Planned Parenthood, or they may hear from an expert organizer on our team at Purpose, or they might hear from a head of an environmental group . . . . Hope is this really smart, really savvy voice who is going to build a real relationship with users and then bring in her friends when that's helpful to tell the story of what's going on. In other words, the company is leveraging its activism-based relationships to make the tool a more well-rounded, informative outlet for what's to come."
Ultimately, the fact that Hope isn't AI- or machine-based shouldn't be overlooked. It's oddly comforting to know that the voice behind the screen isn't algorithm-based; instead, it's coming straight from the hearts and minds of people just like you. At a time when a lot of the internet giants are glumly confessing to enabling Russian interference in the 2016 election, it's nice to know that what you sign up for is what you get, that an accidental intruder won't be blindly instructing you to do something while being on the payroll of a foreign power. But I digress. Hope isn't a social media platform like Facebook or Twitter. It's more of a social evolution platform, there to help you sift through the noise and feel less helpless — and to enable you to understand without going into complete and utter overload.
"These are scary and overwhelming times," Tolkan tells me at the beginning of our call. But Hope is here to "make it easier and more direct to be a meaningful participant in pushing back on the scary," and from where I stand, she could not have possibly come at a better time.