Malala Yousafzai's Best Quotes
11 of Malala Yousafzai's Most Beautiful, Inspiring Quotes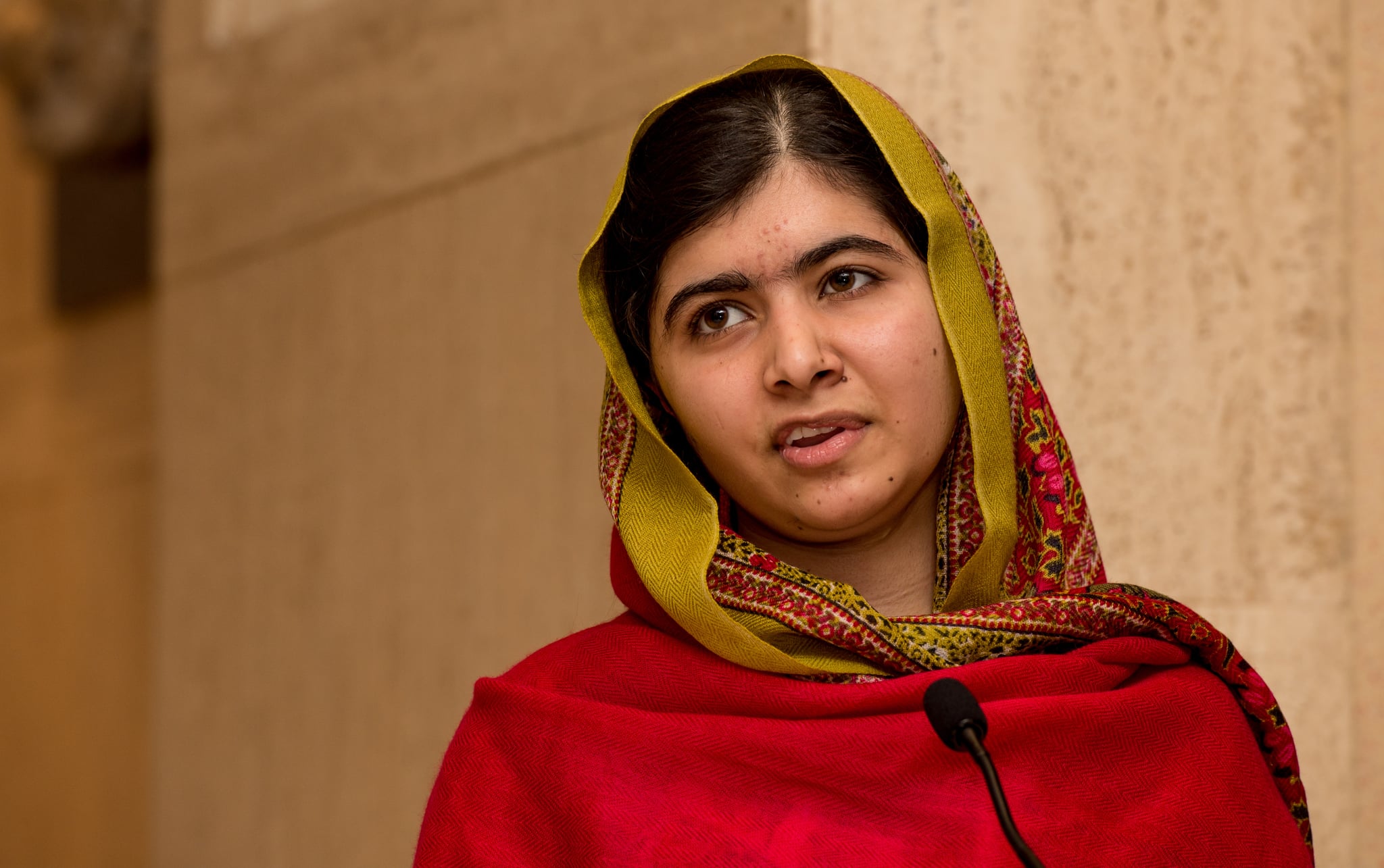 Jon Stewart pretty much nailed it when he called Malala Yousafzai "one of the finest examples of the human spirit." As the 19-year-old has grown up, she has become not just an advocate for women and girls but for humans. Just reading her powerful quotes proves that no one deserves more recognition this Human Rights Day on Dec. 10.
Of course, we're not the only ones who have noticed Malala's impact. Last year, she made history when she became the youngest person to receive the Nobel Peace Prize, and her recent interview with Emma Watson turned into an inspiring lesson on feminism. Meanwhile, this week she came in second place in the readers' poll for Time's Person of the Year title, showing just how much of an effect she's had in a short time.
In 2014, she wrote a moving Washington Post opinion piece, highlighting her path to the global spotlight. "I have already lived what many people might say is a lifetime," she said. "I was 15 when I was shot by the Taliban and almost died but was given another life. I was 16 when I once again raised my voice for girls' rights and education, this time on an international stage."
Malala has our attention, and we're ready to listen. Take a look at her most inspiring quotes and interviews over the years.
In a speech delivered at the UN General Assembly:
"One child, one teacher, one book, and one pen can change the world. Education is the only solution."
"We realize the importance of light when we see darkness. We realize the importance of our voice when we are silenced."
On The Daily Show:
"You must fight others, but through peace, and through dialogue, and through education."
"Why shall I wait for someone else? Why shall I be looking to the government, to the army, that they would help us? Why don't I raise my voice? Why don't we speak up for our rights?"
As part of Glamour's Women of the Year feature:
"I said to myself, Malala, you must be brave. You must not be afraid of anyone. You are only trying to get an education. You are not committing a crime."
"Do not wait for me to do something for your rights. It's your world and you can change it."
On ABC News with Diane Sawyer:
"It was always my desire before the attack that, [if an attacker came], I would tell that man that I even would want education for your daughter."
"We cannot sit on the sidelines and let this continue. Each of us is responsible. We cannot rest until we have justice and freedom for every girl and every boy."
"I know that my small contribution is not enough. But it is a start; I am just one girl."
"We all may seem different from far away. But up close, we face the same fears, and we own the same courage, if we only look deeply enough to recognize it."
In her Nobel Peace Prize acceptance speech:
"Though I appear as one girl, one person, who is 5 foot, 2 inches tall, if you include my high heels, I am not a lone voice. I am not a lone voice; I am many. I am Malala . . . I am those 66 million girls who are deprived of education. And today I am not raising my voice. It is the voice of those 66 million girls."