Melania Trump Says She'll Stop Cyberbullying as First Lady
Melania Trump Says She Wants to Stop Cyberbullying, Causes the Internet to LOL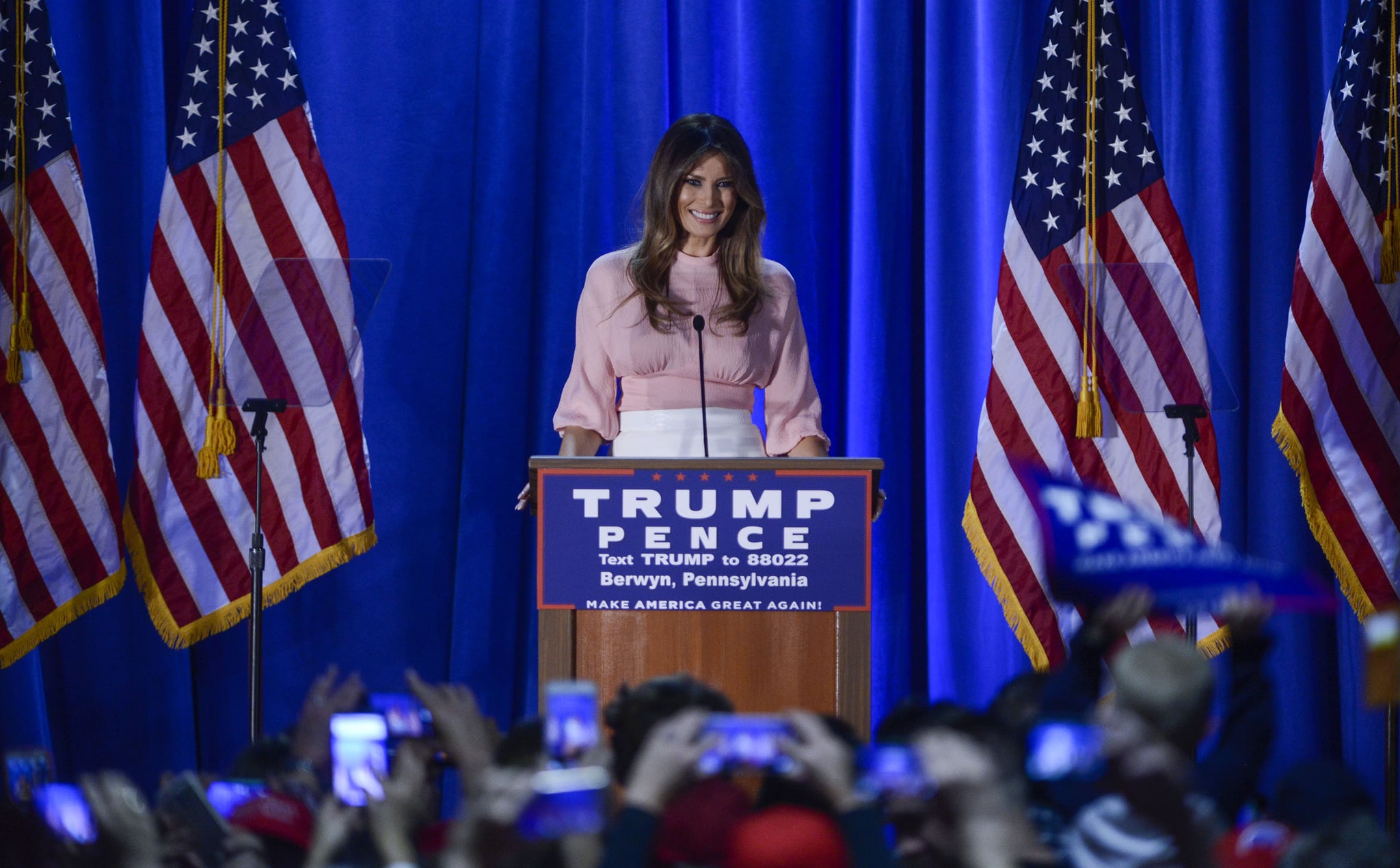 Melania Trump hit the campaign trail on Thursday, giving her first speech since the RNC statements that earned criticism for plagiarizing First Lady Michelle Obama's past words. Karen Pence — the wife of Donald Trump's running mate, Mike Pence — introduced Melania to the crowd in a Pennsylvania suburb before Melania unveiled her plans for if she becomes first lady: fighting cyberbullying.
"Our culture has gotten too mean and too rough, especially to children and teenagers," Melania told the crowd. "It is never okay when a 12-year-old girl or boy is mocked, bullied, or attacked. It is terrible when that happens on the playground, and it is absolutely unacceptable when it's done by someone with no name hiding on the internet."
Cue a collective "huh?" from the multitude of people who have been on the receiving end of Donald Trump's own, now-famous brand of cyberbullying.
@caaataclysm Little Jon Stewart(?) Is a pussy, he would be hopeless in a debate with me!

— Donald J. Trump (@realDonaldTrump) May 11, 2013
.@ariannahuff is unattractive both inside and out. I fully understand why her former husband left her for a man- he made a good decision.

— Donald J. Trump (@realDonaldTrump) August 28, 2012
If crazy @megynkelly didn't cover me so much on her terrible show, her ratings would totally tank. She is so average in so many ways!

— Donald J. Trump (@realDonaldTrump) March 19, 2016
Sorry losers and haters, but my I.Q. is one of the highest -and you all know it! Please don't feel so stupid or insecure,it's not your fault

— Donald J. Trump (@realDonaldTrump) May 9, 2013
Cue even more confusion from those who've fallen victim to doxxing by the GOP candidate's supporters and racist targeting by pro-Trump members of far-right media.
The irony was not lost on Trump critics, who were quick to point out why Melania might not be the best advocate against cyberbullying.
Shorter Melania Trump: "Please, don't be like my husband. For the sake of the nation."

— Ben White (@morningmoneyben) November 3, 2016
Melania Trump giving an anti-bullying speech is like a KKK member's wife speaking up against racism.

— Nasty Woman (@xplora) November 3, 2016
Melania Trump is going to reduce cyber bullying 70% on day one by changing her husbands Twitter password.

— Marc Ensign (@MarcEnsign) November 3, 2016
During her speech, Melania also claimed she wants to serve as an advocate for other women, a statement many criticized considering the fact that her husband stands accused of sexually assaulting several women and one child.
Melania Trump says wants to be an "advocate" for other women - she can start by telling her husband to keep his hands to himself.

— Kaivan 🇺🇸5 days (@KaivanShroff) November 3, 2016
If Melania is given the opportunity to act on her proposed platform as first lady, it will certainly be interesting to see whether she starts at home. Only time (and one extremely stressful election) will tell.