Women Who Have Accused Donald Trump
Here's the Growing List of Women Who've Accused Trump of Sexual Misconduct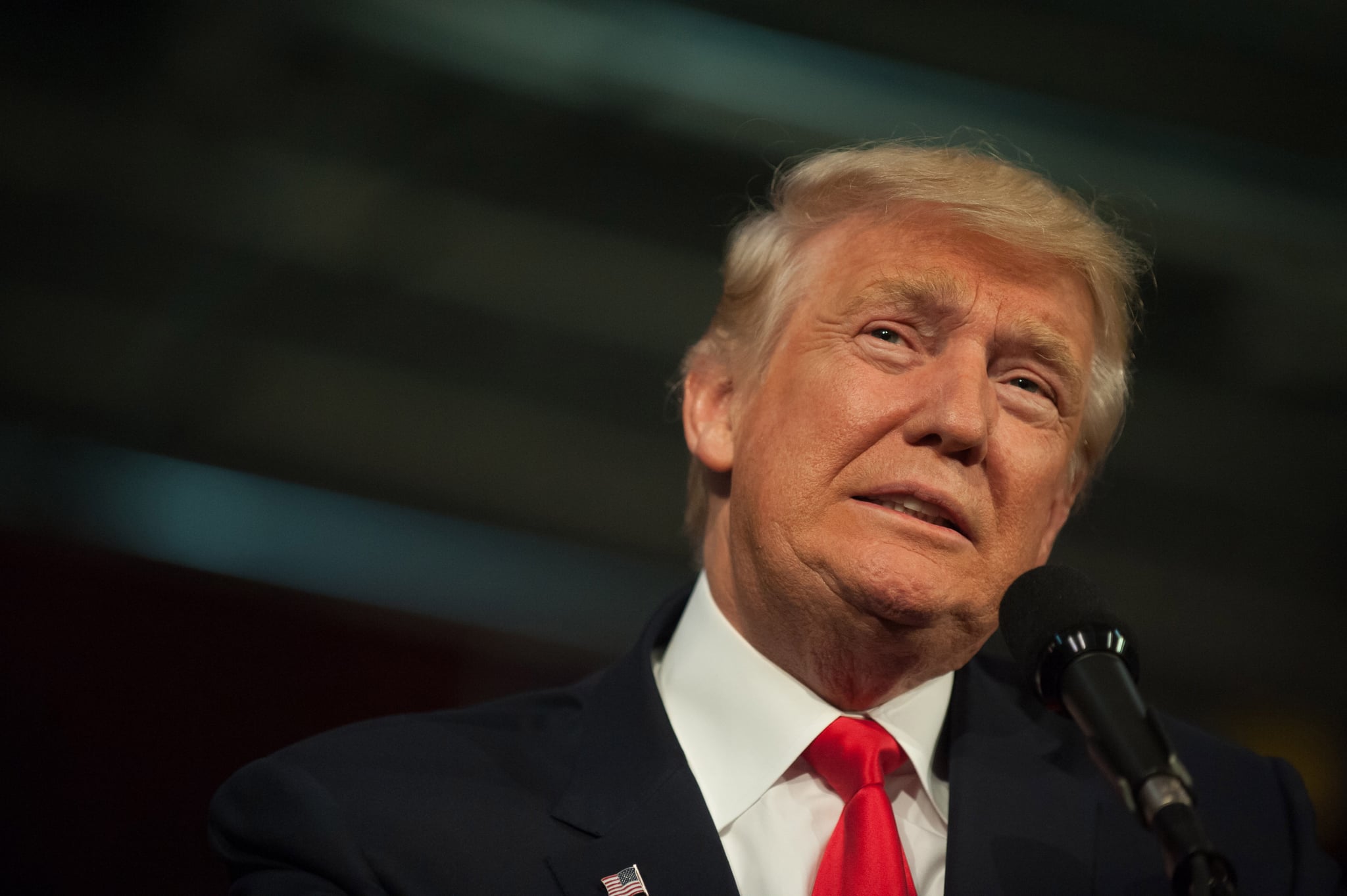 After the infamous tape of Donald Trump describing how he gropes and kisses women without their consent was leaked on Oct. 7, women from across the country began sharing their disturbing accounts of Trump's unwanted sexual advances. The New York Times and People magazine both released stories this week detailing Trump's supposed inappropriate behavior with women. But even before the tape came out, a few women had claimed Trump came onto them without their permission. Here's a list of all those who have accused Trump of sexual misconduct — so far. Trump has denied all of the allegations, except one which he has not responded to.
1. Jessica Leeds
Jessica Leeds's story is one of the two reported by the New York Times on Oct. 12. Leeds, now 74, told The Times that Trump groped her breasts and attempted to put his hands up her skirt when she was seated next to him on an airplane in first class. Leeds was 38 when the alleged incident occurred. "He was like an octopus. His hands were everywhere," Leeds told The Times. Leeds said she started sharing her encounter with Trump with friends when he announced his candidacy last Summer.
2. Rachel Crooks
Rachel Crooks was the second woman who shared her story with The Times. In 2005, when Crooks was a 22-year-old receptionist, she said Trump kissed her forcefully when they were alone in an elevator. Crooks told the reporter it felt more like a violation than an accident. "I was so upset that he thought I was so insignificant that he could do that," Crooks added. After the distressing encounter, Crooks told her boyfriend Clint Hackenburg at the time. Hackenburg confirmed the story to The Times. Trump has denied Leeds and Crooks's claims and threatened The Times with a slander lawsuit.
3. Natasha Stoynoff
Natasha Stoynoff was assigned the Trump beat for People in the early 2000s until Trump reportedly pinned her against a wall, kissed her, and made repeated inappropriate remarks to her. Writing in People, Stoynoff said she shared her experienced because she was empowered to come forward after the tape was leaked. The supposed incident, which occurred in December 2005 — less than a year after Trump married Melania Trump — echoes that of Crooks's. Stoynoff was at Trump's Florida estate for a story about his first wedding anniversary. She said she walked into a room alone with Trump and that "within seconds he was pushing me against the wall and forcing his tongue down my throat."
Stoynoff said Trump's butler entered the room to inform the two that Melania would be down shortly and that later that day, Trump told Stoynoff, "You know we're going to have an affair, don't you?" Stoynoff reportedly told a colleague but not an editor, so her planned story on the Trumps' anniversary ran. While Trump has vehemently denied this incident and even implied she was not attractive enough for him, People has issued a statement supporting Stoynoff's story.
Statement from Jess Cagle, Editor in Chief of PEOPLE (via @jdisis) pic.twitter.com/DQfPOCfaxv

— Dylan Byers (@DylanByers) October 13, 2016
4. Temple McDowell
Temple McDowell was 21 in 1997 when she represented Utah in the Miss USA pageant. In an interview with NBC, McDowell described how Trump "embraced" and kissed her on the lips during a rehearsal for the pageant in front of her father. Later, Trump invited McDowell to Trump Tower under the guise he would connect her with modeling agencies. Again, Trump kissed her on the lips and grabbed her. Trump has disputed McDowell's claim, telling NBC News, "I don't even know who she is."
5. Jill Harth
Jill Harth's story has been reported in the past but is reemerging as other women come forward. In 1992, Harth and her then boyfriend, George Houraney, partnered with Trump through their pageant company, American Dream Enterprise. Harth said that at one of their meetings in January 1993, Trump invited the couple to his estate in Florida. Trump reportedly offered Harth a tour of his mansion; along the tour, she said Trump took her into the empty bedroom of Ivanka Trump, his daughter. While in the room, Trump supposedly pushed Harth against a wall and forcefully tried to kiss her. She said the assaults continued as her business with Trump continued; she would go to his office and "it would turn into a wrestling match," she told The Times.
Harth filed a sexual harassment lawsuit against Trump in 1997. Trump, denying the allegations, claimed that Harth filed a lawsuit against him because he had ended their business relationship in 1994 and their breach-of-contract lawsuit failed.
6. Tasha Dixon
Tasha Dixon, who was Miss Arizona in 2001, confirmed BuzzFeed's report that Trump frequently walked into the dressing rooms of his pageants — even when some of the contestants were in high school. Dixon told CBS that Trump came "waltzing" into the dressing rooms without announcement while women were naked or half-naked. Trump denied these allegations as well.
In a tape that CNN resurfaced, Trump apparently admits to walking into dressing rooms during an interview with Howard Stern. "I'll go backstage and everyone's getting dressed, and everything else, and you know, no men are anywhere, and I'm allowed to go in because I'm the owner of the pageant and therefore I'm inspecting it," Trump said.
7. Mariah Billado
As Miss Vermont Teen USA in 1997, Billado was also interviewed by BuzzFeed for its story about Trump walking into dressing rooms. Billado said, "I remember putting on my dress really quick" when she noticed there was a man in the changing room. She also remembered that Trump said, "Don't worry, ladies, I've seen it all before." Trump has denied this allegation, too.
8. Cassandra Searles
Cassandra Searles, a former Miss Washington in 2013, alleged in a June Facebook post that Trump groped her. In the post, since deleted, Searles asked her 2013 Miss USA class, "Do you also remember when he then proceeded to have us lined up so he could get a closer look at his property?" According to Yahoo News, women who competed in the same pageant and whom Searles had tagged in the post acknowledged the incident. Trump's campaign has not responded to this allegation.
9. Ivana Trump
In a memoir about Trump's life, Trump's ex-wife Ivana accused him of a "violent assault." Harry Hurt III wrote the book Lost Tycoon: The Many Lives of Donald Trump in 1993. After interviewing Ivana, Hurt wrote, "[Trump] jams his penis inside her for the first time in more than sixteen months. Ivana is terrified." Hurt also describes how Ivana told him, "He raped me." In the book, Hurt wrote that Trump was upset with Ivana after her plastic surgeon apparently "ruined" him when the surgery failed to remove Trump's bald spot.
Ivana has since retracted her claim that she was raped. In 2015, Ivana released a statement to CNN saying the story was "totally without merit" and she shared it "at a time of very high tension" during her divorce. Trump apparently told Newsday, per The Daily Beast, that Ivana's claims were "obviously false."
10. Jane Doe at age 13
An anonymous woman filed a civil lawsuit against Trump claiming that he raped her when she was 13. The lawsuit alleges that she was forced to have sex with Trump at the behest of his friend and convicted sexual offender Jeffrey Epstein. In 1994, the woman asserted that Trump raped her in New York City at Epstein's home and on other occasions at parties hosted by Epstein, according to BuzzFeed. Trump has denied these allegations, according to The Guardian. Epstein has also denied sleeping with the girl.
We will continue to update this post if more women come forward.