Mike Pence's Comments About Broad Shoulders
Mike Pence Pissed Off the Internet With His "Broad Shoulders" Comment From the VP Debate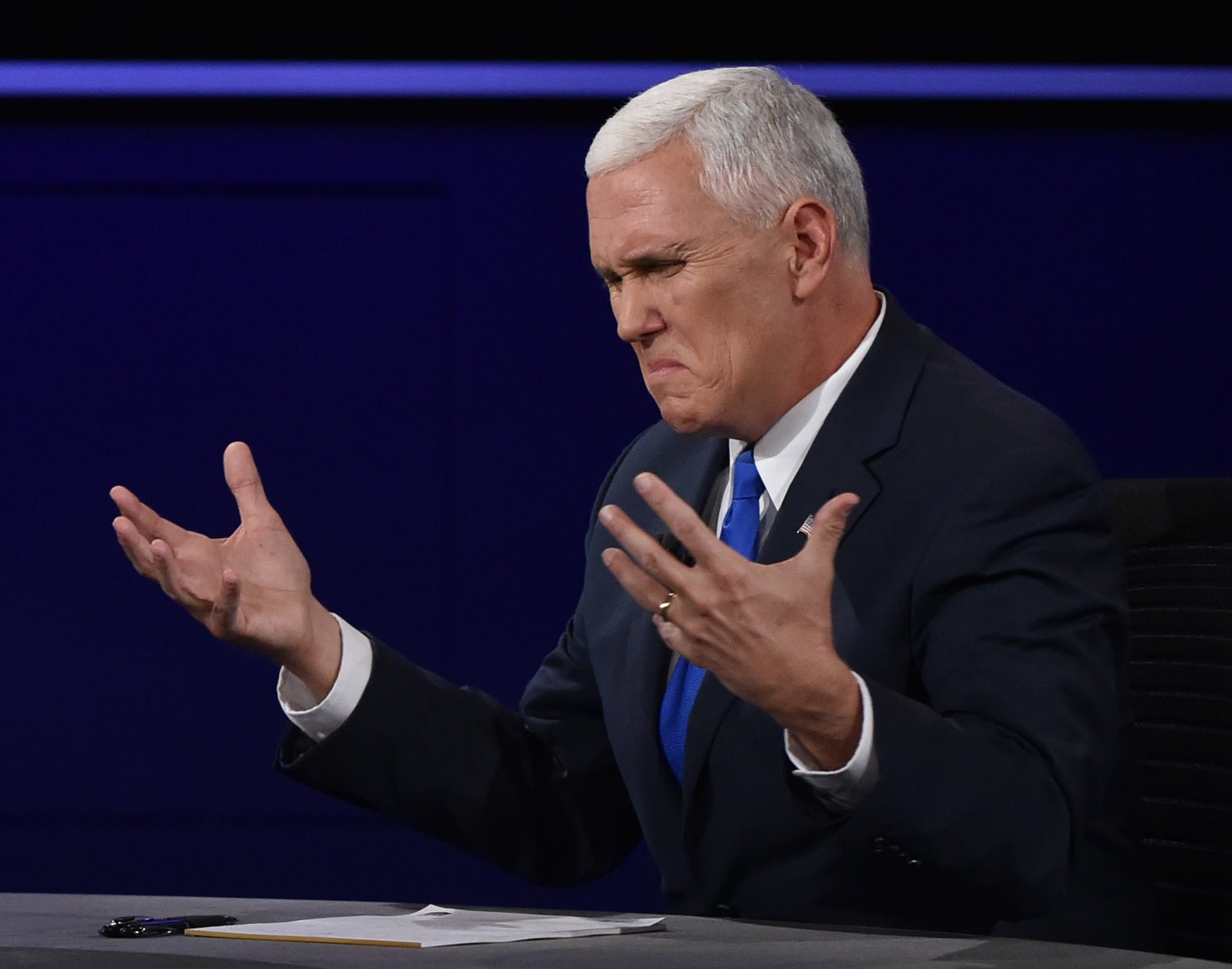 During the first and only vice presidential debate of 2016, Mike Pence got some heat for saying we need "broad-shouldered American leadership."
Moderator Elaine Quijano of CBS News asked Pence and Tim Kaine whether the US has a responsibility to intervene in Syria's civil war in order to protect civilians, and Pence answered by first saying that Clinton's top priority when she became secretary of state was dealing with Russia. When it came to Syria, he said, "We have got to lean into this with strong, broad-shouldered American leadership that begins by rebuilding our military."
Many took Pence's description of "broad-shouldered American leadership" to mean that a woman wouldn't do as good of a job as a man. Here's how Twitter reacted:
When @mike_pence says "strength" or "broad shoulders" he means men.

— Jess O'Connell (@JessOConnell) October 5, 2016
I'm waiting for the next broad shoulders statement (Men Are Leaders). PENCE & TRUMP are mysoginists.

— LucasJChristain (@lucasjchristain) October 5, 2016
Did you catch that? Pence OFTEN says a president needs "broad shoulders." Now. What kind of person has broad shoulders? 🤔 #VPDebate

— Emily Lindin (@EmilyLindin) October 5, 2016
"We need to lean in with strong broad shoulders." Was that a dog whistle about Hillary's gender? lol #VPDebate

— Travis VanBelle (@travisvanbelle) October 5, 2016
I got pissed off at Mike Pence's sexist "broad shoulders" comments.

— jbmaddox @True-blue (@fb9ebe5f25ad463) October 5, 2016
@HayesBrown @texasinafrica come on, we all know women can't drive. Their shoulders are not broad or strong enough.

— Daniel de Kadt (@dandekadt) October 5, 2016
Stamina. Strength. Broad shoulders.

— Bryce Covert (@brycecovert) October 5, 2016
Pence's comment reminded some people of when Trump said Clinton lacked the stamina to become president during the first presidential debate and drew criticism for being sexist.