Personal Essay on School Shootings by High School Student
I'm a Member of the "Mass Shooting Generation," and I'm Determined to Make a Change
At 18, I don't really remember the Sept. 11 attacks. I was less than a year old, after all. I learned about it later in school, but when parents and teachers describe that day, they talk about how it was this horrific wake-up call — a day when innocence was broken and Americans' sense of safety was forever shaken. I might not remember that day, but as a member of the "mass shooting generation," I know that feeling well, so I wasn't surprised when I read an article that called school shootings my generation's 9/11.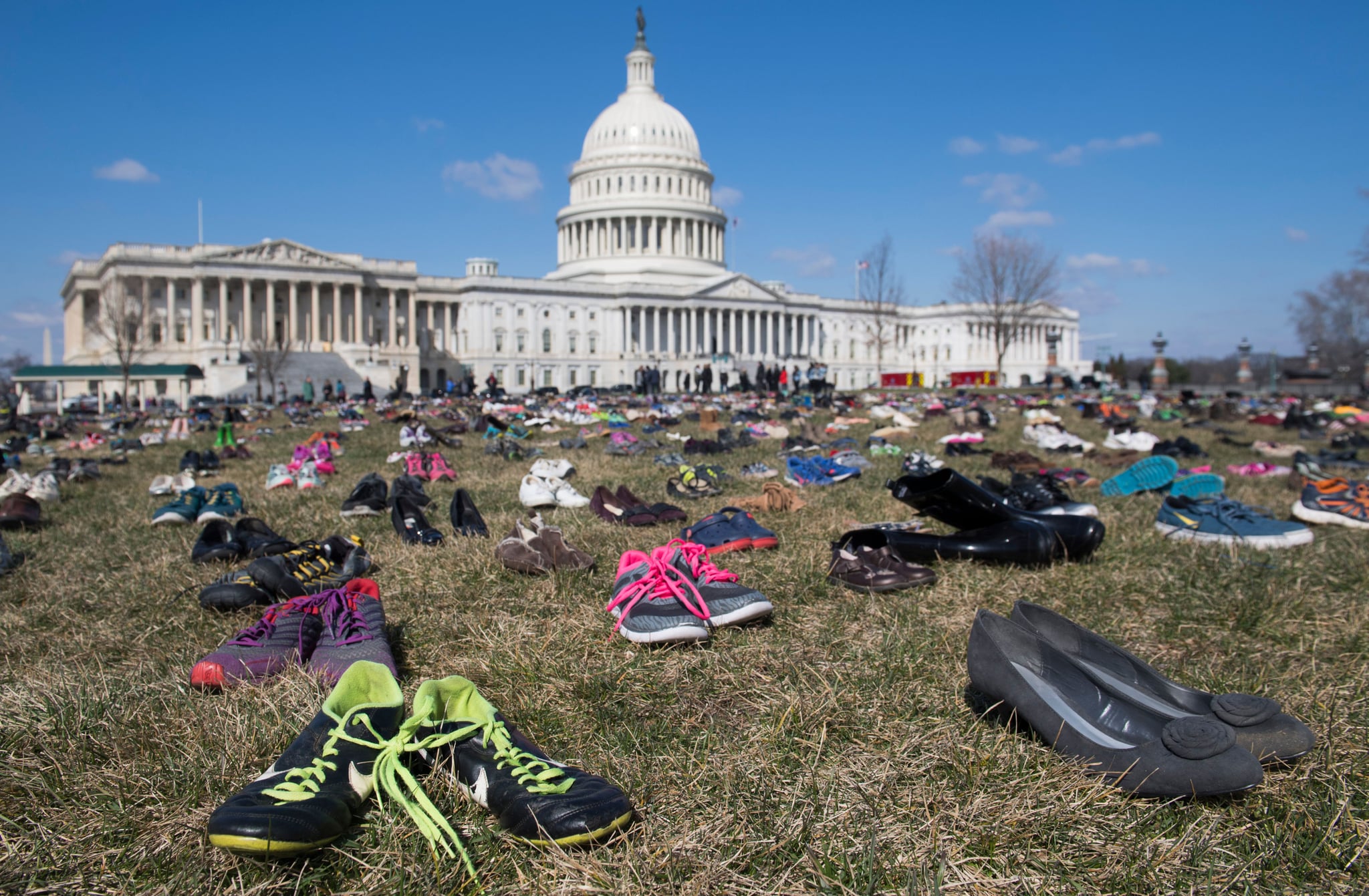 Shoes representing the 7,000 children killed by gun violence since the Sandy Hook school shooting are displayed in a silent protest at the US Capital in March 2018.
I have never known life free of gun violence. According to The Washington Post's recent analysis, more than 4.1 million students like me endured at least one lockdown during the 2017-2018 school year. We practice drills that may keep us safe, knowing that a shooting could come at any moment. This fear isn't unfounded. We grew up knowing that movie theaters, schools, and even our homes could become the sites of horrible tragedies.
Gun violence is the second leading cause of death for American children overall. Among black children and teens, it is the leading cause of death. This is a uniquely American crisis. Young adults age 15 to 24 in the US are 23 times more likely to be killed by guns compared to other high-income countries.
It is an unbearable reality. And it's one many of us are determined to end. A recent survey said that 68 percent of young people say school shootings are the most important issue facing the United States. That shouldn't be shocking — we live in constant fear that our school or community may be next.
This reality has essentially forced many of us to get political. When you feel your very life is under threat for simply getting up and going to high school, it's hard to just sit on the sidelines. It's motivating us at school, at home, and, last November, at the ballot box. It's the reason young people doubled our 2014 midterm turnout in 2018.
Before the shooting in Parkland, FL, I'd been concerned about gun violence, but I didn't know how I could make a difference. After Parkland, I jumped into this movement by founding a Students Demand Action For Gun Sense in America chapter in my community. Weeks later, there was a shooting at Santa Fe High School, barely an hour from where I live just outside of Houston. The Santa Fe shooting happened just 24 hours after my school had gone through a lockdown — thankfully a false alarm — but further enforcing just how common all of this is and motivating me to stop this from becoming our new normal.
So many of my classmates got involved with Students Demand Action after the Santa Fe shooting. We've already gone to our statehouse to advocate for stronger gun laws, and we're just getting started.
My generation will have to live with the decisions made by our elected officials for decades to come. That's why we rallied to support candidates committed to gun safety last year. We successfully paved the way for progress, and now it's time to push Congress to pass bipartisan legislation introduced this month to require background checks on all gun sales. The proposal is supported by 85 percent of Americans, including 79 percent of Republicans. It's also long overdue.
The background check system was established over 25 years ago, and the world has changed a lot since then. Loopholes in the system have turned the internet into one big gun show, without requiring any checks to see if a buyer has a criminal history or is otherwise prohibited from owning guns.
The proposed legislation would close the background check loophole. This is a critical step to preventing gun violence in our schools and communities. You can contact your representatives and tell them to support this life-saving legislation by texting CHECKS to 644-33.
Every day at school, I worry about a shooting. We have to act now so that students who come after us don't have to live in this constant state of fear. Every student should get involved — before it's your community that's directly affected.
Annika Gallaway is a high school senior and leader of the Montgomery County Texas chapter of Students Demand Action.