President Obama's Last Press Conference of 2016
Obama's Top 4 Dad Moments From His Final Press Conference of the Year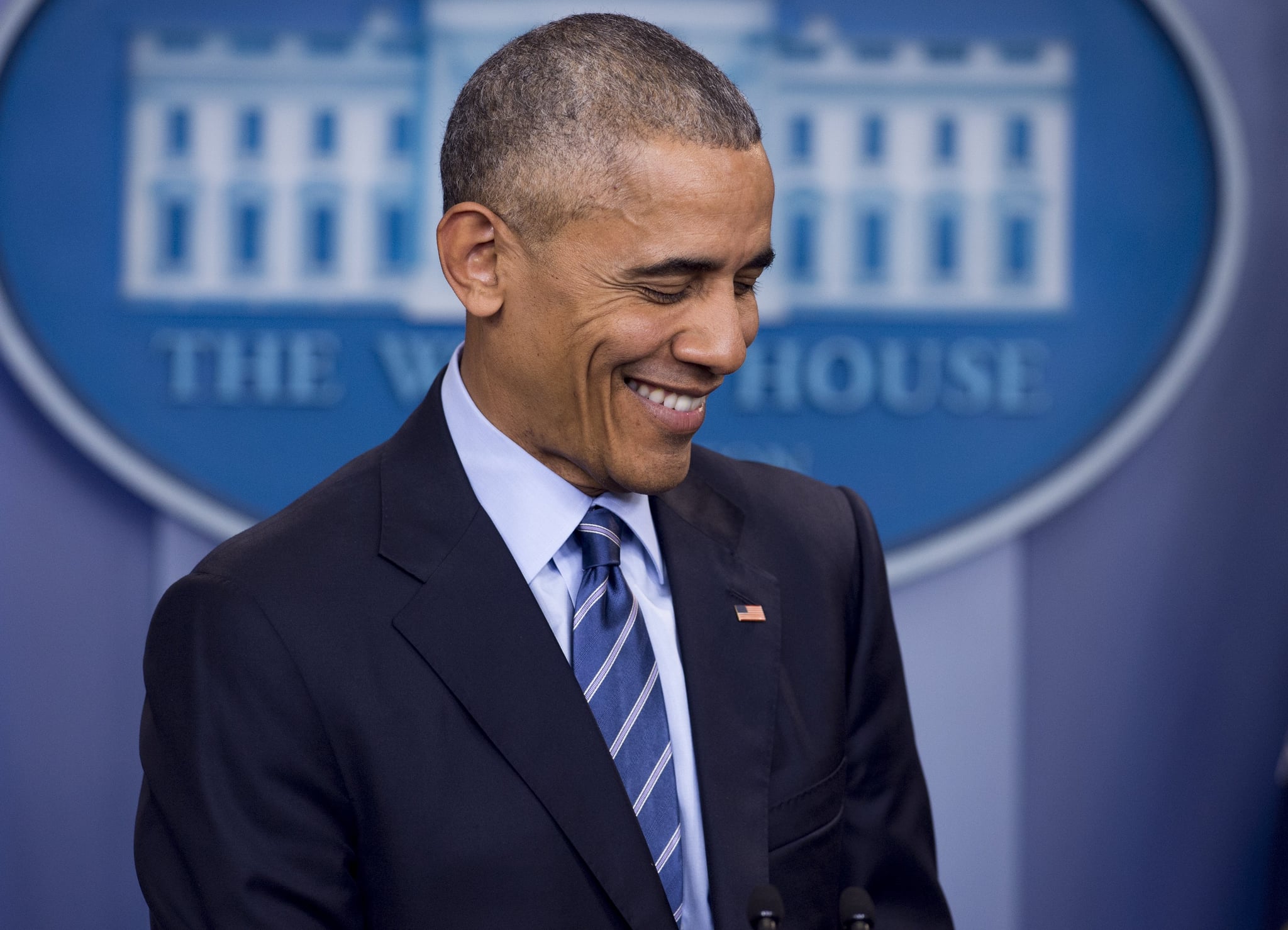 In his last press conference of the year, and possibly of his administration, President Obama reached peak dad mode. The president spoke about how Putin led the Russia hacking scandal, Hillary Clinton's election loss, the media's role in her defeat, Aleppo's crisis, and of course, Donald Trump's impending presidency. With each sentence, he remained cautious, showing a different side of him than the brazen, IDGAF Obama we saw just before the election. Here are the moments that stood out.
Dad strike #1: Babying Trump
Was Obama too soft on Trump, with whom Obama said he has a "cordial" relationship? Yes — but there's probably a reason.
ABC's Martha Raddatz asked whether the president thinks Trump's tweets that the CIA's claims about Russia are bogus will embolden the Russians. "I think that the president-elect, you know, is still in transition mode from campaign to governance," said Obama. "And there is just a whole different attitude and vibe when you're not in power as when you are in power. So rather than me sort of characterize the appropriateness or inappropriateness of what he is doing at the moment, I think what we have to see is how will the president-elect operate and how will his team operate when they've been fully briefed on all these issues." (See a clip of his words here.)
Critics thought Obama needed to be harsher on the president-elect instead of excusing his comments that undermine US intelligence. Others believed Obama was being strategic so as not to offend Trump; this way, the president could still influence Trump's decisions.
Do you want Obama to breathe 🔥or do you want him to keep an open line of communication with Trump? /1

— take care of yourself (@anamariecox) December 16, 2016
Here is a theory - Trump is the audience for Obama here?

— Armando (@ArmandoNDK) December 16, 2016
Dad strike #2: Embarrassing language
Our message to #Russia: Not to do this to us because "we can do stuff to you." - Obama https://t.co/Ky2MPV0QlW pic.twitter.com/7TJxEsH94S

— Camilo Gonzaalez (@GonzaalezCamilo) December 16, 2016
Obama's other dad moment came when he said he told Putin to "cut it out" when they met in September and warned of "serious consequences" if the hacking continued. He also said he would continue to warn Russia "not do this to us because we can do stuff to you." How many times do you think Sasha and Malia have heard this?
Dad strike #3: Chastising the press
Obama on Podesta emails: Media wrote about it every day, every leak -- "including John Podesta's risotto recipe" https://t.co/4UVmKXTLiC

— CNN (@CNN) December 16, 2016
Obama might not have gone after Trump, but he did have sit-down talk with the press. Speaking about how the hacking of DNC emails could have played a part in Clinton's loss, he said, "I am finding it a little curious that everybody is suddenly acting surprised that this looked like it was disadvantaging Hillary Clinton. Because you guys wrote about it every day. Every single leak about every little juicy tidbit of political gossip, including John Podesta's risotto recipe. This was an obsession that dominated the news coverage."
Dad strike #4: Acting like all going to be OK
President Obama: "What we've done works. ... You can't argue that we're better off. We are." https://t.co/rjuF3NR9lF https://t.co/nLKzihcd9g

— CNN (@CNN) December 16, 2016
"Don't freak out about Trump," is basically how Obama ended his press conference. "People have asked me how you feel after the election and so forth and I say well, look, this is a clarifying moment. It's a useful reminder that voting counts, politics counts," said Obama. "What the president-elect is going to be doing is gonna be very different than what I was doing and I think people will be able to compare and contrast and make judgments about what worked for the American people. And I hope that, building off the progress we've made, that what the president-elect is proposing works."
Hoping that Trump's presidency isn't so bad after all? Guess that's what all dads are telling us these days.
Obama right now. https://t.co/jDUKJQZxsr

— Ian Millhiser (@imillhiser) December 16, 2016
If you've missed this press conference up to now pic.twitter.com/juKZE1aLGQ

— Dave Itzkoff (@ditzkoff) December 16, 2016