SCOTUS Decision on Students With Disabilities
Here's Why the Supreme Court Ruling on Students With Disabilities Is Such a Big Deal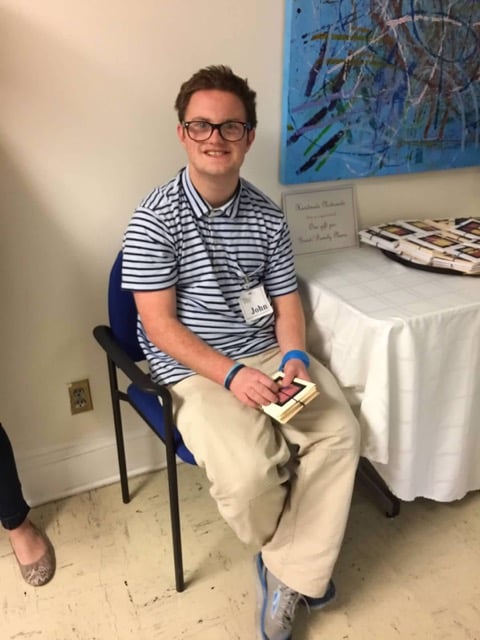 My brother John at a benefit for his school, Philips Academy, in North Carolina.
On March 23, the Supreme Court unanimously ruled in favor of students with disabilities. It's a ruling that is especially important to me. Students with disabilities have long struggled to receive a sufficient education which meets their needs in public schools — something I know first-hand. My brother John, who is intellectually differently abled (though undiagnosed), has been to both public and private schools. It's quite clear to my family that John's progress (as well as his desire to actually go to school) improved noticeably when he started attending a school that specializes in educating students with disabilities.
There are approximately 7 million students in America with disabilities and the Supreme Court's ruling demands that they receive a comparable education to their peers. The case centers on a student with autism, Endrew F., whose parents pulled him from the public school system in Colorado after his progress evidently stagnated. Endrew's parents sued the school board to compensate them for his private school tuition, positing that the public school had failed to deliver on a federal law which requires "free appropriate public education" to students with disabilities. Rejecting a lower court's standard — which was also coincidentally set by present Supreme Court nominee Judge Neil Gorsuch — the Supreme Court unanimously ruled in favor of Endrew.
It's a monumental moment in American history for a number of reasons, the most significant of which is the unanimous support from all eight justices. By siding with Endrew, the court sends the message that the United States government ultimately must support people with disabilities. Secondly, the decision recognizes their right to an education which is not "merely more than de minimus," language which previously meant public schools had to essentially provide just the minimum level of education. It's not a secret that a one-size-fits-all solution to educating children with vastly different needs will fail, and this ruling recognizes that reality.
In the court's opinion, Chief Justice John G. Roberts Jr. wrote that children with disabilities are entitled to schooling "that is reasonably calculated to enable [them] to make progress." The decision itself doesn't necessarily mean the entire public school system will be overhauled, but it does hold them to a higher standard. It also indicates that parents who send their children to schools which are better suited for their needs might be compensated.
When John entered the equivalent of high school, my mom pulled him out of public school because of its striking inadequacies. Even though I have four siblings including John, my mom decided homeschooling him would be more beneficial to him than attending public school. When he was in public school, John was repeatedly overlooked and misunderstood — it was not the fault of the teachers, but merely a fact of trying to address the needs of dozens of children who all have different difficulties.
"John feels accepted in a school where he knows everyone is like him."
Now 17, John attends a private school with 32 other students called Philips Academy. After spending two years at homeschool, my family and even John's childhood friends have seen a remarkable improvement. Personally, I've watched as my brother excitedly wakes up hours before school and starts anticipating his day. For the first time in his life, John does not dread school, nor does he get frustrated and lash out as he once often did. As my mom said when we first learned of the Supreme Court's decision, "John feels accepted in a school where he knows everyone is like him."
"A mother of one of John's peers, JP, commented this past weekend on how much progress John has made since he was homeschooled and now attending Philip's Academy," my mother wrote me in an email. "The class sizes are much bigger in public schools and it is very difficult to address students individually, which differently abled kids need."
In North Carolina, where John attends school, there is actually a program for parents of students with disabilities — they can apply for reimbursement of up to $4,000 if they decide to send their child to private school or homeschool them. But private school is expensive and the grant pales in comparison to how much it typically costs.
I spoke with the executive director of John's school, Deborah Hodland, via email about the decision and she reiterated its potential benefits for parents. "Parents may have more power in advocating for their child during the Individualized Education Program process in the public schools," Hofland said.
Hofland also added that the decision could catalyze more enrollment in private schools. "If parents are more easily able to access funds through the public schools when their child does not show adequate progress, then it is possible the result could be an increase in enrollment for private schools serving children with disabilities," Hofland wrote.
The Supreme Court decision is unlikely to alter how the public school system operates day in and day out; I'm not sure it's possible to provide a standardized education to students who simply require varying levels of attention and instruction. I am certain, however, that students with disabilities deserve the same access that their peers enjoy. On a most basic level, this Supreme Court decision sends the profound message that students with disabilities do not deserve less because they are different. My brother John's experience is proof that children with disabilities who are educated according to their needs excel far beyond the bounds of a system that previously only offered the minimum.
Image Source: POPSUGAR Photography / Eleanor Sheehan