Unicalendar Emoji Calendar Kickstarter Campaign
This Emoji-Inspired Calendar Is the Only Thing You Need on Your Wish List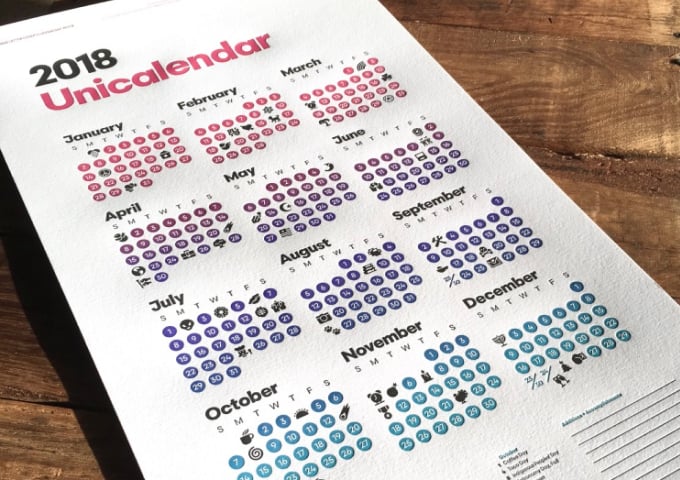 If your love of emoji knows no limits, then prepare to break out your wallet and get this calendar straight out of your dreams. The Unicalendar is an emoji-inspired calendar that shows the entire year on a single, letterpressed page, and it comes with a set of "double foil" emoji stickers ready to use and mark dates that mean something a little extra special to you.
The Unicalendar uses an "emoji-inspired icon" to mark 56 special days and events on the calendar including traditional holidays like Thanksgiving and Valentine's Day as well as lesser-known ones like Popcorn Day and Book-Lovers' Day. If you need reminders for some more personal days, the Unicalendar comes with a set of 80 emoji stickers to mark celebrations, birthdays, or anniversaries.
Unsurprisingly, the Unicalendar already met its $3,200 goal and has raised $5,280 at the time of writing. You can still get the calendar via the numerous rewards offered. If you contribute $60 or more, you get a signed calendar, a set of 80 emoji stickers, and free shipping. Or, if you know multiple emoji-lovers, you can get three copies of the calendar with three emoji sticker sets for $150. The calendar is expected to ship in time for the holidays, so there's no reason to hold back from buying one for yourself.