Is There Viagra For Women?
Shocker: "Female Viagra" Isn't Actually Like Viagra After All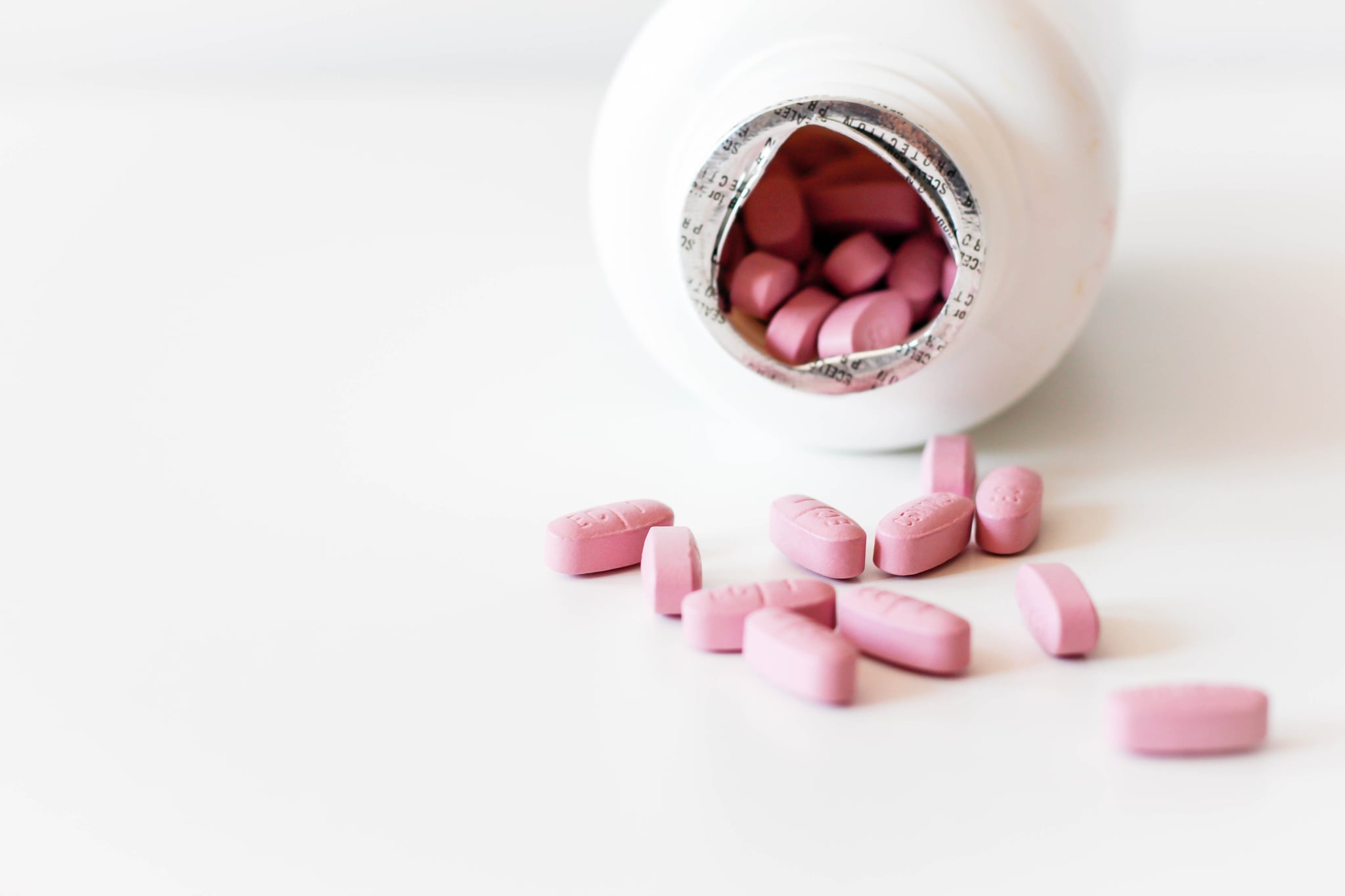 Addyi, the medication frequently called "female Viagra," has been on the market for a little over two years — but it's likely you're about to start hearing a lot more about it. That's because the drug's creator, Sprout Pharmaceuticals, just bought it back from Valeant Pharmaceuticals, Inc., and is getting ready to make it a household name with the help of a $25 million loan included as part of the deal.
The loan is intended to help Sprout's mission of "advancing products for the treatment of female sexual health," Valeant tells POPSUGAR. Since most women, like Addyi patient Andrea* of New Jersey, are, in fact, interested in having orgasms, we figured we should dive into what this little pink pill actually does, its drawbacks, and why it shouldn't be likened to Viagra after all.
How Does It Work?
"[Addyi] works differently from [Viagra] because each medication has a different purpose," Sherrie L. Wilcox, PhD, CHES, an expert in sexual dysfunction and low libido and an adjunct assistant professor at the University of Southern California, tells POPSUGAR.
Addyi (pronounced "ad-ee") is the brand name for flibanserin, and it was approved by the Food and Drug Administration (FDA) in August 2015 as a treatment for acquired generalized hypoactive sexual desire disorder (HSDD) in women who have not yet reached menopause. HSDD is diagnosed as low sexual desire that causes people distress or issues with their interpersonal relationships.
Andrea, a former teacher and longtime sexual dysfunction patient of Dr. Bat Sheva Marcus at the Maze Women's Sexual Health Clinic in NYC, was diagnosed with HSDD six years ago.
"We tried testosterone pellets, use of a vibrator and other things . . . nothing quite worked," she says. "Then, when I heard about Addyi [in 2015], I immediately called Dr. Marcus up and made an appointment to come in and talk to her about it."
She's been taking it ever since.
Addyi is intended to make a woman want to engage in sexual activity more often by targeting chemicals called neurotransmitters in the brain, Dr. Jonathan Schaffir, MD, of the Department of Obstetrics and Gynecology at The Ohio State University Wexner Medical Center, tells POPSUGAR. It's a mental thing.
Viagra (which is the brand name for sildenafil citrate), on other hand, was approved by the FDA as a treatment for impotence, which is the inability for a man to get or keep an erection, in March 1998. "Viagra works by improving blood flow to the genitalia and causing more engorgement of the penis," Schaffir says. It's a physical thing.
To put it another way: Viagra won't turn a man on, but it makes it easier for a man who is already turned on do the deed by making his penis hard. Addyi is supposed to help a woman get turned on so she wants to engage in some type of sex, but it won't make getting it on any easier by making her wetter or more naturally lubricated.
While we shouldn't discount any kind of benefit that women with HSDD might receive from taking Addyi, Dr. Schaffir says the clinical trials showed less-than-dramatic effects, with women taking the drug averaging just one more sexually satisfying event (generally speaking, one more sexual session) per month than women taking placebo.
"So it may be helpful, but women should not expect to suddenly want sex all the time," he says.
While that may be the average reported experience from trials, Andrea tells POPSUGAR she's wanted sex much more often than that since taking Addyi every day, and she felt those results just two weeks after beginning the treatment.
"[Previously,] I enjoyed sex," she says, but she could basically take it or leave it. "I would never initiate," she adds, but after taking Addyi, that's completely changed.
And while it's not an expected benefit, Andrea says since taking Addyi, she's finally been able to achieve orgasm.
"No matter how hard we tried, I'd just get to the brink, but I just never had an orgasm," she says. "Now, it's 95 percent of the time."
For Andrea, that makes it more than worth it that Addyi must be taken daily before bed, unlike Viagra, which can be taken on demand, on an "as-needed" basis.
What Are the Potential Risks and Benefits?
Addyi is much more expensive than Viagra's generic equivalents and not widely covered by insurance.
Andrea, however, is one of the lucky ones with insurance that does include Addyi benefits, so she pays only $20 each month for her prescription. But many women with HSDD face paying out of pocket at astronomical rates.
The average cash price for a one-month supply of this treatment for low sexual desire in women is just over $950, according to GoodRx, a site that tracks and provides discounts on prescription drug prices. Brand name Viagra is also not always covered by insurance and comes in at about $2,160 for the same number of pills. But the same site lists the average cash price for generic versions of Viagra at about $290 for 30 tablets, and men using generic Viagra may pay even less because it is much more likely to be included in health insurance policies.
There is no generic or cheaper equivalent for Addyi available right now.
Director of Women's Behavioral Health at the OSU Wexner Medical Center Kristen M. Carpenter, PhD, tells POPSUGAR she isn't aware of any of her patients who have tried Addyi for that reason. "It has been cost prohibitive for those who've received prescriptions," Carpenter says.
"It's improved my sex life tremendously, and it's a shame that more women can't use this," Andrea says. "Especially when insurance companies cover things like Viagra for men, it's outrageous that more policies don't cover this for women."
Along with those considerations, there are some serious health risks associated with taking Addyi, like severely low blood pressure, dizziness, and fainting, which are significantly increased by alcohol intake. While most research has shown that Addyi is generally well-tolerated, Wilcox says, "Women should absolutely not consume alcohol while taking this medication."
Andrea says she wasn't a big drinker before she started this regimen, maybe drinking a glass of wine once every two weeks at most, so this isn't a problem for her. Against doctors' recommendations, she continues to enjoy a drink or two with the same frequency and while taking the medication, she says, without any negative consequences obvious to her.
The chances of experiencing severely low blood pressure, dizziness, and fainting are also increased for women who have liver problems or take certain antibiotics, supplements, and medicines to treat depression, HIV-1, hepatitis C, high blood pressure, chest pain (angina), and other heart problems.
Because of these risks, the FDA requires what's called Risk Evaluation and Mitigation Strategies (REMS) certificates to be obtained by both a prescribing physician and the dispensing pharmacy, Wilcox says.
"Basically, a REMS is required on certain medications where safety measures that go beyond professional labeling are needed. REMS actions with a patient may include patient education, healthcare provider REMS certification, pharmacy REMS certification, and/or monitoring," Wilcox says.
To compare, other medications that require a REMS include medications used to treat severe acne, high cholesterol, high blood pressure, irritable bowel syndrome, seizures, and some side effects of chemotherapy.
Viagra and other drugs that treat erectile dysfunction don't require the same REMS certificates.
"The need for a certain type of REMS is based upon many factors, including the size of the population in a particular area that are likely to use the medication, the seriousness of known or potential adverse events, whether or not a medication is new, duration of the treatment, expected benefits of the treatment, and seriousness of the disease," Wilcox says.
Who Should Take It?
Addyi has been approved for use by premenopausal women who have HSDD.
In order to be diagnosed with HSDD, a medical professional must determine the patient's low sexual desire is "not due to a coexisting medical or psychiatric condition, problems within the relationship, or the effects of a medication or other drug substance," according to the FDA.
In acquired generalized HSDD, the patient's low sexual desire must have developed, meaning the patient did not previously have a problem with sexual desire, and it must occur regardless of the type of sexual activity, situation, or sexual partner.
"I can't say enough good things about it for me," Andrea says. "It's really a wonder drug."
If you think you may have HSDD, you should talk to your doctor about what type of treatment may be right for you.
*Andrea asked to be identified only by her first name in this story.