What It's Like Being at Standing Rock, ND
What's It's Really Like Being at the Standing Rock Reservation and Making History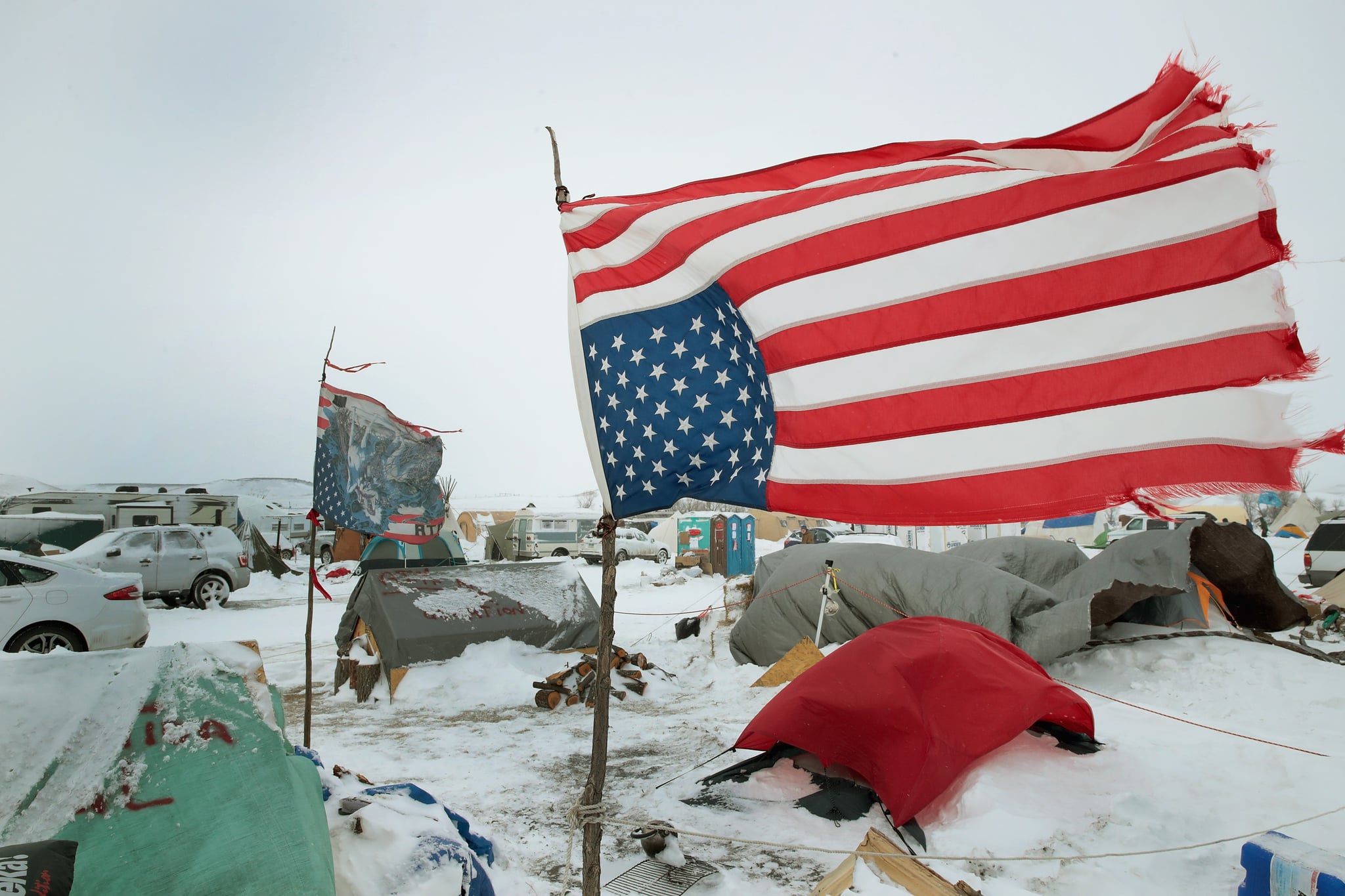 For several months, Native Americans from over 280 tribes, activists, and supporters from other countries have gathered at the Standing Rock Reservation in North Dakota to protect its water from a pipeline. Tepees, yurts, and tents span a field of prairie grass; horseback riders serve as messengers to the dispersed camp. As Winter set in, the federally owned land where the water protectors set up camp was blanketed with snow.
The United States Army Corps of Engineers announced on Dec. 4 that it would deny Energy Transfer Partners a permit to continue drilling its controversial North Dakota Access Pipeline. While the decision is a victory for the Standing Rock Sioux tribe, whose land the pipeline crosses, it is also a temporary one.
The pipeline is already 87 percent complete and is only halted while the Army Corps investigates other routes that would not threaten the Sioux's water supply. Inevitably, however, the pipeline will have to traverse the Missouri River.
Estimates project that some 6,000 people were at Standing Rock before the Army Corps announced its decision, though it's hard to track that number since people come and go. It's also the first time since the Battle of Little Big Horn, 140 years ago, that the seven tribes of the Dakota — known as the Seven Council Fires — have convened. We've seen images and videos of activists at Standing Rock, but it's difficult to grasp what camp is like unless you have been.
POPSUGAR spoke to Jean Chadbourne, who spent a week at Standing Rock with her 9-year-old son and three other artists over Thanksgiving, about her experience. A San Francisco native, Chadbourne was connected with a dedicated activist already at camp, a man who has spent the last 20 years of his life committed to peaceful nonviolent action, so it was an easy decision to go.
The level of organization at camp might be surprising to some. "They have road maintenance, they have orientations, the porta potties are cleaned every morning," Chadbourne said. "They serve coffee for everybody at the main fire every morning."
In terms of day-to-day life, the "young warriors," as they are called at camp, are tasked based on their skills and resources. For her group, that meant welding. "We had a welder there, so we were fixing stoves that had cracked from the cold," she said. "Then there was winterizing shelters by putting siding on the roof."
Chadbourne also said volunteers might help in ways they had not expected. "If they need you to chop onions in the kitchen, you chop onions in the kitchen," she said. "We fixed somebody's truck that needed to be fixed. We went on a supply run one day."
If there is an action, for example blocking a pipeline, planned that day, "young warriors" are not told until shortly before. "A certain section of camp will call and they will send out horseback riders to the rest of the camp," she said, "You have 15 minutes to get your go bag and go over there."
In addition to supporting the Sioux, watching her 9-year-old son realize the injustice occurring there was powerful for Chadbourne. She brought him to a prayer circle where protesters had gathered just under where the police were standing on a sacred burial site. Chadbourne said officers were spraying the water cannon at activists trying to put a banner on the site and claiming they were not being peaceful because they were wearing protective gear like goggles, which they believed signaled aggression.
Chadbourne's son independently observed how unjustly the activists were treated. He told her that it seemed that "police were making a lot of excuses to use the water cannon" and "they shouldn't have a say in how people pray."
"He had stayed in the van a lot the first day to stay warm," Chadbourne said. "The second day after the protest, he spent four hours making signs." Despite never being interested in tools before, Chadbourne's son asked people around camp to teach him how to use them and he crafted wooden signs that were eventually put in front of their camp. When they got home, Chadbourne's son also created a presentation that he gave to his classmates — this was particularly surprising since she said he doesn't like to write. He also started saying, "My mom is a badass," because of how she helped around the camp.
Chadbourne knows that construction on the pipeline is likely to continue when Donald Trump takes office. Not only does the president-elect have a direct financial interest in the pipeline's completion, but he has repeatedly promised to promote American energy production. Trump also denies the existence of climate change, which suggests the North Dakota Access pipeline injunction is merely paused until Obama leaves office.
Despite the pipeline's uncertain future, the fact remains that the Standing Rock Sioux and the activists who joined them were able to achieve the improbable. Proving the power of people and nonviolent action, the water protectors at Standing Rock also brought the government's disrespect of Native Americans to the national consciousness.
The original pipeline's path went directly through Bismark, the capital of North Dakota. But the Army Corps rerouted the pipeline citing proximity to the city, and presumably to the city's water supply, to pass through the Standing Rock reservation. The environmental discrimination was apparent in their decision.
While the chairman of the Standing Rock Sioux, Dave Archambault, has asked protesters to leave the camp following the Army Corps's decision, it's unclear if protesters will follow his command. Many do not trust the police, nor that the decision will not be overturned as soon as Trump takes office. The victory, it seems, is a only momentary reprieve.
But beyond a protest for Native American rights and climate change, Standing Rock also represents a monumental moment of healing between the tribes and people from across the country. "What I felt at the camp was a very unique opportunity where people from diverse socioeconomic backgrounds are literally living together for weeks, for months," said Chadbourne. "When people live and work together, there's this potential for healing."