What is Spark Actions?
Spark Actions Doesn't Just Give You the News – It Shows You Exactly How to Act on It, Too

In 2018, it's damn near impossible to avoid hearing what's going on in the world – but at the same time, it often feels unbelievably difficult to figure out the best way to take action on the issues that matter most. Thankfully, there's a brand new platform that's looking to close the gap between knowledge and action, and it goes by the name Spark Actions.
"What we do is connect what progressive millennials care about to real action with impact," Spark Actions founder and CEO Alicia Rockmore told POPSUGAR. "I like to say that our sweet spot is the 75% in the middle of the spectrum – 5% of millennials are super-activists who are familiar with a lot of the great tools that existed before the 2016 election and after, and the bottom 20% of millennials are a bit apathetic. Spark Actions is looking to serve the needs of the 75% in the middle, the people who are interested in about what's going on in the country but often feel paralyzed when it comes to what to do. Our objective is to give them really simple ways to take action that has impact, and make them feel like they're a part of the process as opposed to disengaged and anxious."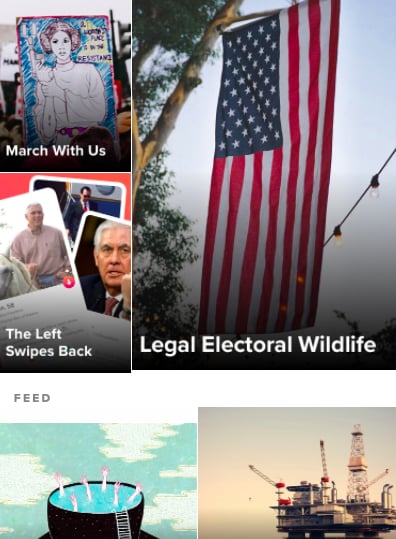 Rockmore, who spent more than two decades as a successful marketer and brand manager, says the decision to pursue an altogether different career path came as a result of the 2016 election, and a promise she made to her 15-year-old-daughter, Lucy, that she'd find a way to make a difference in the Trump era. "I'm a mom. I have a 15-year-old daughter. I got involved in Hillary's campaign because I was terrified that Trump would win the election, and when Trump did win the election, found myself a little bit paralyzed. I wanted to curl up in a ball and eat ice cream, and then realized that I needed to take a step forward, needed to get involved," she said. "I realized that even though I was motivated to be politically engaged, doing so over a [prolonged] period of time is really difficult work. It's hard to sustain that momentum. It was really – no pun intended – but it was really that spark that got me thinking about Spark Actions, and how could I take a problem that I had that I knew so many other people had as well and make engagement simpler, more enjoyable, and easier. I like to say that if political engagement feels like most people eating kale, what we try to do at Spark Actions is try to make it more like eating chocolate. You love doing it. It's enjoyable. And doing so you spread some good as well."
The platform, which spans both a mobile website and related social media accounts, delivers a bulleted recap of the issues that are unfolding in real-time, alongside options to take immediate action (or, as is often the case, what to look out for in terms of future developments). And as for the actions themselves? According to Rockmore, each one takes no more than five minutes, and often just a minute or two to complete. "Some of our more common actions are signing an online petition, making a donation, finding your reps and calling your reps," Rockmore said, adding that voter registration tools are going to be the key function in the lead-up to the 2018 midterm elections, allowing you to easily figure out how to register to vote or to make a calendar reminder for when it is you need to actually go to your polling place. In other words, the platform is seeking to eliminate those excuses that may have led inspired millennials to skip out on the vote in the last election by removing the bureaucracy, and making it impossibly easy to get yourself ready to go before election day.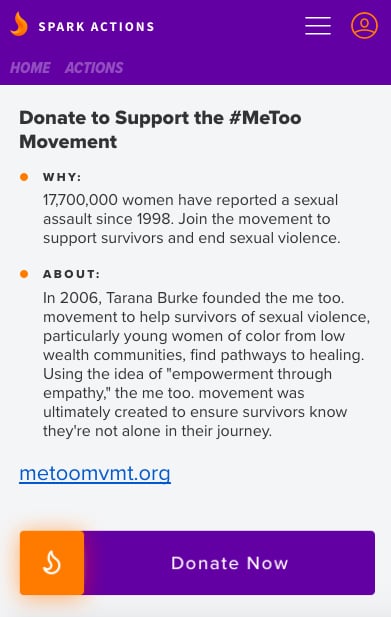 Spark Actions tackles far more than just voter registration, though. The content that populates the platform is fueled by the Center for American Progress, a left-leaning public policy think tank which was once run by Bill Clinton's former chief of staff, John Podesta. Rockmore points to their partnership – as well as the work she does with other experts – as the reason you aren't going to find fake news on the platform. Everything on Spark Actions is curated, fully verified, and tailored towards what an individual is most passionate about. Even the "related issues" features – which suggests other things one might be interested in learning about – is based on the information you've provided to the platform in order to generate your account. It makes sense in this context, then that the idea behind Spark Actions isn't to get people to "move from being occasionally engaged in terms of taking actions, to super activist." As Rockmore told us, "The objective is for a person to be able to take occasional actions when something really matters to them."
Going forward, Rockmore said that the platform is looking to create more of a social buzz around prescient issues. "When I look at the features that will be coming later in 2018, it will really be around enabling our users to be able to share the actions that they are taking with the people in their circle," Rockmore said, adding that they'll also "be able to take those actions together and track who among them is actually taking the same action, and caring about the same issue."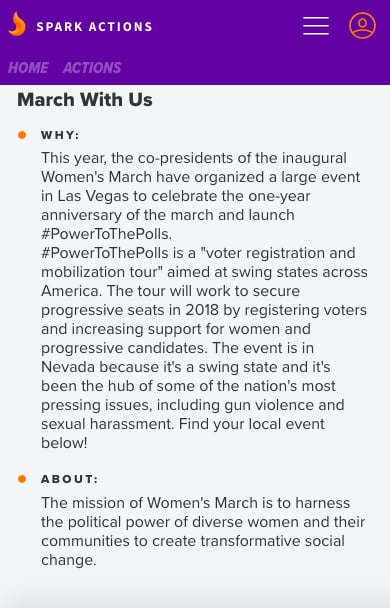 Ultimately, though, Spark Actions is looking to make creating change more accessible, and less of a scary ordeal. "With everything going on in someone's life, often times political engagement or activism falls to the bottom of the to-do list. It often pops up if something urgent happens in the news. . . it becomes top of mind for a few minutes, and then fades away," Rockmore said. "What we want do with Spark Actions is give you a place where being able to engage doesn't feel like work; instead, it feels not only like it's rewarding, but that it is actually moving the needle and enabling an individual or a group of people to make real change in our country at a time when there's a lot of uncertainty."
"Every voice and every vote matters," she added. "Taking a single action about something that's important to you can make a real difference – it did make a real difference in 2017, and will continue to do so as we move forward."