Why Was Sean Spicer at the 2017 Emmys?
Whoever Approved the Sean Spicer Skit at the Emmys Should Be F*cking Ashamed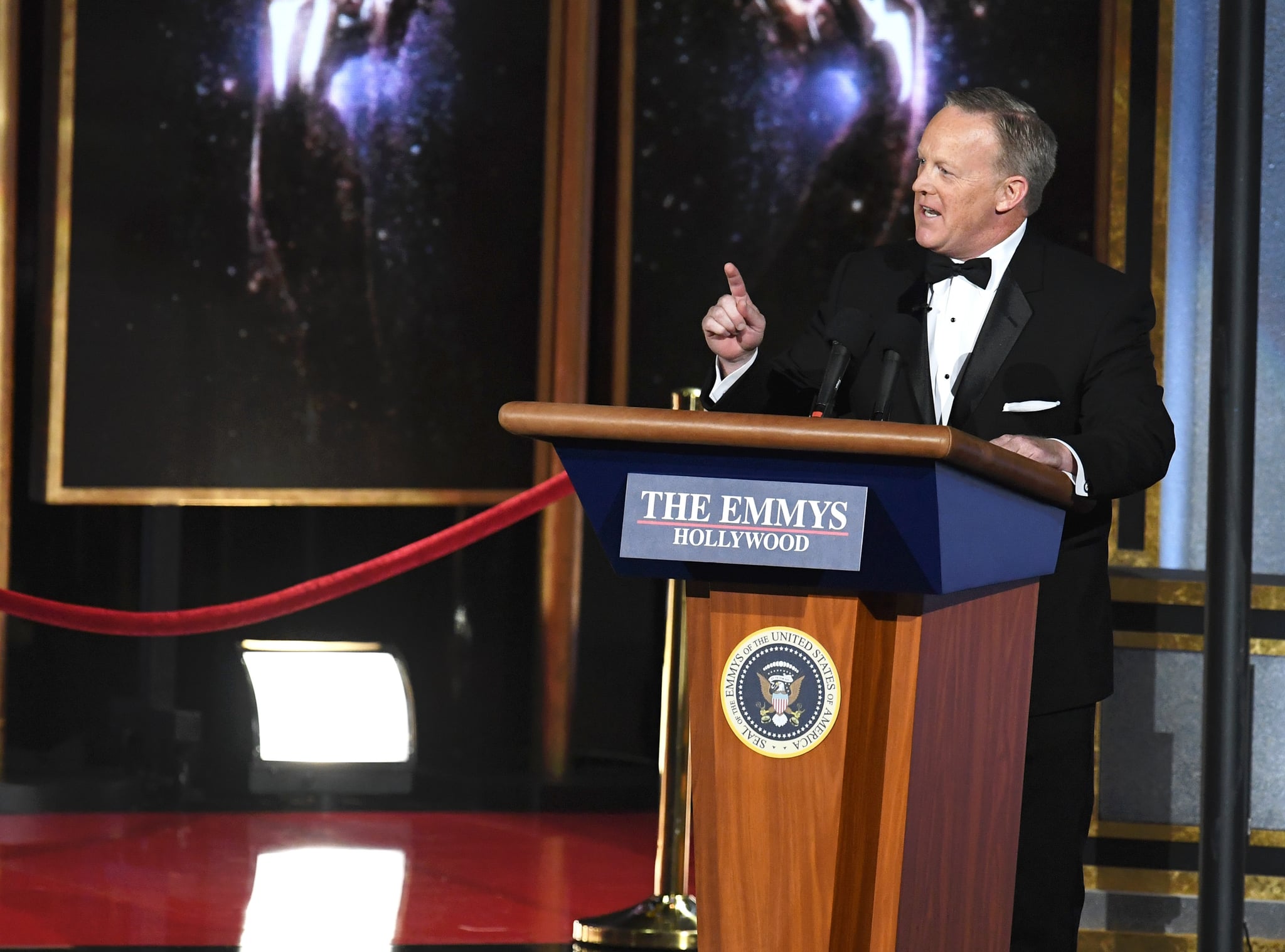 "Comedy is a way to escape the madness of true events," Edie Falco read from a teleprompter while presenting an award alongside Alec Baldwin at the Emmys on Sunday night. It's a sentiment that many in Hollywood share and one that countless people in our country have clung to since Nov. 8, 2016.
Who among us hasn't laughed through an episode of Saturday Night Live as a way to briefly forget the horrors of real life — of living in an America led by a racist, misogynistic, Nazi-sympathizing president? At the 69th annual award show, host Stephen Colbert and countless celebrity presenters poked fun at, mocked, and made bold statements about Donald Trump's various atrocities, but their cutting words rang hollow.
Shortly before Falco took the stage and uttered that phrase, Colbert surprised the audience during one of his skits by wheeling out former White House Press Secretary Sean Spicer. He stood behind a cutesy wooden podium, emblazoned with a "Seal of the Emmys of the United States of America" sticker, and made light of his infamous defense of Trump's inauguration crowd size. "This will be the largest audience to witness an Emmys, period," Spicer shouted at the audience. "Both in person and around the world."
Who at CBS thought this cheap, gross moment was a good idea? Who the f*ck thought someone like Spicer could ever be played for laughs?
While Veep star Anna Chlumsky's jaw nearly hit the damn floor, it was Melissa McCarthy — who had just won an Emmy for her portrayal of Spicer on SNL — whose expression most closely mirrored my own: a brief second of laughter, followed by an uncomfortable, tight smile as she hid her face with her fingers. Who at CBS thought this cheap, gross moment was a good idea? Who the f*ck thought someone like Spicer could ever be played for laughs?
When McCarthy appeared as Spicer on Saturday Night Live, it wasn't in admiration of his behavior. She mocked his short-lived tenure at the White House because that incompetent man, that bumbling buffoon, happily force-fed the American people lies day after day. Spicer is the same guy who once claimed Adolf Hitler was "not as bad" as Syrian President Bashar al-Assad. He's the one who dismissively commanded a female reporter to "stop shaking" her head. He flat-out wouldn't accept objective facts. And, oh, yeah, he made that god-awful Russian salad dressing joke.
But it's cool, right? Because he doesn't work for Trump anymore?
The idea that someone like Spicer is deserving of some kind of redemption tour through Hollywood is the only thing that's even remotely funny about his appearance at the Emmys. He should not be invited to be a sight gag at award shows. He should not be invited to joke around with Jimmy Kimmel. He should not be invited anywhere. He should be left to rot in obscurity — to sink far into the bushes, if you will — for his compliance in what our current administration is trying to achieve.
The list of men failing upward in the public eye could go on and on.
The Emmys welcoming Spicer on stage is revolting, but it's not a surprise. Hollywood has a long and storied history of not only helping high-profile men weather their latest scandals but also rewarding them: Woody Allen, Johnny Depp, Chris Brown, Casey Affleck, R. Kelly. The list of men failing upward in the public eye could go on and on.
Colbert has enjoyed a career boost of his own as of late, thanks to the nightly fodder Trump's administration provides him with. He gets to fire off cheeky tweets about the president choosing to put the lives of 800,000 young people in jeopardy and crack jokes about Trump having never won an Emmy. At the end of the day, it doesn't matter if Colbert helped prop up a former cog in the hate-spewing machine that resides in the White House, as long as he gets the last laugh. How else can you explain ripping apart the Trump administration one second, then turning around and normalizing Spicer's shameful, harmful, and dangerous past behavior? At the Emmys, where women, minorities, and TV shows that resist oppressive figures like Trump (The Handmaid's Tale, SNL) were celebrated, it felt especially gross that Spicer was there. Any jokes at the government's expense thereafter rang hollow, performative. Pop culture might be a way to escape the madness and the pain of true events, but clearly that only applies as long as you aren't watching the Emmys.