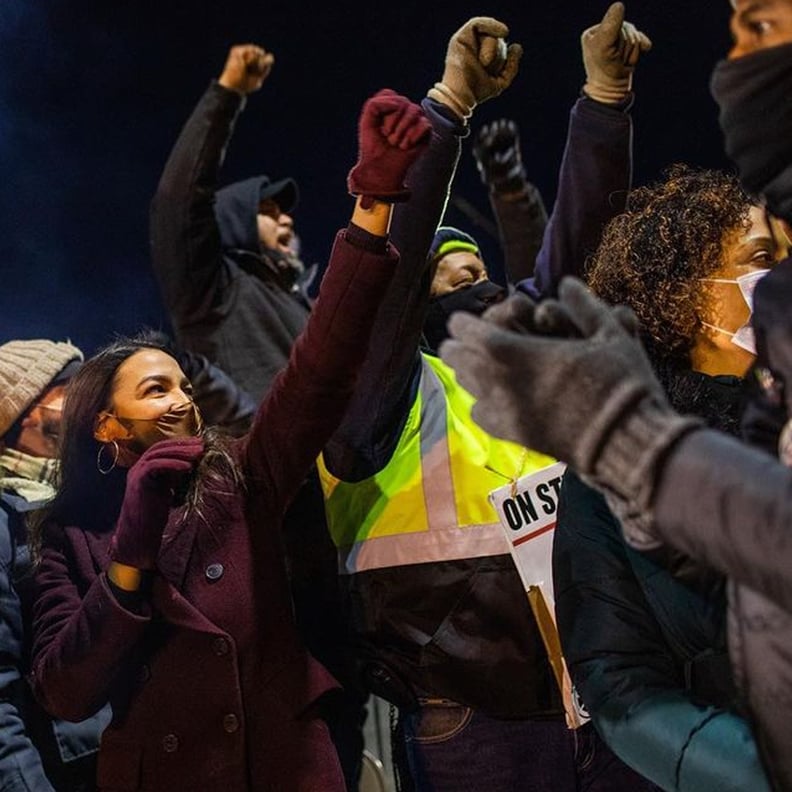 Over 1,000 guests gathered at the US Capitol on Wednesday to celebrate the Biden-Harris inauguration, but one member of Congress was notably missing from Inauguration Day festivities: Alexandria Ocasio-Cortez. During the ceremony, the New York representative was supporting a local Teamsters labor union fighting for workers' rights and a $1 wage increase at Hunts Point Produce Market in the Bronx. "I want you all to know that when you're standing on this line, you're not just asking for a dollar," Ocasio-Cortez told the group of approximately 1,400 essential workers. "You are asking for transformational change for your lives and for the lives of every food worker across the country, for kids of food workers across this country."
"It's time we stand up for essential workers everywhere."
The strike first began on Sunday night after wage increase negotiations between the union and Hunts Point Produce Market management came to a standstill. Essential workers who asked for $1 per hour raise were met with a meager offer of 32 cents per hour, according to The City, inciting workers to line up outside the market in a plea for justice. "We went through a pandemic for them. My company had nine COVID cases and they didn't tell us. And now they don't want to give us a dollar," said Teamster Local 202 member Joe Thomas. In one of her many posts about the strike, Ocasio-Cortez pointed out 60% of New York City's produce comes through the hub. She added, "It's embarrassing that a corporation enjoying pandemic profits, millions in PPP & more in tax giveaways is fighting a $1 raise for essential workers who've risked their lives all year to feed us. It's time we stand up for essential workers everywhere."
When she arrived on day four of the ongoing strike, Ocasio-Cortez brought coffee and hot chocolate to those posted out in the cold, and demanded that they be heard. "Just like there are workers here, there are food workers in every pocket of the United States who deserve more than a dollar, who deserve more than a raise. They deserve healthcare. They deserve justice. They deserve good worker rights," she said.
While on the bullhorn, Ocasio-Cortez went on to add that communities — not just politicians — have the ability to transform thought and bring about tangible outcomes. "There's a lot of things upside down right now in this economy. One of those things that's upside down is the fact that a person who is helping get the food to your table cannot feed their own kids. That's upside down," she said. "What we're doing here today is taking the upside down and making it right side up . . . Community is solidarity and solidarity gets us labor rights, it gets us wages, it gets us good conditions, and it gets us a better city." Find out more about the strike and see clips of Ocasio-Cortez's speech ahead.