As rumors swirled about Kamala Harris's potential presidential bid last January, a white Washington Post reporter covering a stop on her book tour tweeted about "screeching" from "members of her Howard sorority" in the audience.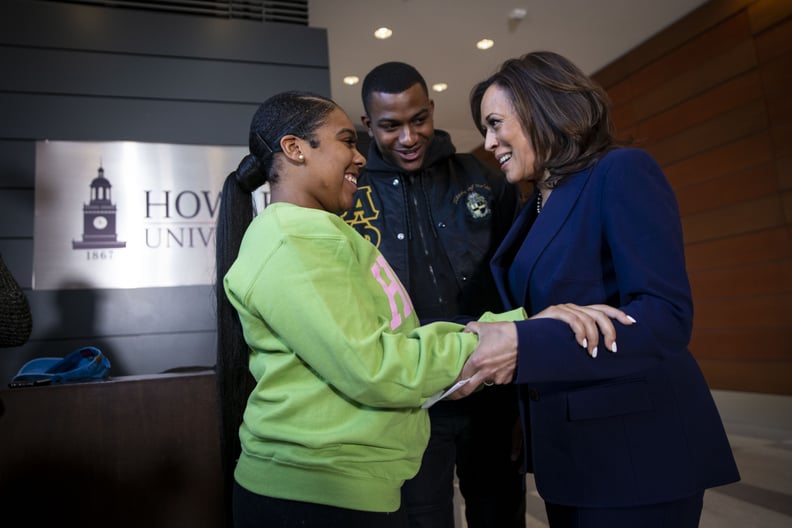 Harris greets student leaders at Howard University, her alma mater, in January.
Black Twitter came for the reporter with a quickness. I, too, was offended by the characterization — not just because the term played into negative stereotypes, but because it displayed a willful ignorance about black American culture.
It's all too familiar to me, because Harris and I are around the same age, and black. She's my Soror (sorority sister) and we both pledged at an HBCU (short for Historically Black Colleges and Universities). We're members of Alpha Kappa Alpha Sorority, Inc. (AKA), the first Greek-letter organization established by African-American college women in 1908.
And we don't "screech." We "Skee Wee" — and it's one of the sweetest sounds you'll ever hear, in my humble opinion. In fact, our sorority is the first not-for-profit organization to secure federal registration for a soundmark by trademarking our popular "Skee Wee" call.
It's my hope that Harris's candidacy will help bridge this knowledge gap. I get the inevitable blank stare when I talk about my sorority or the undergraduate college I attended, both of which are deeply rooted in the African-American experience. It's something I have to explain, whether it's to a white, Latino, or Asian friend, neighbor, or colleague. This gets old quickly.

In this case, the reporter simply hadn't done her research. Her tweet demonstrated ignorance about the nine black Greek-letter organizations (BGLOs) that comprise the National Pan-Hellenic Council and the legacy of HBCUs. She, like so many, is part of a dominant culture of white people in America who know little or nothing about the African-American experience beyond what they've seen in the media — and show a distinct unwillingness to, and disinterest in, trying to understand it.

For those of us who pledged a black Greek-letter organization and/or went to an HBCU, there's a tremendous sense of pride in the legacy and traditions of these institutions. HBCUs were born from America's long history of segregation and offer a level playing field for African-Americans. Spending four formative years at an HBCU is like a shield from the racism we face in our professional lives as the "only" or the "other."
With Harris's national platform, it's as though my African-American experience has come out of the shadows.
"I reference often my days at Howard to help people understand they should not make assumptions about who black people are," Harris once said in an interview about her experience at Howard University, her alma mater.
Harris doesn't shy away from talking about her African-American experience on the national stage. She's unapologetically black, while transcending the label of "black female candidate," and she's raising awareness of her African-American experience. She embodies a part of African-American culture not relegated to the usual stereotypes the dominant culture assigns to black people. With Harris's national platform, it's as though my African-American experience has come out of the shadows. It's liberating.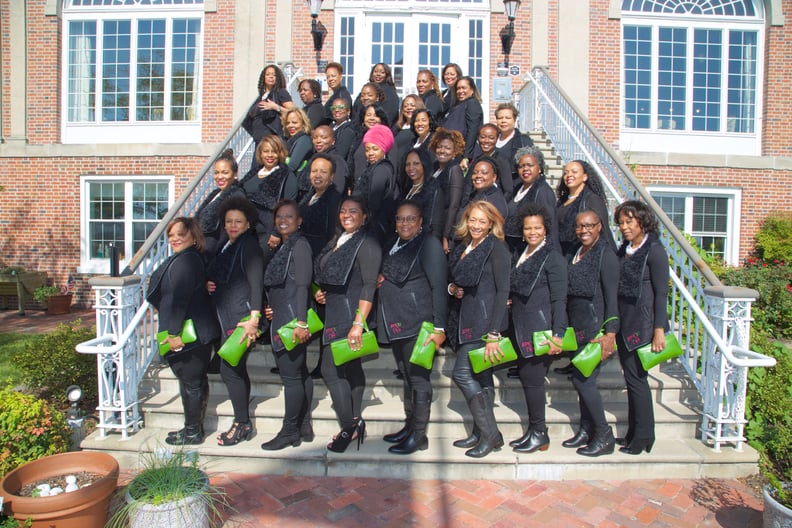 The author, first row, second from left, at a 2017 reunion for her AKA pledge line.
The history of African-Americans makes our experience drastically different from other Americans' experiences. While I embrace my African-American history, traditions and culture, I'm also expected to know about the dominant culture's experience. But there's no expectation for them to know about mine. I'm forced to do a sort of cultural code-switching — purposefully modifying my behavior to allow for the differences between the two American experiences. It's complicated and exhausting.
Because Harris and I are around the same age, we were among the first to integrate schools by bussing, as she reminded Joe Biden during the first presidential debate. I first learned to culturally code-switch in school because I was in the minority, and I endured a lot of subtle and damaging racism.
I've had to weather comments like: "But you're not that black." I've never quite figured out exactly what that means. Is it that I don't fit the stereotype they see in the media because the stereotype is all that the dominant culture knows about African-Americans?
I find it interesting that, after Harris endured bussing, attended an HBCU, and pledged a black sorority, her blackness is still questioned.
Harris's marriage to a white man has fueled discussions, particularly on social media, about her blackness, too. And it's not primarily coming from white people. It's black people who are conducting a racial purity test. This, too, is distressing, because it's a ridiculous game some black people play. I don't know what purpose it serves. My suspicion is that even black people want to assign some sort of standard which we must all meet to prove our blackness.
This, again, is all too familiar. The code-switching doesn't always work. I've gotten some of the same throughout my life. "You talk like a white girl" is something I've heard from other black people since junior high school. I find it interesting that, after Harris endured bussing, attended an HBCU, and pledged a black sorority, her blackness is still questioned.
The richness, complexity, and depth of the African-American experience is as diverse as all human beings. What unites us in our experience as African-Americans is our institutions and the history of racism in America. Racism continues to present challenges, which is why I am such a proponent of mutual understanding of cultural experiences in America.
I'm forever the optimist that race relations can be improved. I believe the more we know about other races, the better our dialogue becomes as we work to overcome our country's history of racism. Harris's presidential campaign sheds a bit of light on the African-American experience that I, and so many others, have shared. I like to think it brings us closer, breaks stereotypes, and allows us to find common ground.