Louisville Protest Photo Featuring Alberta Jones Banner
A Powerful Photo Depicts Civil Rights Icon Alberta Jones "Watching Over" Louisville Protests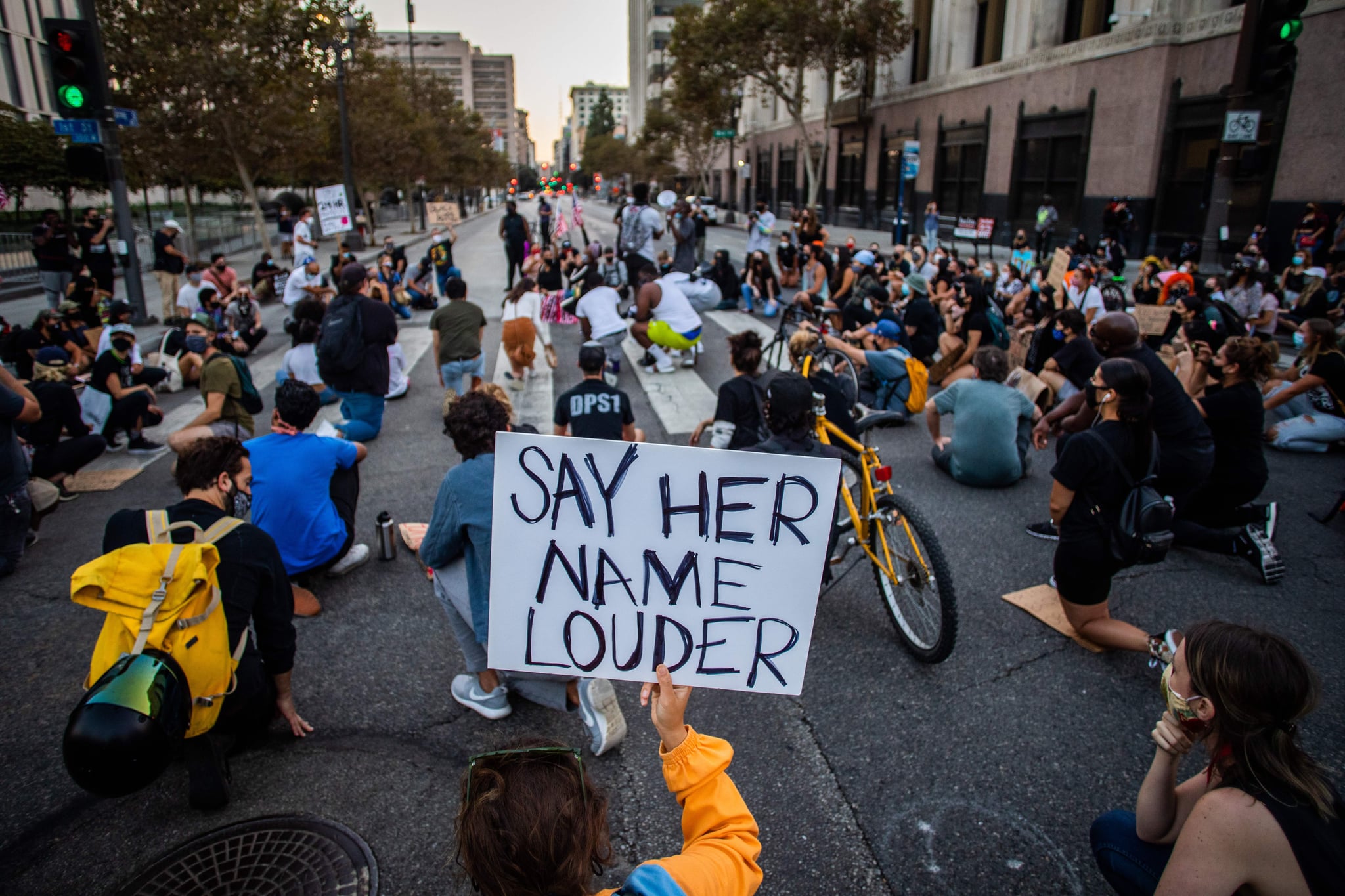 Image Source: Getty / Apu Gomes / AFP
A powerful photo out of Louisville depicts the banner of a local civil rights icon watching over protests taking place nearly six decades after her murder. Protests erupted in the city on Sept. 23, after a Kentucky grand jury determined that not a single police officer would be directly charged for the death of Breonna Taylor. Instead, officer Brett Hankison was charged with wanton endangerment for firing into a neighboring apartment, and the two other officers present have been cleared. An evening of nationwide unrest followed the news, and in Louisville, protesters were met with 500 National Guard soldiers — deployed by Kentucky Governor Andy Beshear prior to Attorney General Daniel Cameron's announcement.
"The ancestors are watching."
Ryan Van Velzer, a reporter for local radio station 89.3 WFPL News, was on the scene taking photos, and one particularly poignant shot shows a banner of Alberta Jones displayed above two National Guard vehicles, with one soldier seated at the back of the vehicle holding a firearm. Lawyer Elizabeth Jones noted on Twitter, "What makes this pic even more incredible is that photo hanging on the building is of Alberta Jones, first black woman prosecutor in Louisville. She was murdered and her killers were never brought to justice." She added, "The ancestors are watching."
Louisville pic.twitter.com/NafN6Q24m4

— Ryan Van Velzer (@RyanVanVelzer) September 24, 2020
Jones was an attorney who, in 1959, became the first Black woman to pass the Kentucky bar. She would go on to become the first Black female prosecutor in Louisville. Jones was also an important figure in the civil rights movement, and, among a myriad of accomplishments, she helped form the Independent Voters Association, which registered 6,000 Black voters. Jones was murdered at the age of 34 in 1965. Her body was found in the Ohio River, and an autopsy determined that she had suffered severe blows to the head. The murder went unsolved.
In 2017, Louisville officials decided to honor Jones with a "Hometown Hero" banner on the River City Bank building. "It's long past time that Alberta Jones got her due as a uniquely brilliant, compassionate, resourceful and fearless fighter for justice and opportunity in her city of Louisville," Mayor Greg Fischer said at the unveiling ceremony. Following renewed public interest, Louisville police agreed to reopen the case that same year. The civil rights division of the Justice Department has also launched an investigation.