I'm Finally Embracing My Samoan Culture. Why Can't the Media Do the Same?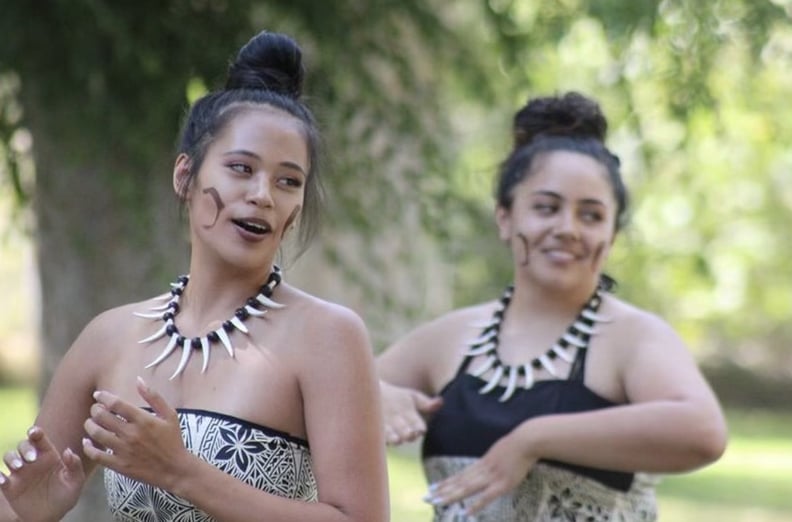 Honestine Fraser
Honestine Fraser
The author (right) performing a Samoan siva (dance) with her cousin.

Growing up, I was often asked what my ethnicity was. In the majority of these instances, someone would ask because they thought that I looked "exotic" — which isn't the compliment that most people think it is. Whenever I replied that I am Samoan, I was met with a look of curiosity and the question, "What is that?" — which is a little hard to explain as a child. With a lack of Pacific Islander representation in media like TV shows or movies to refer to, I always ended up describing Samoa as "kinda like Hawai'i" because I couldn't really think of another way to describe my tiny cluster of islands that would be understood by someone that was unfamiliar. (For the record, these are two completely different ethnicities and cultures.)

That exchange happened pretty frequently growing up, and it was something that always made me feel uncomfortable. As I heard it repeatedly, I began to feel a sense of unbelonging. Was my culture not worth learning about? Why doesn't anyone seem to know about Samoa? These were questions that stuck with me and caused me to have an identity crisis as a kid.
My mom always told me to be proud of my culture, which was something I struggled with because I felt that I didn't "fit in" to society's mold. She tried to instill "fa'a Samoa" values, or the Samoan way of life, throughout my childhood, always reminding me how rich and special our culture is. It wasn't until years later, when I was in college visiting our homeland for the first time, that I understood what she meant.
I've made it my own personal mission to bring more Pasifika voices and stories into the spotlight, because we deserve to take up space and share our stories, too.
Seeing the beauty of the islands, visiting my elders who still live there that have so many wonderful stories, and participating in our cultural traditions made me fall in love with my culture and where I come from more than ever before. I even signed up for Samoan language classes to help better my speaking skills, and my instructor would give history lessons and how our diaspora came to be. Although I was so happy to learn more and had this newfound pride, I was honestly ashamed of myself for only really embracing my Samoan roots later on in life. Now that I'm older, I understand what my mom was trying to teach me all those years ago. But as a child, it was hard for me to show pride in something that virtually no one knew or seemed to care about, especially when there is still little to no representation in the media.
When people say, "representation matters," they mean it. I'm so happy that young people today have a smidge more representation in the media and figures to look up to, but we still have a long way to go. There are more Pacific Islanders out there in entertainment that go beyond just The Rock. For instance, J Boog had his song "Let's Do It Again" go viral on TikTok last summer. Parris Goebel choreographed both of Rihanna's Savage x Fenty shows and has also worked with big names like Ciara and J Lo. There are countless musicians like Dinah Jane Hansen, Pia Mia, Drea Rose, Anuhea, Tenelle, and Common Kings that either have established careers or are up and coming, as well as authors like Chantal Spitz and poets like Terisa Siagatonu. There are so many more stories to be told and amazing people to be highlighted.
As an adult, the term "APIA" makes me feel uncomfortable at times as the Pacific Islander part of that acronym is often forgotten. I've seen countless listicles through the years in different publications highlighting APIA people, but rarely were Pacific Islanders ever included in these articles, not to mention very little representation in TV shows or movies, unless it involves a vacation getaway to Hawai'i or fetishizing Pacific Islander women. And it's not just Polynesians that are excluded, but all Pacific Island groups: Micronesians and Melanesians as well. Bottom line, you can't just lump several groups of people together that all have their own rich traditions and cultures; each one is special and they all deserve to be highlighted.
It was this lack of representation that made me want to work in media in the first place. After my trip to Samoa, the love for my culture became amplified, and I've made it my own personal mission to bring more Pasifika voices and stories into the spotlight, because we deserve to take up space and share our stories, too. I feel like presently, we're merely scratching the surface. In almost every workplace I've had, I've been the only Pacific Islander there. I hope in the future that more and more of us will speak with confidence and make their voices heard, because at the end of the day, we all really do belong here.