SNL Alum Says Working With "Moron" Host Donald Trump Was "Not Fun"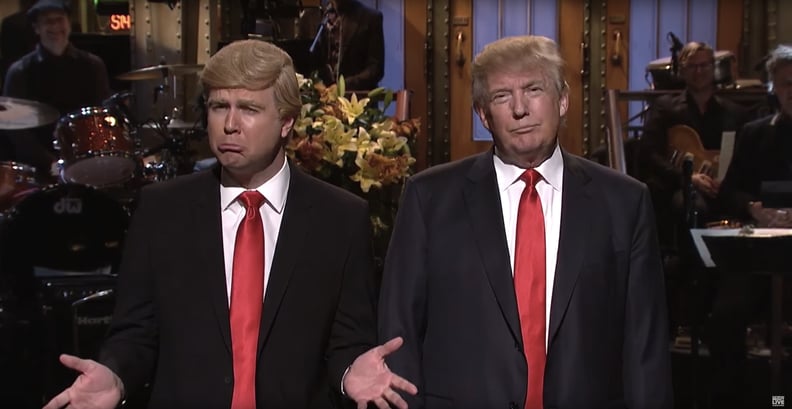 Way back when Donald Trump was a presidential hopeful in 2015, he hosted Saturday Night Live — exactly one year before Election Day. Taran Killam, who once impersonated Trump and later joined him on stage when he hosted, was stunningly candid about the now president in a 2017 interview with Brooklyn magazine.
Killam responded to a host of questions about his post-SNL career and joining the cast of Hamilton right after Mike Pence famously attended the show (and heard a compassionate message from the cast). President Trump was especially incensed by the incident, to which Killam replied with the utmost honesty. "Yeah, well the president is a moron," Killam told the magazine.
Later in the interview, Killam elaborated on what it was like to work with Trump on the show, and you might not be surprised by how difficult he said it was. "It was not fun, and most of the cast and writers were not excited to have him there," Killam said. "I didn't get the feeling that he was excited to be there, and it felt like a move for ratings from both sides."
Perhaps most unsurprising of all, Killam revealed how the president . . . struggled to read his lines. "What you see is what you get with him, really. I mean, there was no big reveal," Killam added. "He struggled to read at the table read, which did not give many of us great confidence. Didn't get the jokes, really. He's just a man who seems to be powered by bluster."
We're pretty sure Trump would write off Killam's account of his time on the show as "fake news."