Why SB202's Ban on Handing Out Water to Voters Is So Cruel
Last Year, We Handed Out Water to Thousands of Atlanta Voters — SB202 Now Makes That a Crime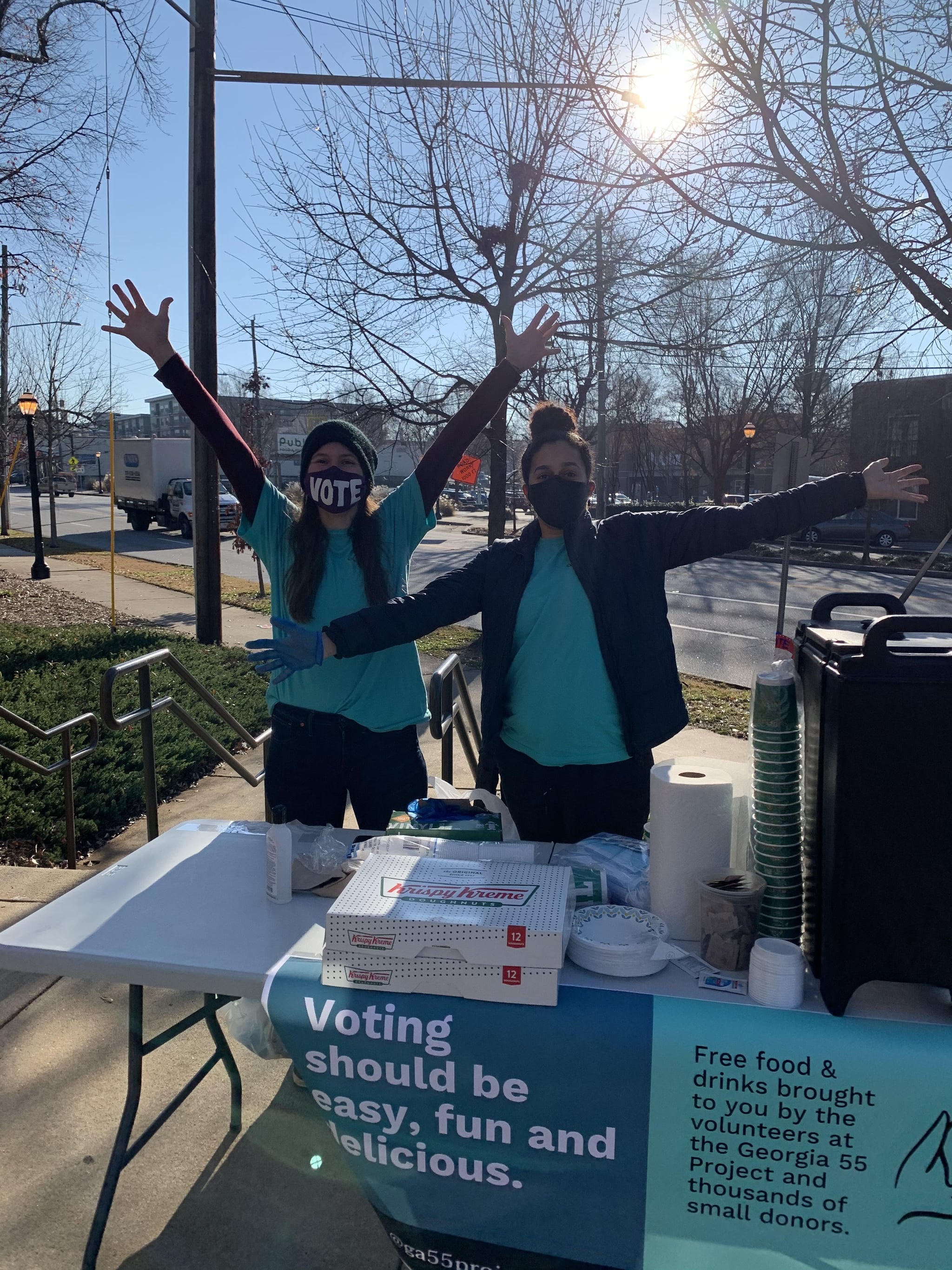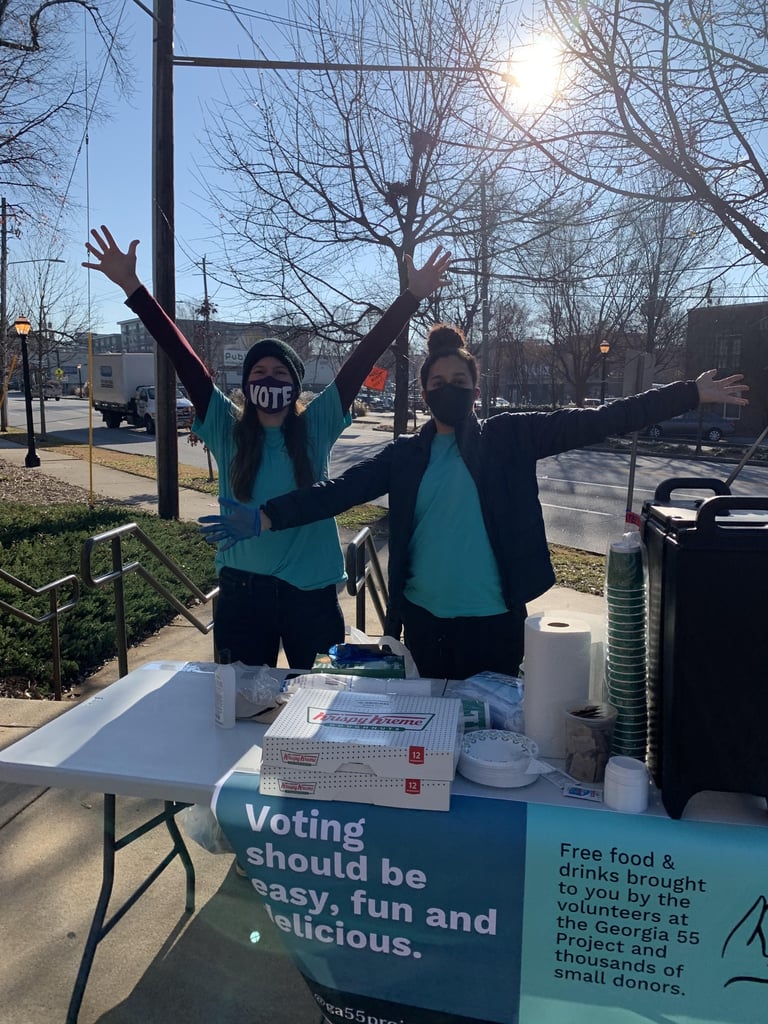 Image Source: The Georgia 55 Project
If you've never been to Atlanta in the middle of summer, it might be hard to appreciate how 6 a.m. on a June morning feels. It's hot. It's sticky. It's almost oppressive. But you can also feel the anticipation of a new day, and perhaps, that change is just around the corner. Last June, we found ourselves in line at our assigned polling place to cast ballots in the 2020 Primary Elections. We got there at 6:15 a.m. after a weekend full of frantically organizing our "Snack Brigade." Having experienced the long waits ourselves in the past, we gathered dozens of volunteers to make the voting experience better for others. We spent the day handing out donuts, coffee, sports drinks, water, hundreds of pizzas, and snacks to our neighbors, largely in historically under-served and excluded communities. We worked well into the night because, as it turned out, those folks faced up to eight-hour lines, along with rain, heat, and a myriad of other challenges just to cast their vote.
For the Presidential Election and the Georgia Senate Runoff, we formalized our grassroots Snack Brigade and founded The Georgia 55 Project. Our merry band grew from a few dozen to 400 strong by November and our efforts evolved. We worked tirelessly to make sure that Atlanta residents had everything they needed to vote, from election education, to ballot request instructions, to policy breakdowns, to rides. Come November 3, we were back at the lines offering all the voters we encountered a bottle of water, a smile, a snack, or even a full meal. A partisan word was never spoken; only encouragement and a celebration of democracy.
Then, last Friday happened. Behind closed doors and under the picture of a former slave plantation, six white men flanked Governor Brian Kemp as he signed SB 202, which made it illegal to hand your neighbor waiting to vote a bottle of water on a scorching afternoon or a cup of coffee on a freezing morning. We started our grassroots project out of a passionate belief that voting should be fun, easy, and delicious. SB 202 contains many malicious new rules that change almost every facet of the election process in Georgia, but no provision is more unnecessarily cruel or punitive as making the act of handing a bottle of water to a voter in line a crime.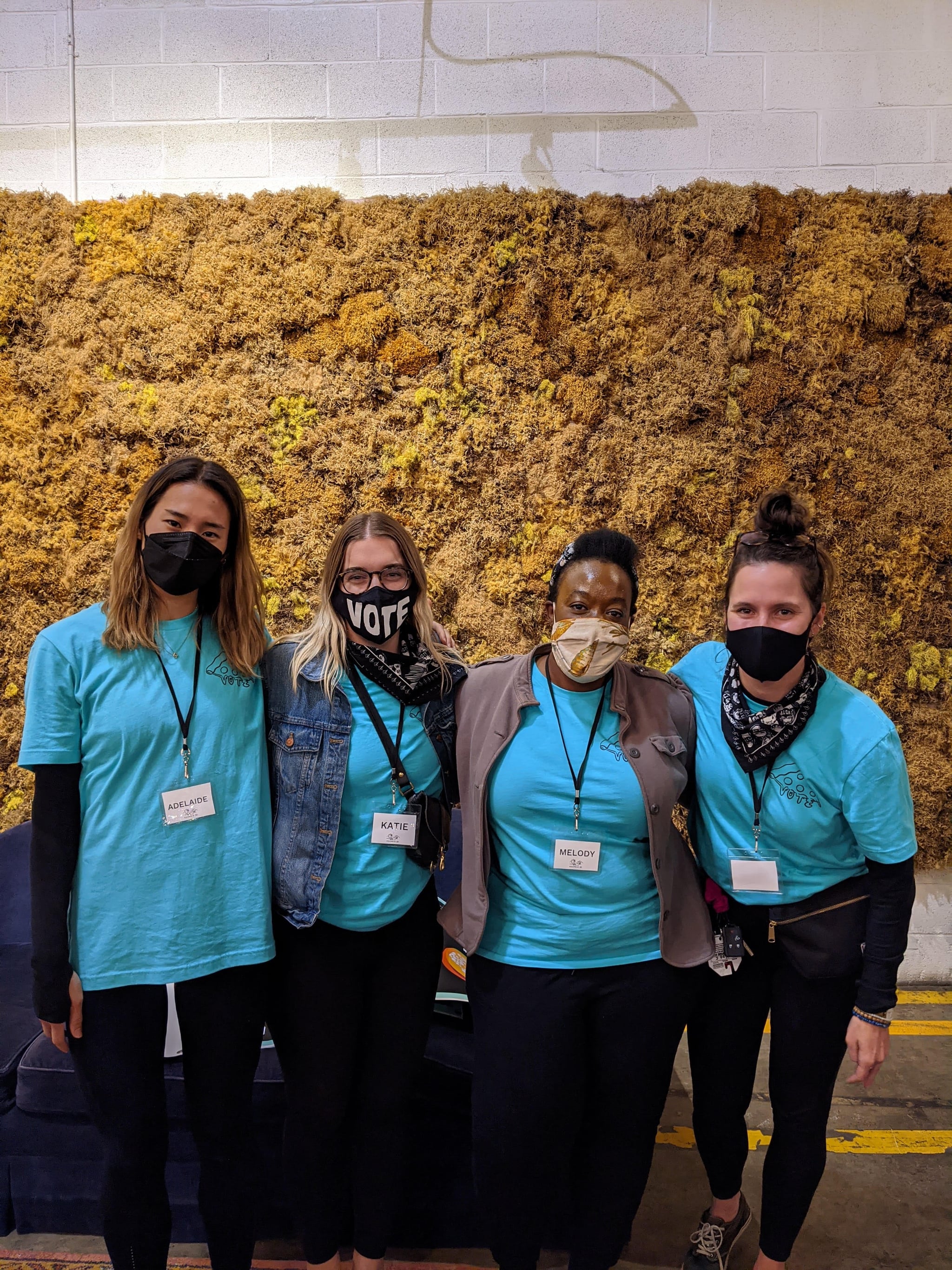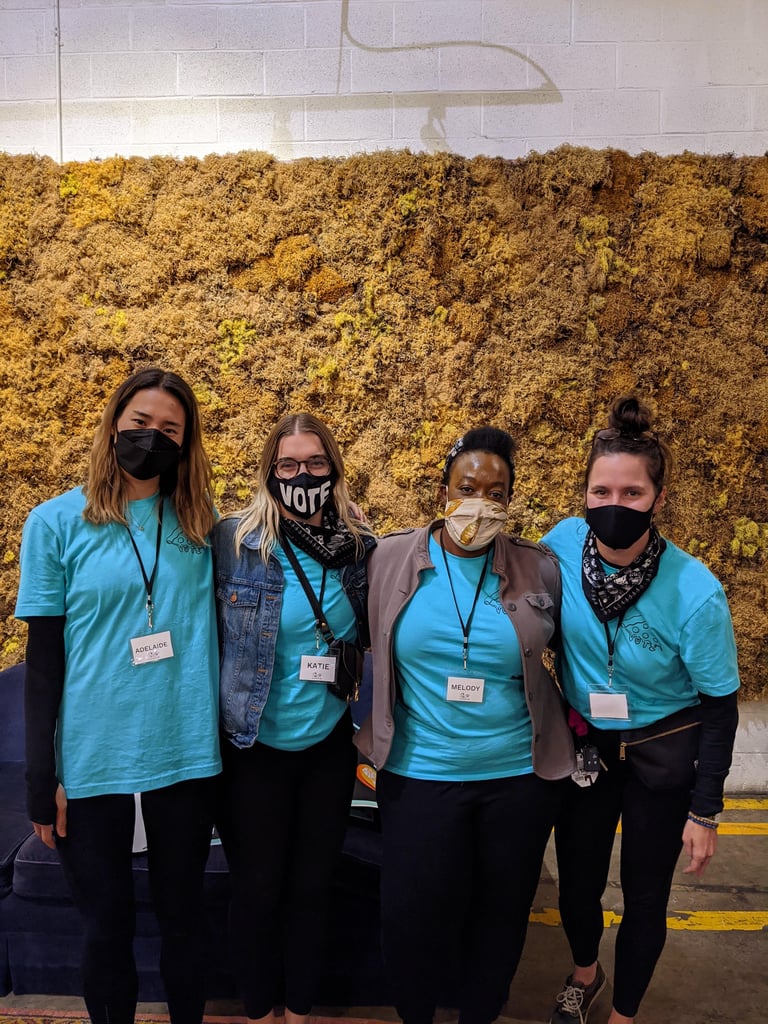 Image Source: The Georgia 55 Project
Let us back up a minute. Why would a group of regular citizens get so fed up with the long lines at the polls that they decided to bring people food and water? For over two decades, almost every major election in Georgia has seen stories about long lines at the polls. Reports in the Atlanta Journal-Constitution from 2000 until now describe angry voters in long lines that snake around buildings and hours-long wait times. These stories focus almost exclusively on predominantly Black precincts within the Atlanta metro area, and it's not hard to see why this is happening. Since 2012, Georgia has closed at least 214 polling places affecting about 1.3 million voters. Seventy-five percent of those closures were in majority-Black counties. The closures result in Georgia's polling places serving unusually large numbers of voters, especially in minority communities. And as we know, problems with long lines are experienced disproportionately at polling places with large numbers of voters, especially those that serve multiple precincts.
From 2008 until 2016, Georgia consistently placed between 47 and 49th in a national survey of general election wait times. Georgia voters also experienced the third highest increase in wait times between 2014 and 2018. Based on recent expert analysis, Black neighborhoods wait 29% longer to vote relative to white neighborhoods in the same county, and residents of Black neighborhoods are also 74% more likely to spend more than 30 minutes in their polling places. (Any wait time over 30 minutes is considered voter suppression, as defined by the Brennan Center for Justice.) In that same analysis, it found that the average minimum wait time was up to 8.5 times longer (51 minutes) in polling places where minorities constituted 90% of active registered voters as compared to polling places where 90% of the active registered voters were white.
Research has proven that long lines deter people from voting in future elections and undermine confidence in elections. Long lines also impose a monetary cost on voters from missed work, paying for child care, and lost productivity. So, not only are long lines more prevalent at polling places with large concentrations of minorities, in urban areas, and in poor neighborhoods, but the downstream impact of long lines are disproportionately felt in those communities as well.
Voting rights have become a partisan issue, but they shouldn't be. They're a civil rights issue, intimately connected to a myriad of social and human rights issues that plague our communities (racial justice, the wealth inequality gap, healthcare, environmental justice, criminal justice, just to name a few). The right to vote is one of our inalienable rights as Americans and it is the chief method bestowed upon us by the Constitution to make our voices heard. And now, neighbors (or grassroots volunteers like us) who wish to help make waiting in line a little easier could now land in jail for up to 12 months and/or face a $1,000 fine.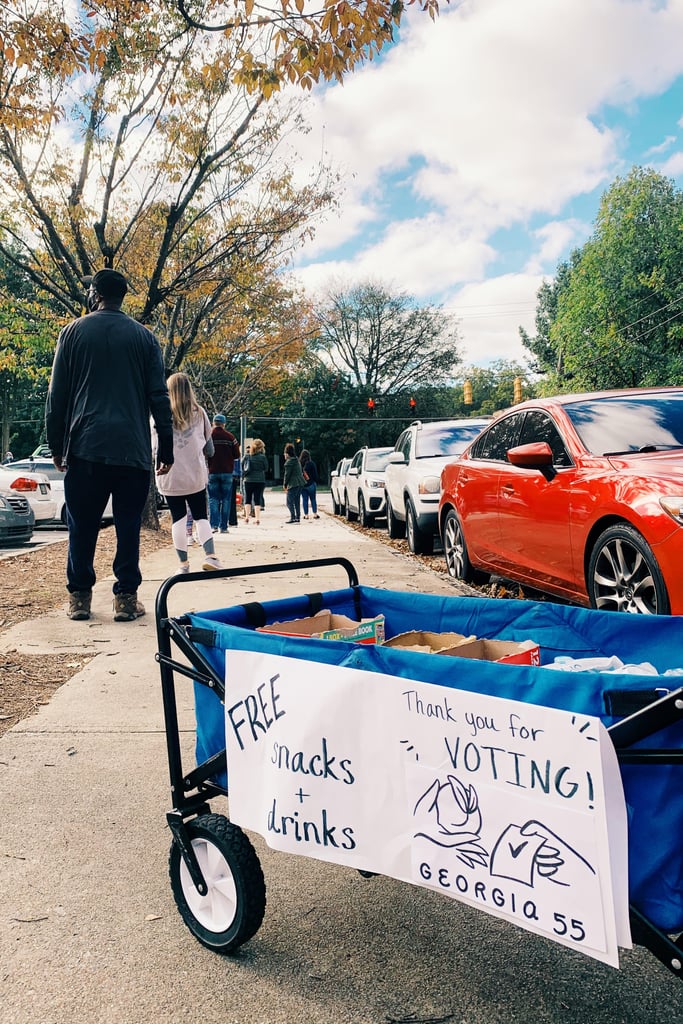 Image Source: The Georgia 55 Project
Let's be clear. This isn't about water or pizza. It's about the power that comes from a neighbor seeing another neighbor affirming their participation in this basic democratic right of casting their vote. We abide by the laws of the land, but we also abide by our own moral code and are enraged that the Georgia legislature has chosen to stand on what we view as the wrong side of history.
If the last year has taught us anything, it's that no one else is coming to save us. As one of our co-founders wisely said recently: We have to recognize that, in order to get ourselves out of this mess, we have to consider the act of empowering others in our community as necessary and vital. Any grassroots effort requires commitment, humility and follow-through. Although anyone can do it, we need everyone to give back to their own communities for us to be able to save ourselves.
The Georgia 55 Project will continue our mission celebrating voting through voter outreach efforts, community partnerships, and thoughtful assistance to those participating in our democratic right to make our voices heard. Just because something is illegal, doesn't make it wrong. The law is not a substitute for morality, and our moral compass mandates that we will continue to support voters in the elections ahead. Atlanta has always been at the heart of the Civil Rights Movement, when regular people sat at restaurant counters to declare what they believed to be right, even in the face of racist laws. We are inspired by those giants, accept that inheritance, and will not be deterred.
We invite you to join us by following us on Instagram, on Twitter, or by signing up for our newsletter on our website at georgia55.org. If you're reading this outside of Atlanta, we encourage you to seek out a voting rights group in your community as well! If you're able and feel called to, donate to our efforts on the ground here in Atlanta at georgia55project.donorsecure.com.