Carrot Banana Cupcakes For Dogs
Your Pooch Will Go Bananas For These Carrot and Banana Dog-Friendly Pupcakes
Whip up something special and tasty that your pup will go bananas for! PetGuide.com shares a simple carrot and banana cupcake recipe topped with a cream cheese and peanut butter icing.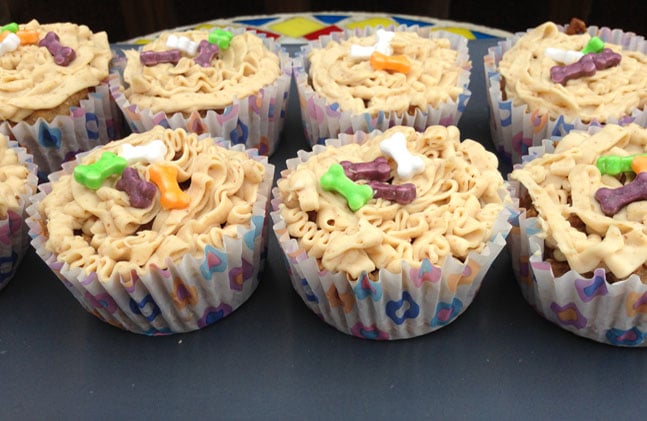 Cupcakes are awesome! They are cute little cakes that are just the right size. And there's no reason why our dogs can't enjoy a pupcake when the occasion calls for one. That's why I'm sharing this Carrot and Banana Dog Cupcake Recipe. There's some carrot and banana — healthy fruits and veggies that are good for our dogs. And a little something sweet — that would be the honey and apple sauce. And you don't need a special occasion to make these pupcakes. We think that any day of the week calls for cupcakes!
Ingredients
Cake ingredients:
2 cups water
1 cup unsweetened applesauce
2 carrots, grated
1 egg
2 tablespoons honey
2 ripe bananas, mashed
4 cups whole-wheat flour
1 teaspoon baking powder
1 teaspoon cinnamon
Icing ingredients:
3/4 cup cream cheese
2 tablespoons peanut butter
2 tablespoons honey
Directions
For cake:
Preheat oven to 350°F.
In a large bowl, mix together water, carrots, apple sauce, egg, and honey. Once mixed together, add the mashed bananas.
In a separate bowl, mix flour, baking powder, and cinnamon.
Combine dry and wet mixture and mix thoroughly.
Spoon into cupcake tins (lined with cupcake papers) about 3/4 full. Handy tip: Spray inside the paper liner with a bit on nonstick spray (Pam) or lightly coat with butter. Otherwise the cupcake will stick to the liner. I learned this the hard way
Bake for about 30 minutes or until a toothpick inserted in the centre of a cupcake comes out clean.
Cool cupcakes on rack before frosting.

For Icing:

Beat cream cheese, peanut butter, and honey until smooth.
When cupcakes are cooled, ice with mixture.
Information
Category

Pet Treats, Dog Food

Cuisine

North American

Yield

24 cupcakes