Cat Steals a Cinnamon Bun
Sneaky Cat Gets Caught Stealing a Cinnamon Bun on Camera, Becomes Twitter Hero
Watch your plates around this infamous criminal! Percy the cat was caught breaking the rules red-handed when his human's camera snapped him in the midst of swiping a freshly-baked cinnamon roll off the table.
The incriminating shot has already been making the rounds on Twitter, with over 140,000 retweets and counting. It's going to be a real uphill battle to prove his innocence here.
merry Christmas here's my cat getting busted for taking a cinnamon roll 2 seconds after we told him no pic.twitter.com/f0AAAx65O5

— jinky slip (@_sophocles_) December 25, 2016
Just look at this guilty, adorable idiot.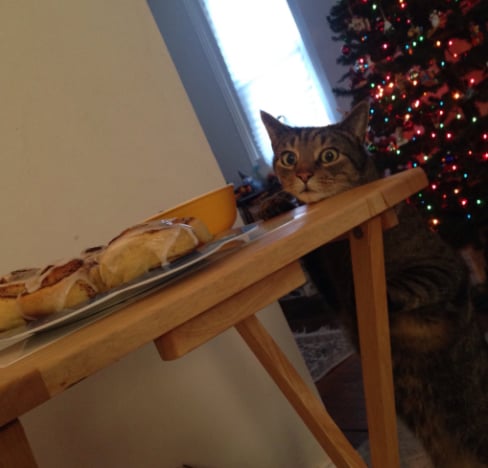 We're guessing his humans won't stay mad for long. Here's hoping you get all the cinnamon rolls of your dreams, Percy!