Cat Yoga Class
Cat Yoga Is What Dreams Are Made Of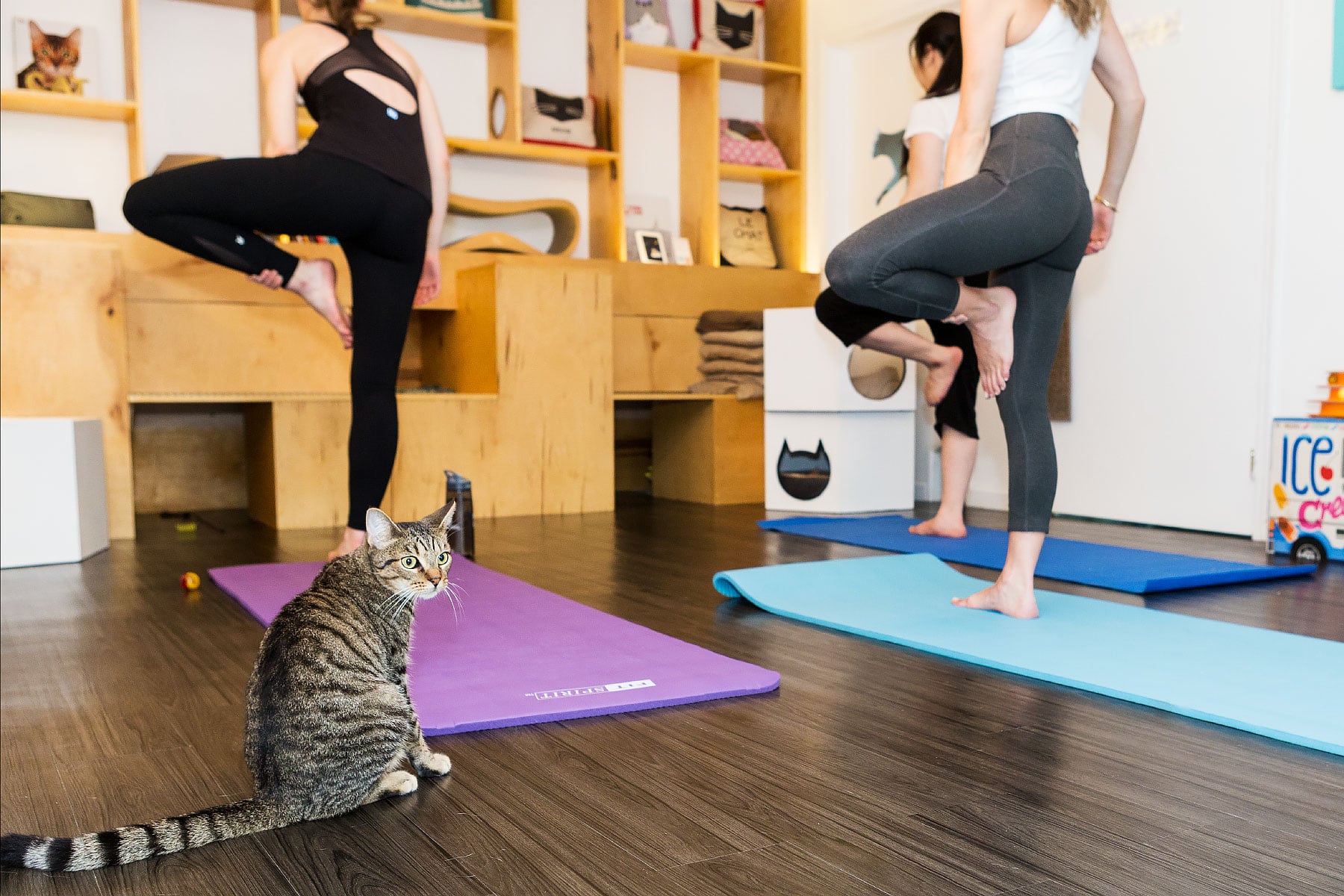 Any time I get to be superefficient and combine two of my favorite pastimes, I get really excited. I recently got to do just that at a cat yoga class. Yes, cat yoga. It's a yoga class at a cat cafe where cats are roaming around asking for pets and belly rubs.
Can you imagine anything better than that for us cat ladies?
New York's Meow Parlour opened recently as a place where cat-lovers can come and hang out with adoptable cats for a small fee. The owners then decided to add a yoga class right in the middle of the place, surrounded by cats. The class time starts with 30 minutes of cat playtime, followed by 45 minutes of yoga, and finished with 15 more minutes of cat playtime to cool down.
Going in, I had a lot of thoughts and feelings. Cats! And yoga! And more cats! All in the same place! And cat-shaped cookies at the patisserie around the corner! I kept telling everyone who would listen that I was going to cat yoga and it was going to be the greatest day of my life. But personally, I can't be in the vicinity of a cat and not try to pet it. So I feared I would spend the whole class distracted by the fur balls walking around me and purring in my face.
But class didn't end up being like that at all. I arrived and spent time petting a group of really mellow cats before class. We had a real yoga instructor, and real yoga mats, and a real yoga practice. (For some reason I felt like because it was cat yoga, it wouldn't be a fully beneficial yoga class.) For the most part, the cats all ran and hid for the majority of the class time. There was one little guy curled up in a hut sleeping beside my mat. I managed to contain myself and only scratched behind his ears one time during class.
The class is small and peaceful and actually really great. I wasn't distracted by the cats at all, but maybe that was because they were too busy sleeping. If you're a cat-lover in New York who is always looking for cat-related activities to fill your time (I just described myself in a nutshell), I highly recommend checking out Meow Parlour's yoga class. If you're not in New York, then I highly recommend wrangling your cat at home and making him join you for yoga. It's bound to be a blast no matter what.
Image Source: Ethan Covey