Gluten-Free Beef and Cheese Dog Treats
Make Your Dog a Healthy Snack With This Gluten-Free Beef and Cheese Treat Recipe
Sometimes it's hard to control whether or not your dog has the most nutritious diet. Amy Tokic, contributor to The Honest Kitchen and editor of Petguide.com gives us this gluten-free beef and cheese treat recipe so you have a healthy way to reward your pet.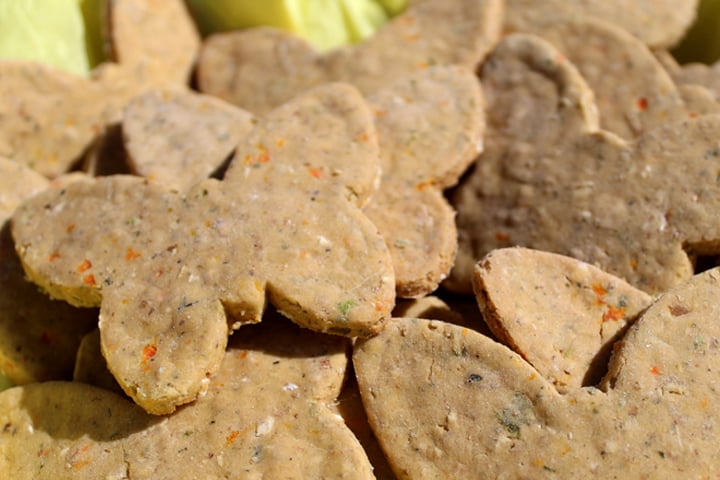 Are you apprehensive of giving your dog treats because they're packed with sugar?
Would you change your mind if the treat was packed full of good stuff? Let us tempt you with our gluten-free beef and cheese dog treat recipe. Ideal for dogs who can't tolerate gluten, these treats are made with rice flour and gluten-free oats — both of which are readily available in your local grocery store.
On top of that, this treat recipe also features peas and carrots. Peas are a good source of the B vitamin, thiamin, phosphorous, and potassium, while carrots are high in fiber, beta carotene, and vitamin A. Throw in some cheddar cheese, and you've got yourself a treat that both you and your dog will love!
Gluten-Free Beef and Cheese Dog Treats
Amy Tokic of The Honest Kitchen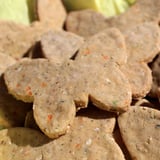 Ingredients
1 cup gluten-free oats
2 cups rice flour
1/3 cup The Honest Kitchen Love Beef Recipe
1 cup peas and carrots, frozen or fresh
1 cup shredded cheddar cheese
1/2 cup beef broth
Directions
Preheat oven to 325ºF (165ºC). Line cookie sheets with parchment paper.
In a food processor or blender, puree the peas and carrots until smooth. Set aside.
In a large bowl, combine rice flour, rolled oats, Love beef recipe, cheddar cheese, and egg. Mix well.
Add in pureed peas and carrots and mix until combined.
As you're stirring, add in beef broth. The dough will be moist.
Knead dough on a lightly floured surface or onto parchment paper. Roll out dough to 1/4-1/2-inch thickness. Because the dough is stiff, it may stick to your rolling pin. Spray or rub the rolling pin with olive oil, and you'll be able to roll the dough out smoothly. Cut with cookie cutter and place on cookie sheets. Bake 30-40 minutes. Let cool on racks. Store in an airtight container, and refrigerate or freeze.
Information
Category

Pet Treats, Dog Food

Cuisine

North American