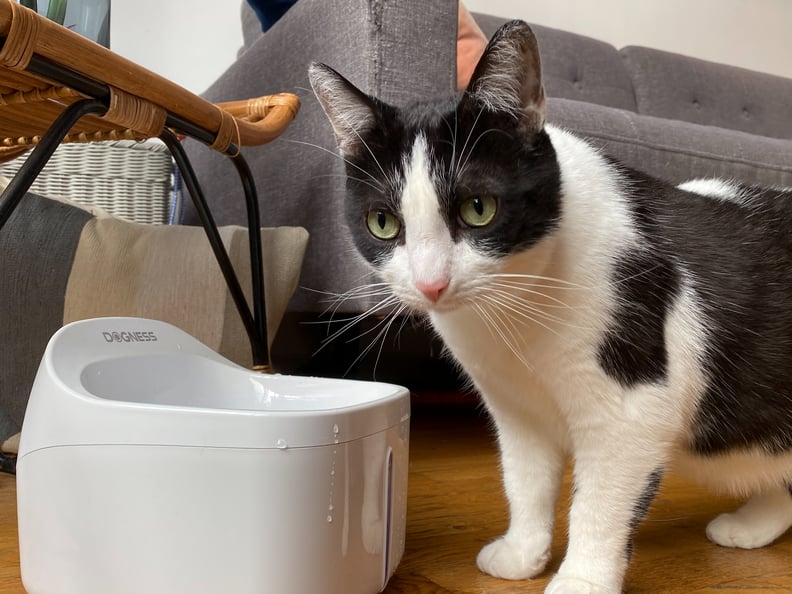 Brittany Natale
Brittany Natale
As POPSUGAR editors, we independently select and write about stuff we love and think you'll like too. If you buy a product we have recommended, we may receive affiliate commission, which in turn supports our work.
My two cats are some of the most personality-filled pets I know (yes, I may be biased). They like to spend hours by the window "talking to the birds" and fighting over the ottoman. My youngest, Tiny, plays fetch with socks and will even beg for whipped cream and cream cheese. My oldest, Alfredo, prefers digging under blankets and tapping you on the arm when he wants "pets." There was even a time that he preferred bowtie collars. During this past year, one that has been equal parts grieving and quarantining, they have brought so much joy to our home with their bright personalities. Another thing? They are extremely picky.
In true cat fashion, they have their quirks — and the highest on their list of "things we hate" is still dishes of water. It doesn't matter how often I change the water, what kind of dish it is being presented in, or how appealing it may look or taste (filtered, unfiltered, they still hate it), it is all the same to them. Their disdain for standing water would cause them to flip over their water dishes, creating puddles of water all over the living room. When they weren't throwing their water bowls around, there was incessant splashing. Water bowls also took on the role of the final resting place for many of their toys. I was at my wits' end.
Thankfully, there is a whole wide world of pet products out there for pet owners to help make life easier. Comfy cat beds that help calm them down? Check! Litter boxes that blend into your living room? Of course they have those! While scrolling online one day, I came across the Dogness Pet Fountain ($25, originally $35) and already knew my water bowl nightmares were over. I checked out the item so quickly, and within a few days had it all set up and ready to go. Finally, water that my cats could drink without having to be coaxed and pleaded with. Whether you have a cat that likes to flip over their dishes, or one that you just want to drink more water, then this is the product for you.
The pet fountain, which comes in a few different colors, is an automatic water dispenser that mimics a free-falling stream. This design naturally adds more oxygen into the water, making it more appealing for cats and dogs alike to drink more — which is important, especially when it comes to health. What I love most about it is that it is BPA-free and includes a built-in carbon water filter that removes any odors or bad tastes from the water. All you have to do after assembly (which is easy, may I add!) is pour in 2 liters of water and watch the magic happen. My cats love that their water stays fresher longer, and the subtle movement of the water in the fountain, which is reminiscent of a gentle brook, keeps them curious and coming back for more. And one of the best parts? They can't flip this one over.