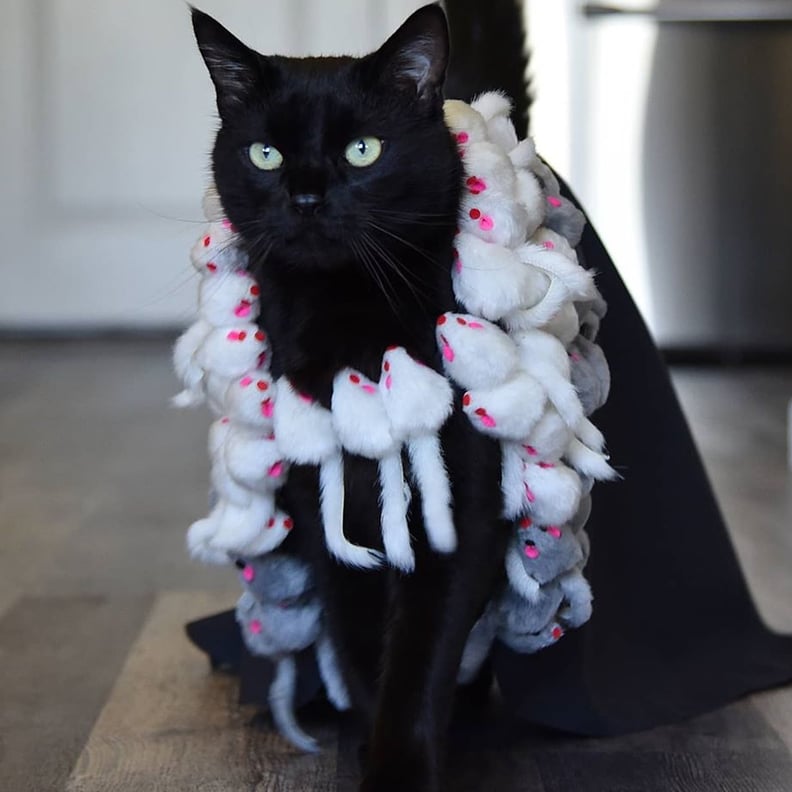 Some cats talk the talk (when it comes to mealtimes, that is), but Rover the cat knows how to walk the walk, and he might just be our new favorite runway model. Rover, a 5-year-old rescue from Washington state, embarked upon his journey into fashion after his owner Angelina noticed that he seemed cold during their outdoor adventures in the winter. To combat the chilly weather, she decided to dress him in a parka, and his plunge into the world of kitty fashion officially began.
Some cats might approve of a cozy pet store sweater or even a funny hat if the mood strikes, but all of Rover's outfits are handmade to fit his haute cat-ture sense of style and bring out his unique personality. "We've never had him wear anything that was restricting or uncomfortable, which is most likely why he goes along with it," Angelina told POPSUGAR. "Any outfit that we put together, or any parka that we buy for him has to pass the 'comfort' test by the meow-del himself . . . Anything that makes Rover uncomfortable would be his least favorite. In that respect, he's 'approved' all of the themed fashion shows because you see him strutting his little heart out."
"Rover is a prime example of how shelter pets can blossom with love, care and affection."
While Rover still prefers to go au naturel most of the time, he also loves wearing parkas on hikes and will happily pose for photo shoots, as long as he can wear his favorite outfits. Of course, a cat this stylish always accessorizes (those retro tinted sunglasses), and he has a busy team of stylists (his humans) at hand to help him plan for his next big Instagram or TikTok fashion show. "Some of these outfits take hours to put together, they are all handmade, so we approach the 'production' with thorough planning," Angelina said. "The inspiration comes from just about anywhere: a fun song, current pop culture events, or items we find laying around the house."
From his breakfast dish to his favorite nap spot, the world is Rover's catwalk, and he hopes that other shelter cats — especially black cats, who are often overlooked at shelters — can have the opportunity to explore their own sense of style in a loving home. "Rover is a prime example of how shelter pets can blossom with love, care and affection." Check out all of his adorable videos ahead, and be sure to have some kitty-friendly snacks nearby because this cat's pawesome runway moves are worthy of all the treats.
Rover Posing in His Mouse Scarf
Rover's Festive Christmas Outfit
Rover Modeling a Parka Indoors
Rover Modeling a Parka Outdoors
Rover's Shelter-in-Place Outfits
Rover's Stylish Outdoor Selfie
Rover's Met Gala Ensemble
Rover's Classy Pink Scarf
Rover Looking Handsome For a Formal Night In
Rover's Street Fashion Looks