11 Adorable Wedding Favors For Dog-Lovers
As POPSUGAR editors, we independently select and write about stuff we love and think you'll like too. If you buy a product we have recommended, we may receive affiliate commission, which in turn supports our work.
Venue? Check. Caterer and cake? Double check. Old, new, borrowed, and blue? You know it. But what about wedding favors for your guests — preferably something that shows off that other member of your family: your beloved dog.
We want our dogs to be part of our special day — if not in person, then at least in spirit. With wedding guests traveling from far and wide to celebrate your special day, you want to return the favor with a gift that shows your gratitude (and hopefully doesn't break the bank). Not to worry — we've got you and your dog-loving spouse-to-be covered.
We scoured the Internet for the sweetest, funniest, and most memorable dog-themed wedding favors. Check them out and find the perfect canine keepsake for your guests. Celebrate your wedding the best way possible: with laughter, love, and puppies. Send your guests home with a one-of-a-kind keepsake that'll have them remembering your puppy love for years to come.
01
Custom Doggy Pocket Mirrors
Celebrate the dog in your life with this hand-illustrated favor. Whether it's a pocket Corgi, an itty-bitty Boston, or a bashful Border Collie, these custom pocket mirrors ($5 each) are the perfect gift for wedding guests.
02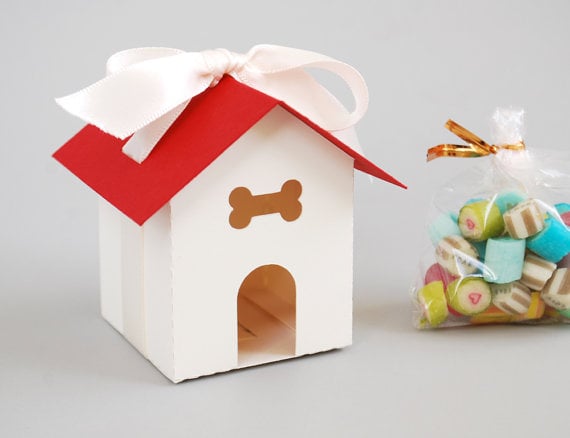 Dog House Favor Box
Fill this miniature dog house with treats for humans and canines alike. Made of cardstock and satin ribbon, this sweet favor box ($19 for a set of 12) can even be customized with your wedding colors.
03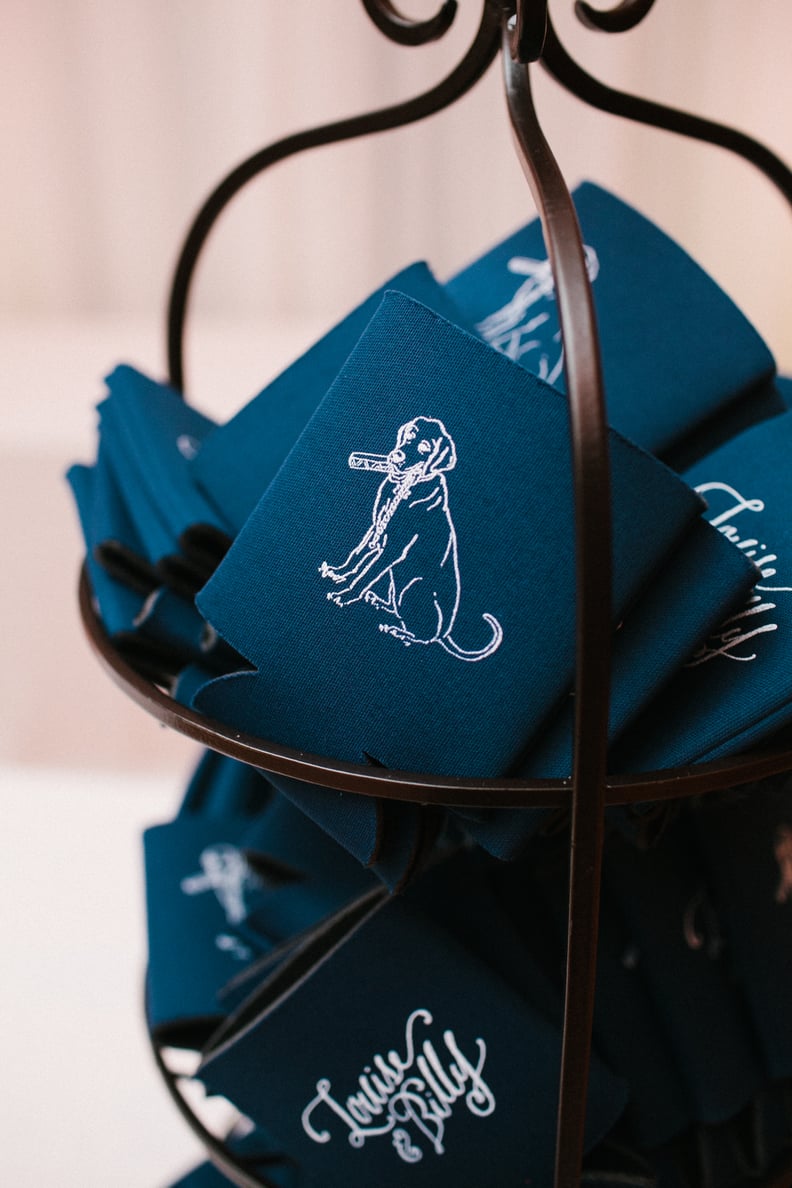 Dog Sketch Custom Koozie
Sip your beer in style with an illustrated canine koozie. Shop a marketplace like Etsy (price will vary) to find an artist who'll design a custom koozie celebrating you, your dog, and your wedding.
04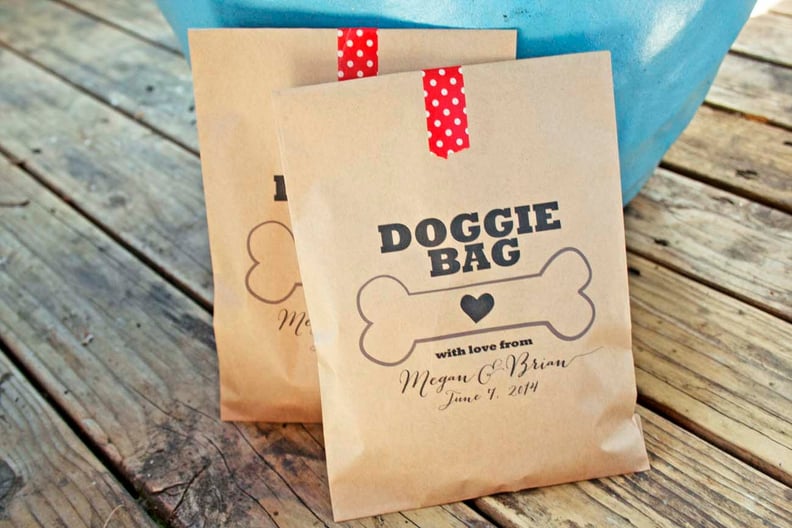 Wedding Favor Doggy Bags
Sad you can't extend everyone's plus one to a plus 1.5, including their furry friends? These wedding favor doggy bags ($25 for a set of 25) are a sweet consolation prize. Custom printed on brown paper bags, they're the perfect complement to a human-centric evening — and a special treat when your guests go home to their pals at the end of the night.
05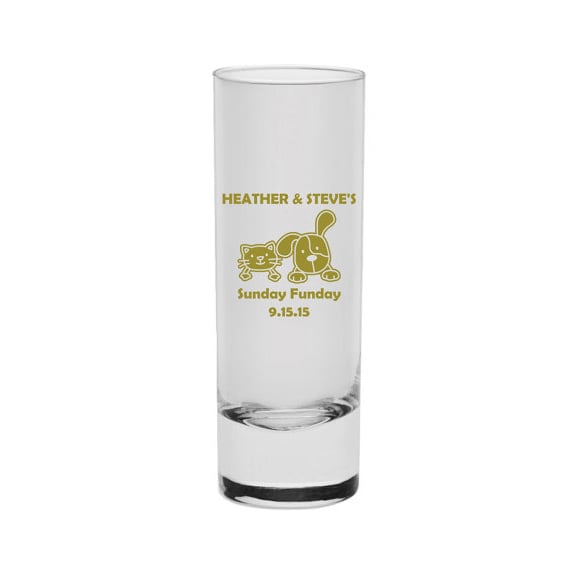 Cat and Dog Shot Glasses
If your guests really know how to party, they'll appreciate these cute commemorative shot glasses ($95 for a set of 12). Every time they throw back a fireball, they'll be thinking of you and your (human and puppy) love.
06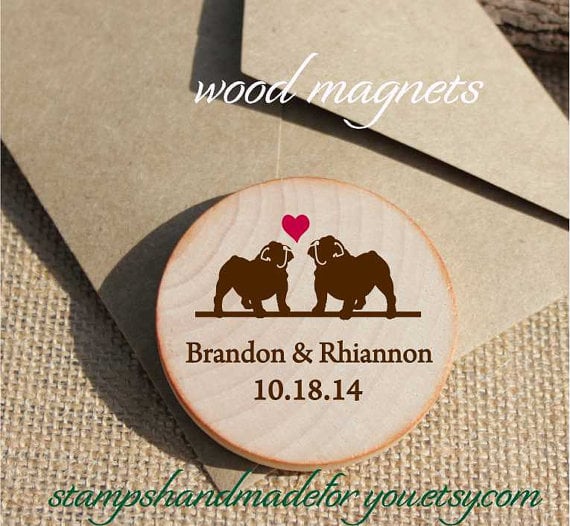 Custom Wooden Dog Heart Magnets
This handmade magnet ($125 for a set of 50) is the perfect trinket to celebrate the union of two (dog) lovers. It commemorates your wedding day with a silhouette of your and your spouse's dogs — adorbs!
07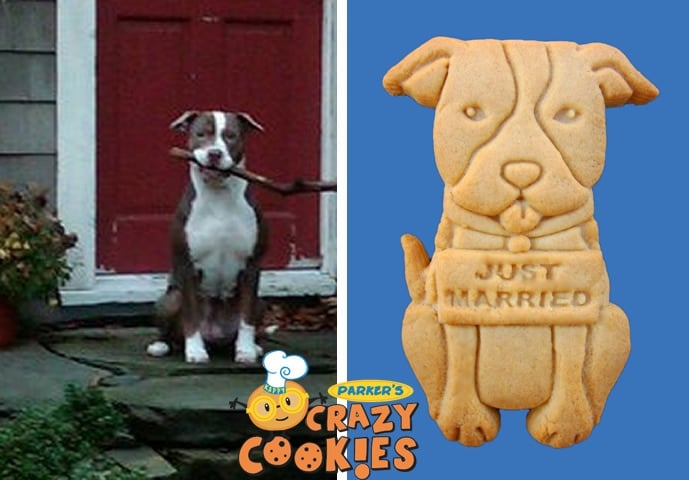 Custom "Just Married" Doggy Cookies
This San Diego-based boutique bakery will whip up a batch of custom cookies in the shape of your furry friend. Send your guests home with a delicious treat commemorating your special day. Your friends won't be sure whether to scarf down or savor this one-of-a-kind cookie ($188 for a set of 150).
08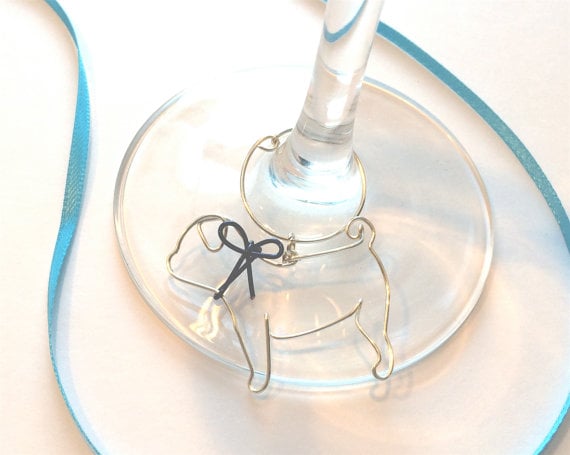 Dog Wine Charms
Concerned your guests might lose track of their glasses while dining, dancing, and sniffling their way through your big day? Offer these precious wine charms ($19 for a set of two).
09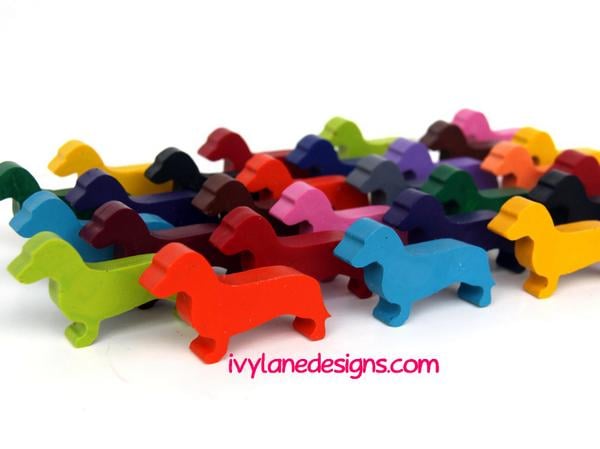 Colorful Dachshund Crayons
A special gift for a summertime wedding ($40 for a pack of 20), these adorable doggies are the perfect complement to paper tablecloths. Guests can leave behind a sweet message before pocketing the goods as a keepsake of you and your dog's special day.
10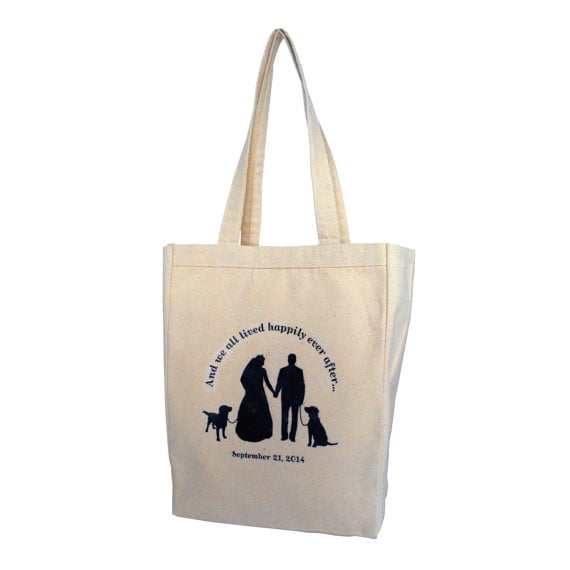 Silhouette Tote Bag
You're starting a family — a union of you, your spouse, and your beloved dog(s). Share a silhouette of your new family unit, bonded in matrimony and kibble. This wedding tote bag ($15 per bag) tells the tale of your day without leaving out your furry friend.
11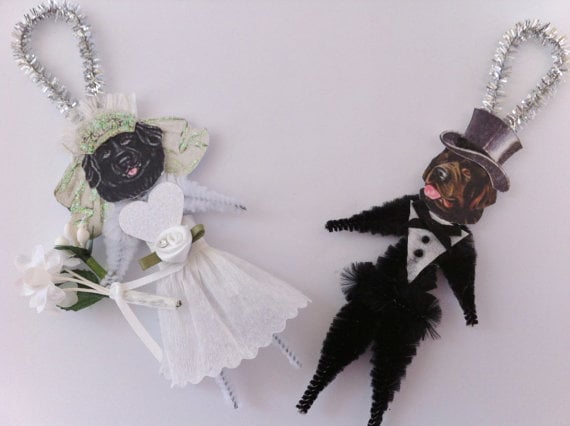 Custom Dog Breed Ornaments
These bride-and-groom Newfoundlands are almost too cute to handle. Treat partygoers to a pair of vintage-inspired doggy ornaments ($15 for a set of two), a unique — and glittery — reminder of your special day.