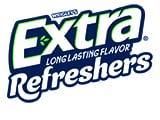 We've partnered with Extra Refreshers Gum to encourage you to add a little bit more joy to every day.
I'll admit it — I'm a card hoarder. I'll leave birthday cards and thank you notes out on my kitchen table for weeks after I receive them, just because I can't bring myself to throw away all those thoughtful sentiments from my friends.
After all, that's what friendship is really about: all the sweet, little moments that reveal how much you care about each other. You don't have to come up with some elaborate grand gesture either — something as simple as a thoughtful handwritten note or spur-of-the-moment phone call can be incredibly heartwarming. Putting in just a tiny bit of effort to make a connection can really make a big impact, so show your friends how much you care about them with these small but meaningful gestures.