Cold-Weather College Survival Kit
Beat the Sniffles With a Cold-Weather College Survival Kit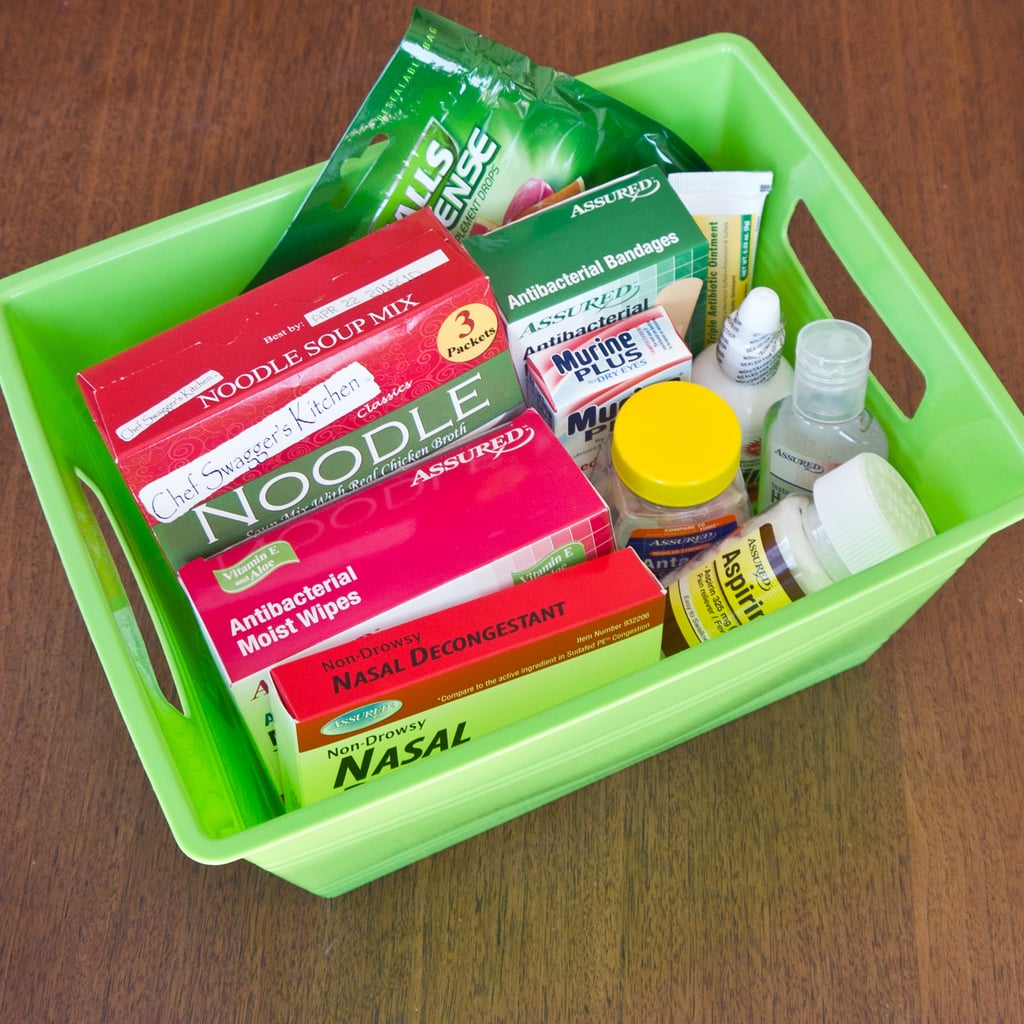 If you're heading off to college, you are probably seriously caught up with figuring out how to pack all your favorite things. If it's your own student getting ready to leave the nest, there are so many things you're trying to make sure they don't forget! Head to the dollar store, and gather these helpful items to create a college survival kit that keeps colds away — and helps soothe when the sniffles set in. This kit also makes a great gift for a good friend, niece, or nephew hitting a big campus this Fall.
Aspirin: Perfect for calming headaches, aspirin also helps lower fevers and can be used for an acne-fighting face mask. Really.
Decongestant: When the sniffles hit, no one wants to be the one interrupting class with sneezing or nose blowing. And most over-the-counter options are nondrowsy without jittery pseudoephedrine.
Antibacterial wipes: Even before getting sick, regularly using antibacterial wipes keeps germs away on hands and around the dorm room. Use for wiping handles of doors, light switches, and even backpack straps.
Hand sanitizer: Toss in your bag or keep next to your bed, hand sanitizer also gets rid of germs fast — especially if you're far away from the bathroom.
Antacid: Getting a cold sometimes comes along with an upset stomach, making antacid a smart addition to this college survival kit.
Saline spray: Instead of picking up a decongestant spray, going with a saline spray helps clear noses without drying out sinuses.
Vitamin C drops: Along with boosting the immune system, vitamin C drops also work wonderfully to quell coughing attacks. And they pack easily when heading to class.
Instant chicken soup mix: Not necessarily just like Mom made, but including instant chicken soup mix means your college student has soothing broth for when they're not feeling their best.
Antibiotic ointment: Cold weather can lead to dry, cracked hands. Antibiotic ointment soothes while getting rid of germs and bacteria. It can be used on chapped noses, too.
Eye drops: Bleary eyes are quickly eliminated with the help of eye drops. They also fix dry eyes in a snap.
Band-Aids: Not necessarily for busting colds, but having an extra stash of Band-Aids is always so smart!
Pack in a basket or sealable plastic container that easily slides under the bed or stores in a closet until needed. Pick up a pack of facial tissues, and the cold-weather college survival kit is complete.