DIY Dusting Spray
Banish Dust With This Easy Cleaning Spray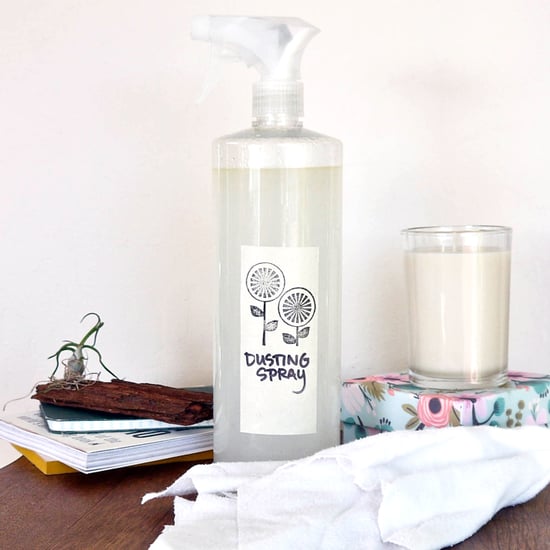 If you feel like you're constantly wiping up dust, make this easy eco-friendly dusting spray that does an amazing job. The cleaner is made with ingredients that basically cost nothing — and you can even make it smell just the way you want it with a few drops of essential oil. Along with helping to pick up dust, the gentle spray also cleans your furniture without any harsh ingredients.
Read on for more.
What You'll Need:
3 cups water
1/2 teaspoon Dr. Bronner's soap
1 cup vinegar
1/2 teaspoon olive oil
10-20 drops essential oil (optional)
Directions:
Measure and mix the water, soap, and vinegar in a large spray bottle. The vinegar and soap work together to clean and pick up dust without being too harsh on your furniture. And this spray is safe to use on any surface.
Now add the olive oil, and, if you're wanting a fresh scent, your favorite essential oil. The water and oil won't mix, but that touch of oil helps grab and collect dust. The essential oil scents the water, creating a helpful cleaner that smells just the way you want it.
Twist on the top of the spray bottle, give a little shake, and spritz over dusty areas in your home. Gently wipe with a soft cotton cloth, and your house is sans dust — without having to dust again! Because oil and water don't mix, shake before each use to help distribute all the ingredients.
Looking for more easy DIYs? Take a look at our roundup of budget-friendly cleaning supplies!
Image Source: POPSUGAR Photography / Sarah Lipoff