Disneyland Pixar Pier
Disney Just Announced Even More Exciting Details About Disneyland's New Pixar Pier!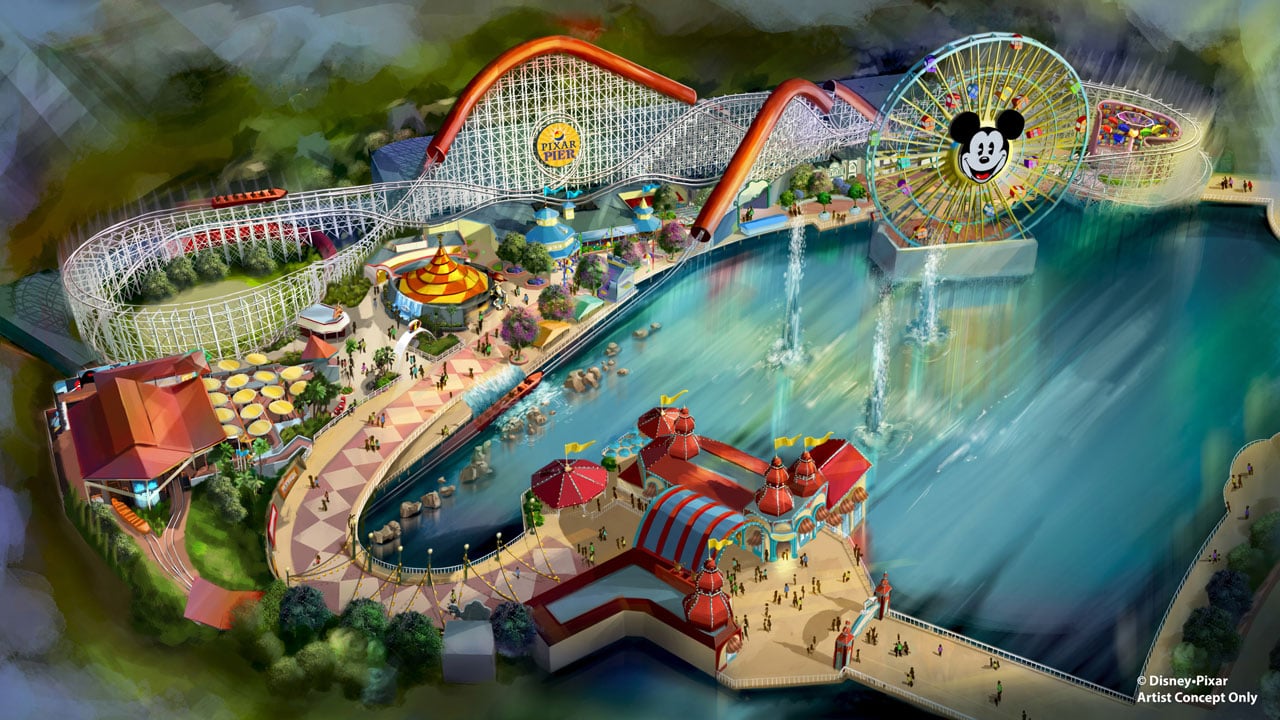 A permanent addition is making its way to Disney California Adventure in Summer 2018, and it's like nothing we've seen before. At 2017's D23 expo back in July, Bob Chapek, along with Chief Creative Officer of Walt Disney and Pixar Animation Studios John Lasseter, announced plans for a "Pixar Pier" at the park.
"Pixar Pier will feature a brand-new look for the area now known as Paradise Pier, as some of your favorite characters come to life on this seaside waterfront," says Disney.
There will be neighborhoods filled with your favorite characters from The Incredibles, Inside Out, and Toy Story. The attractions will bring their stories to life with an immersive area of the park. We have more details on what you can expect:
The Incredibles Neighborhood
The first of the four themed neighborhoods is inspired by The Incredibles. The California Screamin' roller coaster will be revamped and transformed into the new Incredicoaster. The experience will feature "a mid-century-modern-style loading area, new character moments and a new look for the ride vehicles." To get ready for the new ride, California Screamin' will close Jan. 8, 2018.
Toy Story Neighborhood
Toy Story Mania is already a fan favorite at Disney California Adventure, so the second neighborhood is fittingly inspired by the Toy Story films.
Inside Out Neighborhood
Another area of Pixar Pier will celebrate the beloved Inside Out Pixar film.
Pixar Stories Neighborhood
"In this neighborhood, Mickey's Fun Wheel will have a new look, with each of the 24 gondolas featuring different Pixar characters and the iconic face of Mickey Mouse remaining on the Paradise Bay side of the wheel," says Disney. "At the Games of the Boardwalk, which already includes the Bullseye Stallion Stampede game, all of the midway games will be inspired by Pixar characters. Mickey's Fun Wheel, Games of the Boardwalk and Sideshow Shirts will close Jan. 8 to begin this transformation."
Some other major changes include the transformation of Ariel's Grotto restaurant and the Cove Bar into a new lounge and grill experience. These will also both be closing Jan. 8. to prep for the changes. The rest of what is now Paradise Pier (Paradise Gardens, Silly Symphony Swings, Jumpin' Jellyfish, Goofy's Sky School, Golden Zephyr, and The Little Mermaid — Ariel's Undersea Adventure) will undergo a name change: get ready for the new "Paradise Park"!
As the changes occur, several attractions will, as mentioned, be closed for renovations. But don't forget that for a limited time starting April 13, guests will be able to enjoy the all-new Pixar Fest, the Together Forever — A Pixar Nighttime Spectacular fireworks show, and the return of Pixar Play Parade. Guests will be able to experience "the magical worlds of Pixar in brand new ways as the entire resort comes alive with some of your favorite stories."