How Bridesmaids Can Save Money
8 Ways Bridesmaids Can Avoid Going Broke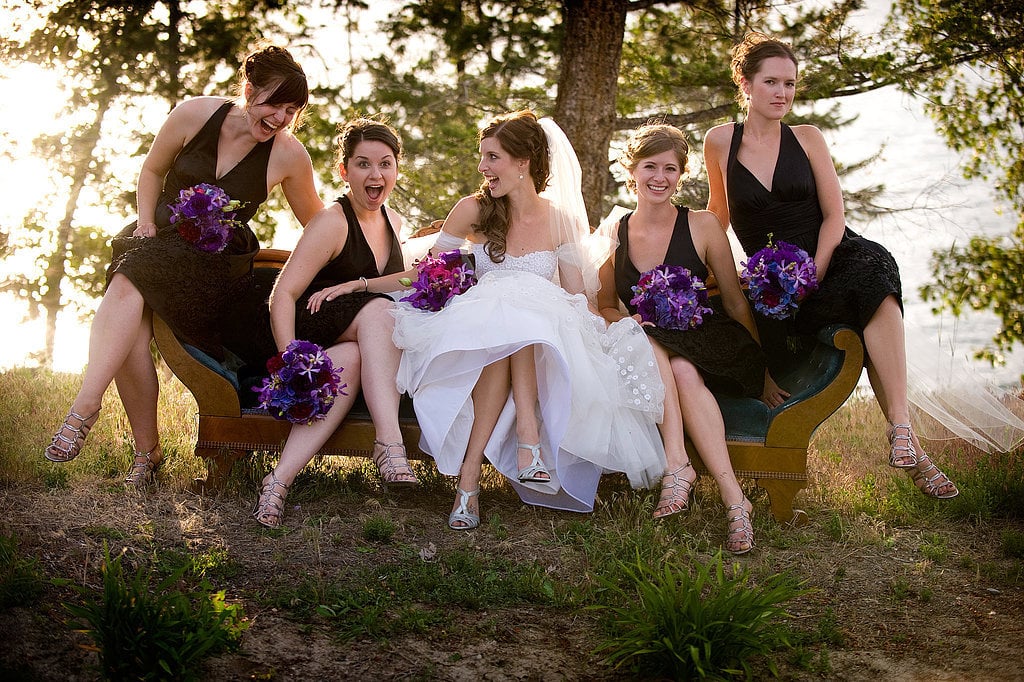 Everyone always talks about how brides can save money, but few people remember that bridesmaids are forking out a lot of cash too. The bridal party often pays for their outfits and prewedding events, so costs can quickly add up. Here are a few tips on how to save if you've been given the honor of being picked to be part of the bride's big day:
It's OK to say no. If you're not close to the bride or if you simply can't budget in bridesmaid expenses, it's OK to decline. Just be really honest with the married couple and let them know your restraints. Alternatively, as a bridesmaid, you don't always have to say yes to everything. If you can't afford the spa day, just join in the activities before or after the spa engagement. Or if you can't make it to the out-of-town bachelorette, don't feel shy about declining.
Negotiate with the bride. If you've agreed to be a bridesmaid, let the bride know what your budget is like. Instead of traveling far for the bachelorette party, host a bridal-shower brunch in town. Ask the bride for more flexibility on your outfits during the wedding, such as nonmatching dresses, so you'll be able to choose more-affordable outfits. And if the whole bridal party is flying in for the wedding, perhaps you can tactfully suggest the bachelorette party be held in the same city as the venue or in a neighboring city a few days before the event.
Offer up suggestions. When discussing bridal activities, make your voice heard. Suggest nearby bachelorette options such as a road trip to a neighboring city or a visit to the local winery. Pitch quaint and affordable restaurant options in lieu of Michelin-starred ones to the others. Don't just complain about how expensive it's getting; do research and offer up suggestions that are just as awesome.
Pick cheaper options. Be smart about your choices during the prewedding festivities. Can't afford a massage? Opt for paying for usage of the spa's facilities and enjoy the sauna and hot tub while waiting for others to be done with their facials and massages. Stick with an entrée, skip the appetizer, and drink water when you're eating out.
Consider renting, borrowing, or making. You don't have to buy a brand-new dress. Borrow one from a friend, rent one for cheaper, or if you're good with needle and thread, consider making your own. Even if you decide to buy one, you can always opt for dresses from more affordable brands — you don't have to buy them from a specialty shop.
Cut travel costs. If you decide to go on a trip with the rest of the bridal party and the bride, do your best to cut travel costs when you can. Be vigilant about ticket-buying, and suggest renting a place to stay in from sites like Airbnb instead of a hotel.
Be smart about gift-giving. Not every occasion calls for a gift. Giving a gift for the wedding itself is a given, and bridal showers usually warrant a gift. Try the sentimental approach with the bridal shower gift and make something meaningful but frugal such as a picture collage. It's not necessary to give a gift for the bachelorette, but you can always opt for gag gifts like sashes or veils, many of which are affordable or easily DIY-ed.

DIY

makeup and hair. Do your own hair and makeup for the big day. Besides, it's generally better to have minimal makeup for the wedding, because you definitely don't want to draw too much attention to yourself.