POPSUGAR Shows Now on Apple TV
Get All Your Favorite POPSUGAR Shows Now on Apple TV!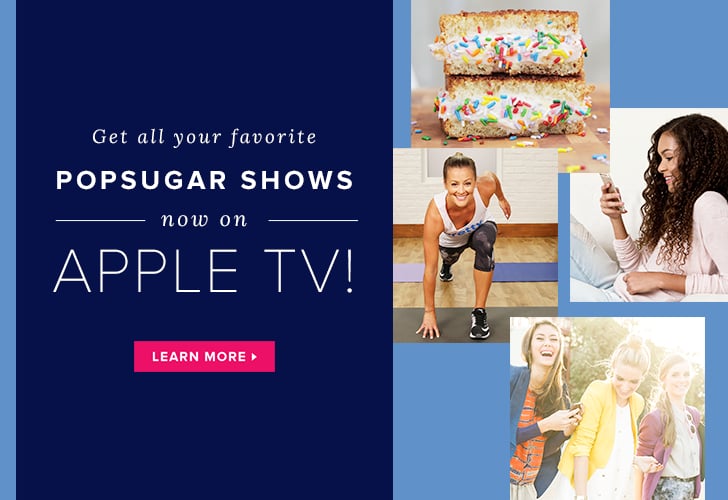 Apple TV has relaunched with a new POPSUGAR TV app (exclusive to Apple TV only) within the app store!
POPSUGAR TV brings you direct access to all of POPSUGAR's original franchise series and critically acclaimed videos. Follow our irresistible programming that entertains, inspires, and delights — including mouthwatering recipes, motivating workouts, exclusive celebrity interviews, hot fashion trends, beauty tips, and so much more. With new content added regularly, you're guaranteed to find something that you love.
Tune in any time to our programming:
Class FitSugar: Host Anna Renderer sweats alongside fitness experts and Hollywood's hottest celebrity trainers to bring you routines you can do anytime, anywhere.
Eat the Trend: Host Brandi Milloy uncovers trending food on social media and shares how to easily create it all in your own kitchen.
Get the Dish: Brandi Milloy translates her latest pop culture obsessions to culinary inspiration, creating easy recipes and entertaining tips.
POPSUGAR Beauty Junkie: Host Kirbie Johnson keeps you up on beauty tips and trends with help from beauty influencers and pro makeup artists.
POPSUGAR Rush: A lightning-fast daily show that keeps you current with all things pop culture.
We Spy Style: Host Allison McNamara and style experts break down the latest trends and most shareable style stories.
Seriously Distracted: This comedy is about a group of young smart ambitious women at a mediocre PR firm who are great at their jobs but completely obsessed with pop culture.
I'm a Huge Fan: Lucky contest winners get once-­in-­a-­lifetime chances to meet and interview their favorite stars.
One of a Kind: Follow one lucky winner as she wins the chance to meet and be styled by her favorite designer.
Find Your Happy: Celebrate the positivity in life and find happiness in every day.