12 Things You Should Know Before Traveling Across the Country on Amtrak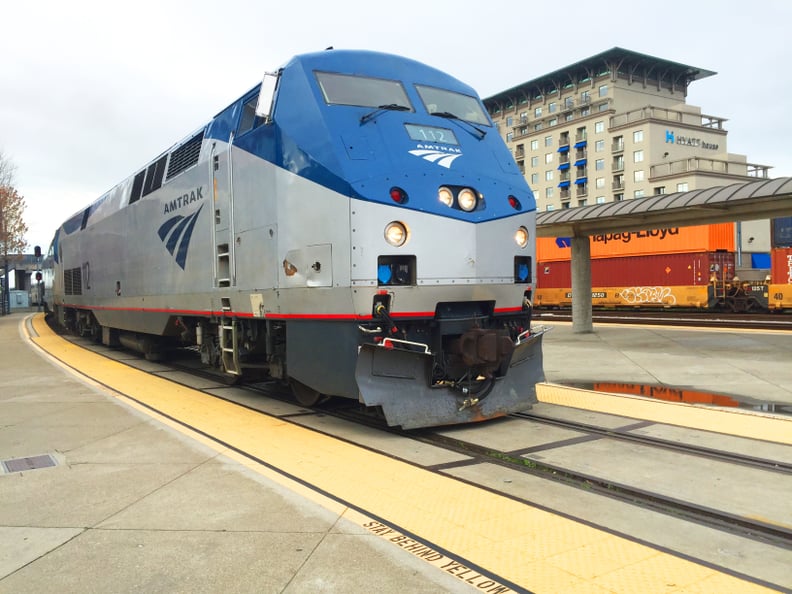 POPSUGAR Photography | Macy Williams
POPSUGAR Photography | Macy Williams
I have always fantasized about traveling across the country by train, so I finally planned an Amtrak trip from San Francisco to New York City with a friend. There have been many conversations around the web about what it's really like to take Amtrak for long trips, so I want to give you the most accurate and true depiction.
We decided to get a roomette for the first and longest leg of our travel on the California Zephyr. We had the small room from Emeryville (the Amtrak station right outside of San Francisco) to Chicago for two days and two nights. After a seven-hour stop in Chicago, we rode the remaining 17 hours of our journey to NYC in coach seats. In total, our tickets for two people came out to $772. Not bad considering we were traveling for three and a half days and our meals were included with the roomette.
To get all the details on what it's like to sleep, eat, and basically live in an Amtrak train while chugging across America, keep reading. There are lots of interesting details that will take you by surprise.
01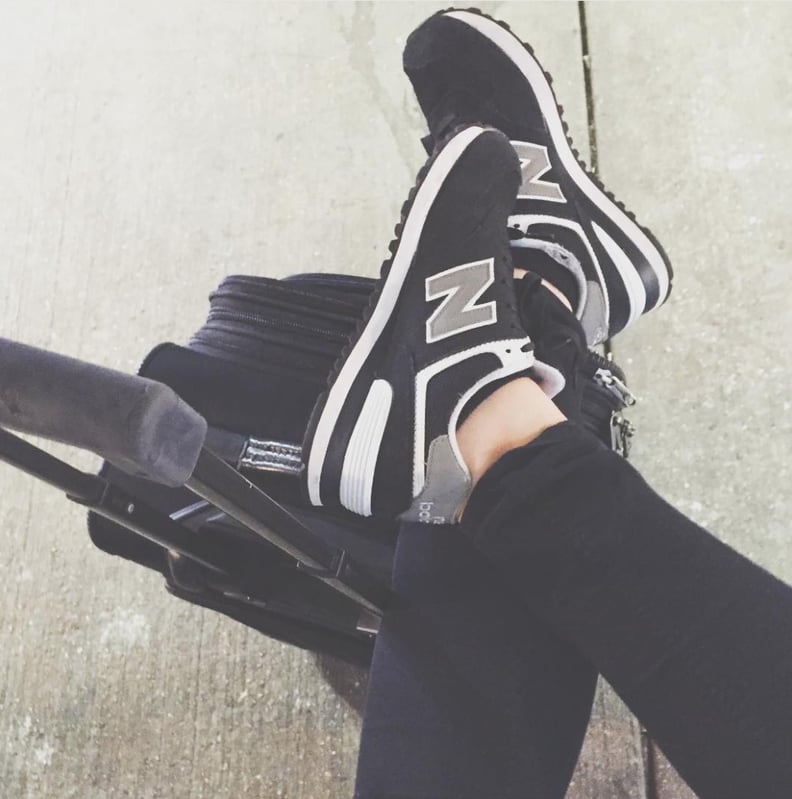 You can take a significant amount of luggage for free.
Each passenger can take two carry-on items and check two pieces of baggage for free. If you need to bring even more than that, it's $20 per bag. Checking our luggage at the station and bringing bags with us was pretty painless.
02 The roomette is incredibly small, but it comes with lots of perks.
We were pretty surprised by the size of our roomette — it was tiny. When we sat in the facing seats, our knees were only a few inches away from each other. Luckily, when you get a Superliner Roomette, or you go even fancier and get a Viewliner Bedroom, all of your meals are included with your ticket.
Also, each sleeper car is overseen by an attendant who is there to help you with anything you need. Our attendant, Nathan, was awesome. He had a hot pot of coffee always brewing and a bucket of ice available for beverages. He also changed the linens on our foldout beds each morning. He checked on us several times throughout the day to make sure we had what we needed.
03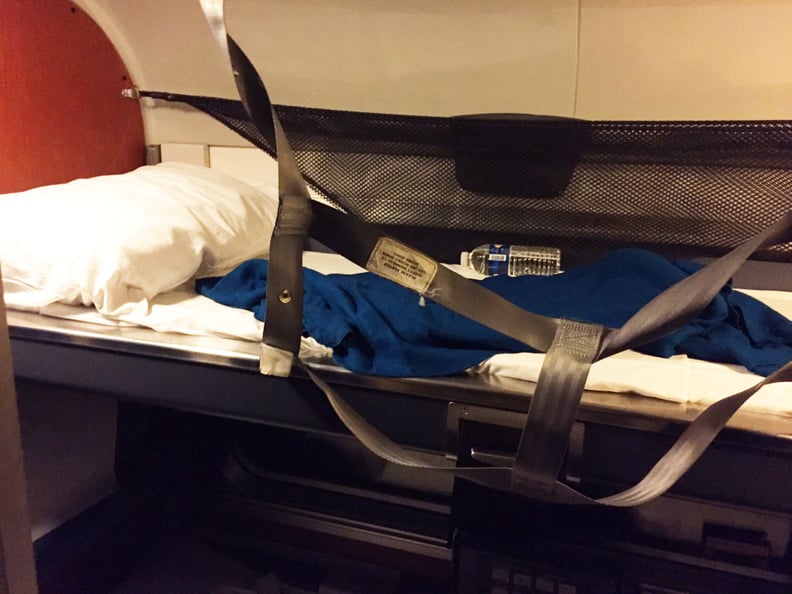 The sleeping arrangements are quite an adventure.
When it's time to go to sleep, the two seats fold out into a comfy twin-size bed. An upper berth is lowered down from the ceiling to become a second bed above the other, bunk bed style. While the bottom bunk is perfectly comfortable to sleep on, the top is a different story.
After climbing up the steps to get to the top and lie down, a seatbelt-harness-type contraption hanging from the edge of the bed hooks into the ceiling. This is meant to catch you in case you fall off the top bunk while sleeping. Lying on the small top bed can make you a little uneasy, but some people prefer the elevated option.
Another concern I had was how noisy it would be on the train. You get some sounds from going over the tracks at night, but it just turns into white noise. Overall the noise was no bother.
04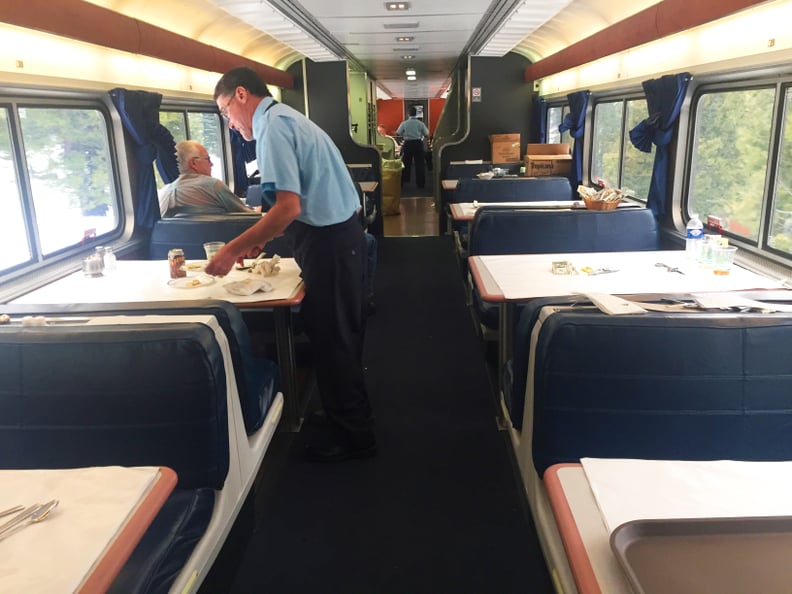 The dining car is a great way to meet new people.
We ate breakfast, lunch, and dinner in the dining car while traveling in the roomette. Because the car has community seating so that the train can accommodate every passenger, you often sit across the table from strangers. It's awesome to hear the stories behind why people are traveling and where they are coming from.
05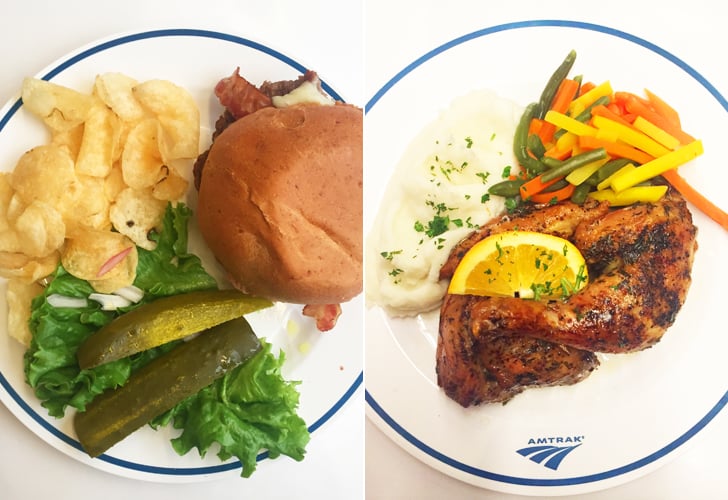 The food served on the dining car is downright impressive.
I will never know how they cooked a steak to perfection on a moving train, but they did it. Everything we ate was pretty tasty. Pictured here is a bacon cheeseburger and roasted chicken with mashed potatoes and a vegetable medley.
Dinner also came with a salad and dessert — you never left the car feeling hungry. We actually looked forward to trying a variety of meals on Amtrak's menu.
06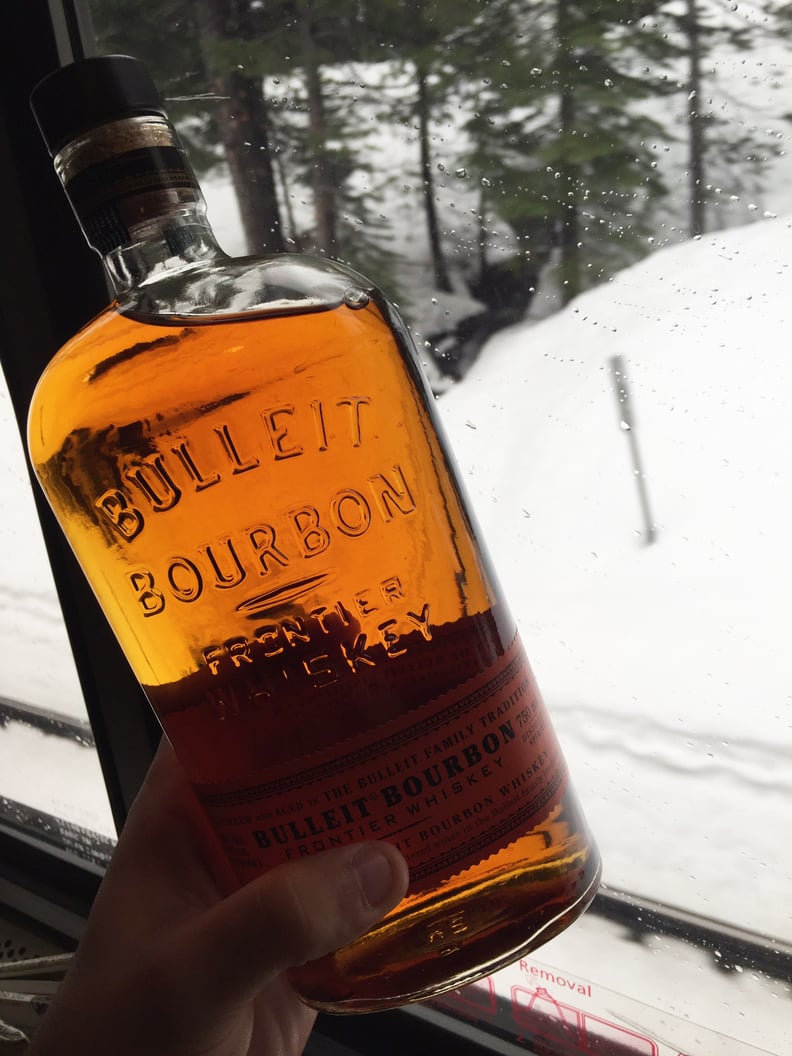 If you get a roomette, you can bring alcohol on the train.
Yes! Alcohol is permitted on the train as long as you drink it in your room. It's not allowed anywhere outside of your own space, but it's nice to enjoy some drinks while relaxing on the train. Plus, it's a huge money saver in comparison to buying drinks from Amtrak's snack car or dining car.
07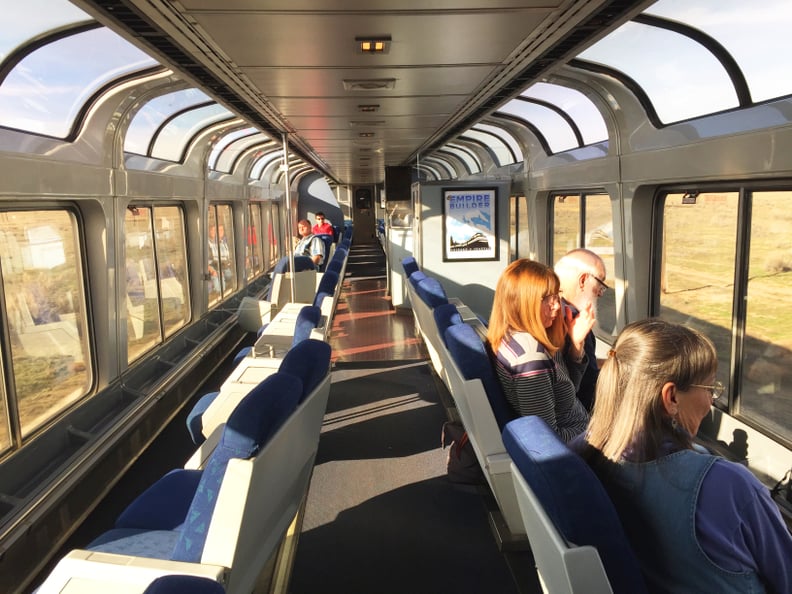 The viewing car is a great change of scenery.
If you're looking to get out of your seat and settle in somewhere new, the viewing car is the perfect place to go. Swivel chairs and booth-style tables fill the car so that passengers can get comfortable. Huge picture windows that touch the ceiling of the car make it a great place to see the beautiful sights outside.
08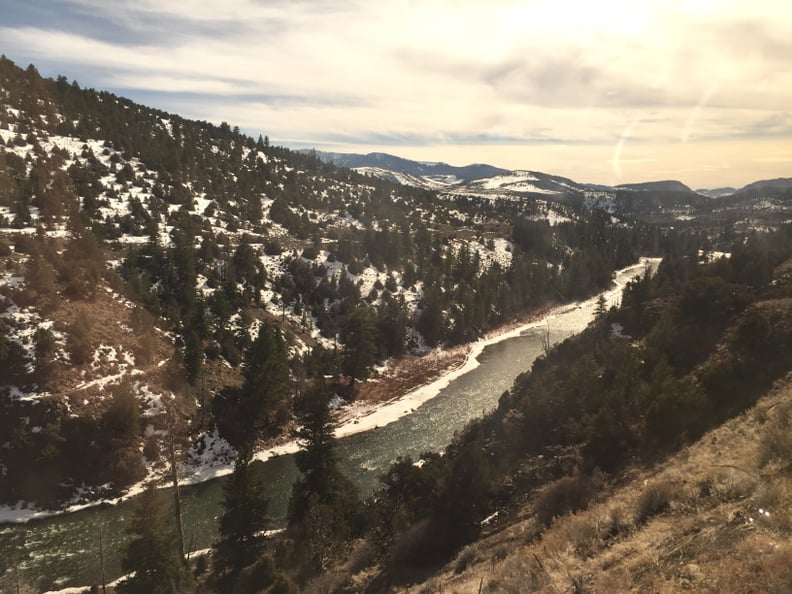 The views you see while traveling are utterly incredible.
Speaking of views, photos alone will not do this trip justice. We were able to see the Rocky Mountains, the Sierra Nevadas, Colorado's canyons, and even a few bald eagles. We spent many hours just looking out our window because the sights were entertainment enough.
Truth be told, the section of the trip from Denver to Chicago was bland. There were lots of endless fields and farmland, but not much more than that. The excitement comes mostly at the beginning and end of the journey.
09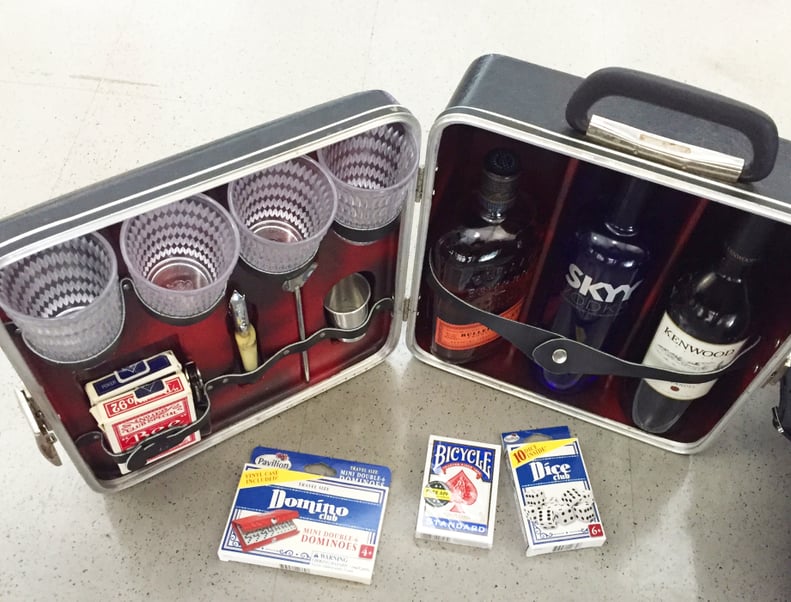 Make sure you bring lots of things to do.
We brought travel-size games, cards, magazines, and books. And we used just about everything we had at one point or another. If you think you have brought too many things to do, you haven't — being on a train for three days is a long time!
I was concerned about getting motion sickness on the train since I am prone to that, but it was never a problem. I read for short periods of time just to be safe. Bring a sense of imagination with you too — when we were tired of the games we brought, we started making up guessing games. The best way to truly bond with someone is to be in a train car with them for an extended period of time.
10
There are showers on the train!
I was a little nervous that I wouldn't get to clean up while traveling for such a long time, but there were showers on the train. Our attendant also provided clean towels and bars of soap. The shower was pretty spacious and easy to use. It's attached to a small space with a mirror, shelf, and hook so that you can easily keep up with your usual morning and evening routines.
I suggest timing your showers out to when you are traveling over flat land. Taking a shower while going over a mountain is quite a bumpy experience.
11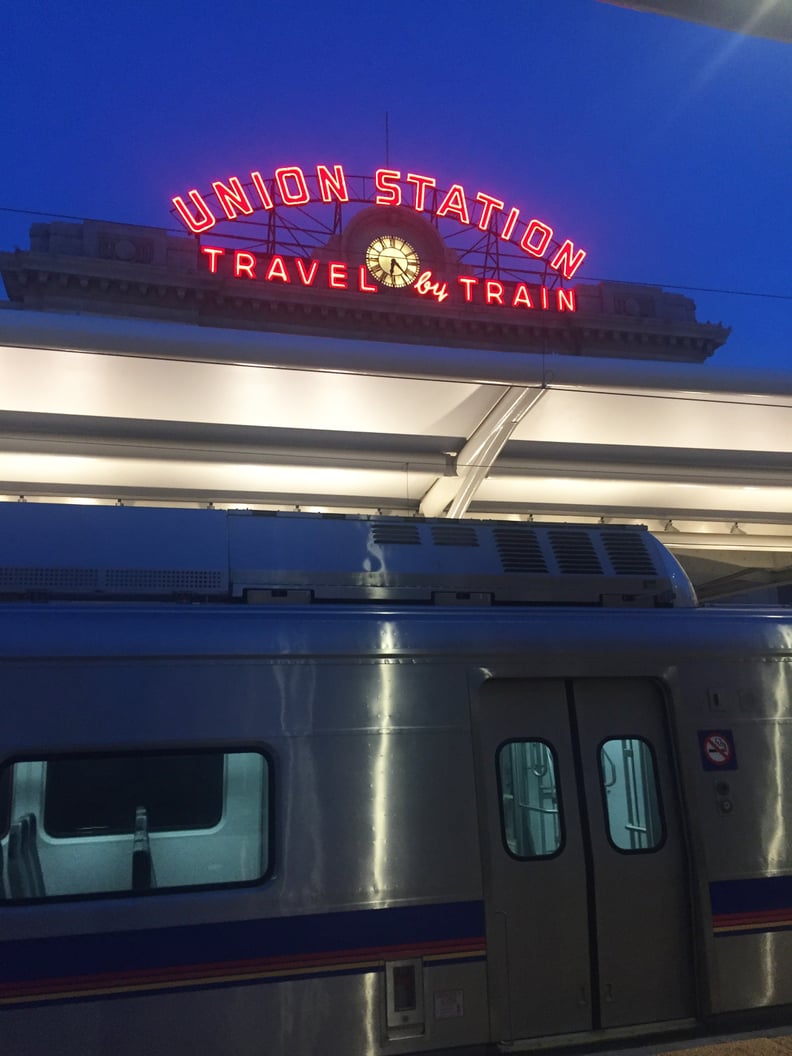 You get to stop and stretch your legs in some cool cities.
Besides the regular 10-minute breaks we got when passengers come on and off the train at various stations, we also got to step off the train for extended periods of time at a couple of locations.
We explored Denver for an hour one evening — Union Station is very centrally located to the city's downtown scene. We also visited Chicago for seven hours before transferring trains. It was a great way to get the most out of our experience.
12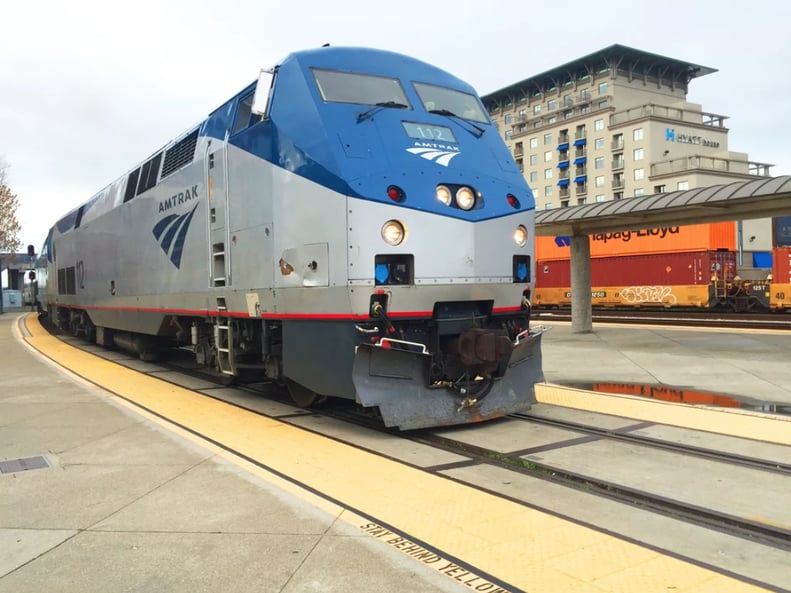 Taking the train is an experience you will never forget.
Let's be honest, it's pretty cool to tell people that you journeyed across the country by train. People don't commonly travel that way anymore. I was nervous to be on a train for such a long period of time, but the truth is that I had an amazing experience and it went by really fast. I highly recommend taking your next adventure on the tracks.