Here's How This Editor Maintains Her Date-Night Rituals, Without Even Leaving The House
As POPSUGAR editors, we independently select and write about stuff we love and think you'll like too. If you buy a product we have recommended, we may receive affiliate commission, which in turn supports our work.
After over nine years together, my fiancé and I swear by our regular date nights. Every week, we look forward to Friday evenings, when we unwind, treat ourselves, and reconnect. Recently though, date nights have looked different. We haven't felt comfortable dining out or visiting the movie theater, but you better believe we've kept our tradition alive.
Not only are weekly date nights more of a priority than ever before, but during these unsettling times, we've learned to appreciate them on a whole new level. We've learned to get creative, embrace simplicity, and enjoy (and value!) each other's undivided attention.
Maintaining this sense of normalcy has also kept us sane and looking forward to something positive during a time when life feels more uncertain than usual. Most importantly, we've realized that you don't need to do anything fancy in order to have a memorable date-night experience. As long as you have each other, you have the makings of a special evening.
Ahead, find the date-night rituals I'm still maintaining even with nowhere to go. From my beauty prep to planning an activity, these routines have helped keep us on track and have made our at-home dates extraspecial and intimate.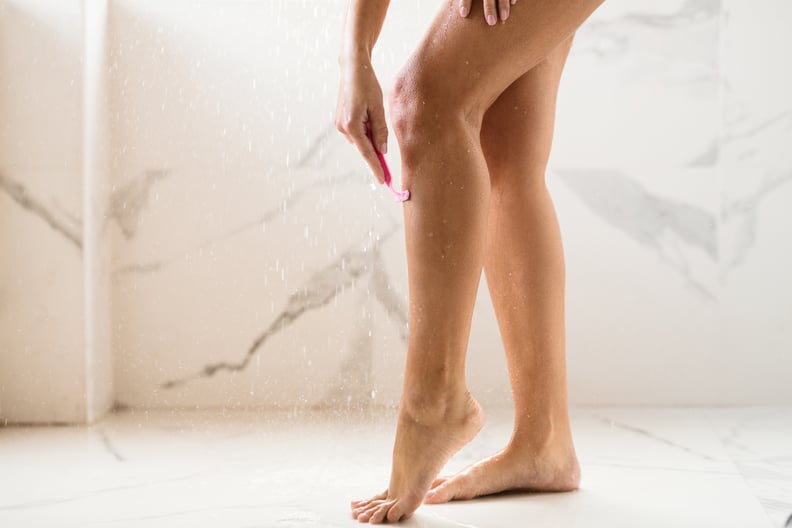 Showering and Shaving
Before any date night, I like to make sure my skin is silky smooth and that I'm feeling as fresh as possible. I'll take some time to clean myself up, shave, wash my hair, and treat my skin to a luxurious, moisture-rich experience.
I'm the type of person who feels more confident when I've shaved my legs (especially before a cozy evening in with my SO), but you do you! I love the close shave that the Skintimate Coconut Delight Disposable Razor gives me. It has a coconut-scented handle, a comfort strip with aloe and jojoba, and three blades that help me shave around every area with ease.
To elevate my shower experience even further, I use Skintimate Coconut Delight Shave Gel, which transforms my bathroom into a refreshing, tropical oasis. With the help of coconut water, vitamin E, and olive butter, I leave the shower with replenished, hydrated skin that's as touchable as ever.
I also keep Raspberry Rain Shave Gel and a razor with the same scent on hand, as well as Vanilla Sugar Shave Gel and its corresponding razor, so I can match a fragrance to my mood, making my shower time that much more relaxing and indulgent.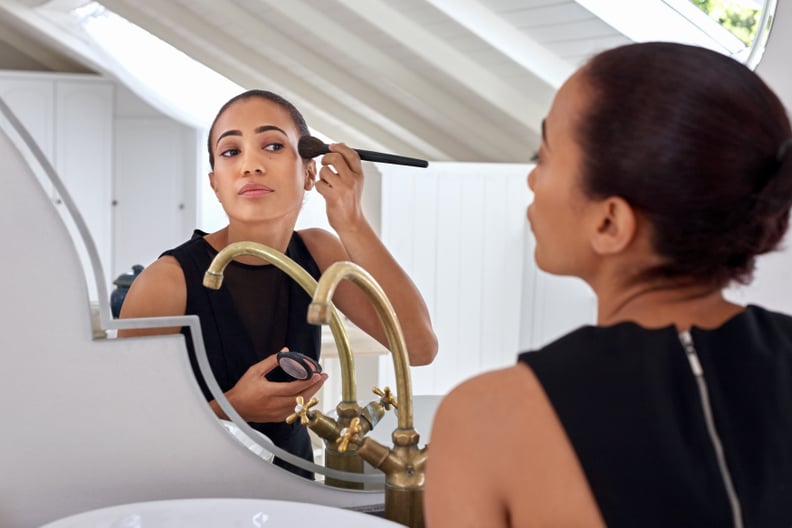 Taking Time For Beauty
As with any event, prep is key. And even if I'm not going anywhere, I like to apply a little something to make myself feel like I'm going somewhere more special than the couch! I'll give myself a mud mask, paint my nails, apply some makeup, and style my hair if I have the time. These self-care practices help me feel my best, boosting my mood and my confidence.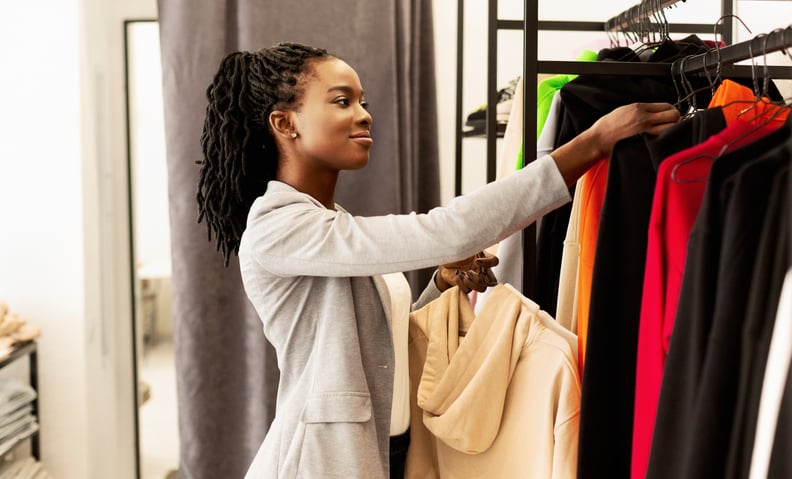 Getting Dressed Up
Try not to get hung up on the fact that this may not be the traditional type of date night you and your SO normally have. Instead, see it as the perfect excuse to dress up, and have fun with it! For example, rather than reaching for the same sweatpants my fiancé has been seeing me in every day, I like to switch things up and slip into something a little more stylish and exciting.
When I go the extra mile to look put-together, it helps differentiate the night from every other night in we've been having lately. Sometimes I add some jewelry into the mix if I really want to step it up, or I throw on a favorite dress, because why not? And if I've recently bought something new, now is the perfect time to bust it out.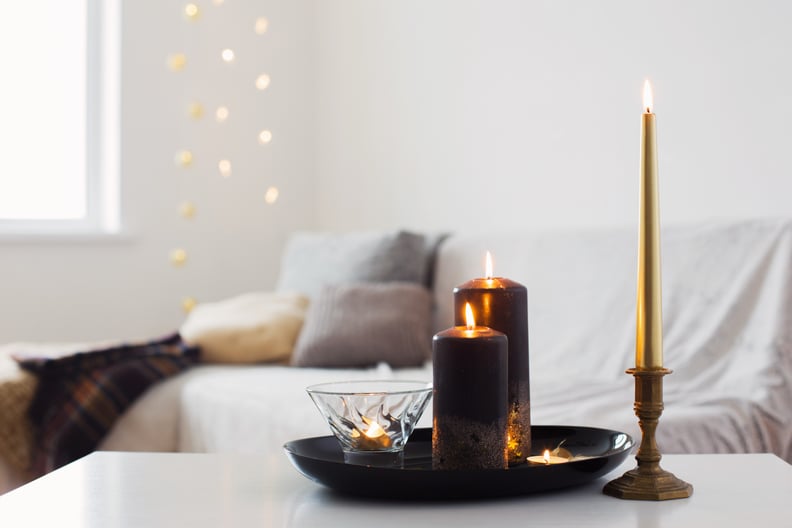 Setting the Mood
Creating the proper ambiance is essential for pulling off a memorable at-home date night. I find that the easiest way to jazz up our space is with candles. Flowers and string lights are also romantic options. We'll break out a tablecloth, place settings for our meal, and "the good" dishes to elevate our nights in even further. You can also play some music to set the tone, and make sure to limit distractions by silencing your phones.
Going All Out on Dinner
When you're staying in, the meal is usually the biggest, most important component of the evening. My partner and I take our date-night dinners very seriously, and whether we cook something together, order in, or one of us cooks for the other, we start planning what we're going to eat early on.
To create an authentic date-night experience, we'll make it a point to include an appetizer, a main course, sides, and a dessert. We'll splurge a little on ingredients or on food from a local restaurant, and we'll go all out — preparing whatever we're craving. It always ends up being a delicious meal we both look forward to.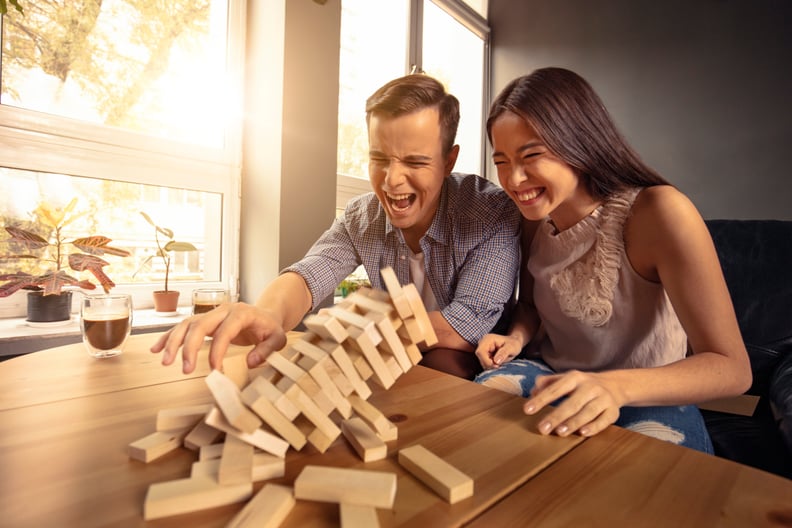 Playing Games
While our food is cooking or while we're waiting for it to arrive, we crack open our favorite brain-teaser puzzle book, a deck of cards, or a board game. These are the types of activities we typically reserve for date nights, which makes playing them even more of a treat. If we're feeling bold, we'll try karaoke and dance to nostalgic '90s music.
Pretty much every night at home consists of food and TV, so adding this activity ritual into our date-night routine is an essential step that keeps things fresh and interesting.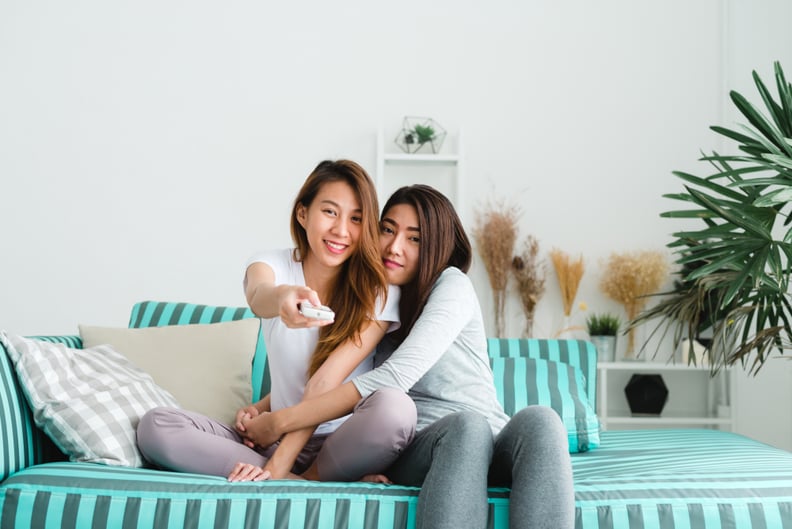 Cuddling Up For a Movie
My fiancé and I have a philosophy that TV shows are for the week while movies are for the weekend, starting with a movie on Friday night. We always end our date nights with a film we've been wanting to see. Earlier in the day, I'll spend time combing through options online, and I'll narrow it down to a few picks.
We usually opt for something scary and settle in with blankets and pillows. It's such a relaxing way to end the week and ease into the weekend. Plus, sitting close together on the couch (and having the freedom to talk or hit pause) is way more intimate than going to the theater.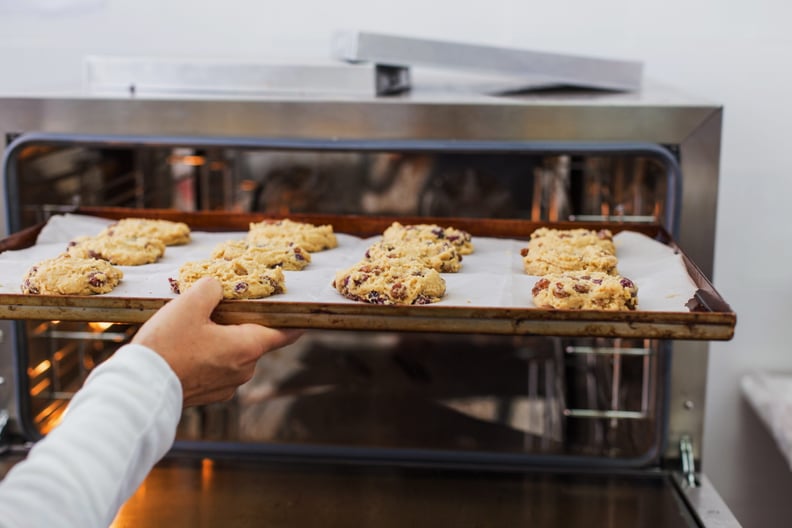 Indulging in Sweets
In our house, date night (or dinner for that matter) isn't complete without a little dessert. Whether I pop some cookies into the oven or we try a new ice cream flavor, a sweet treat is a must. Instead of popcorn, it's what we eat during our movie, and it serves as the perfect nightcap.