7 Baby Yoda Things You Can Buy at the Disney Parks That'll Make You Go, "Hey, Wittle Guy!"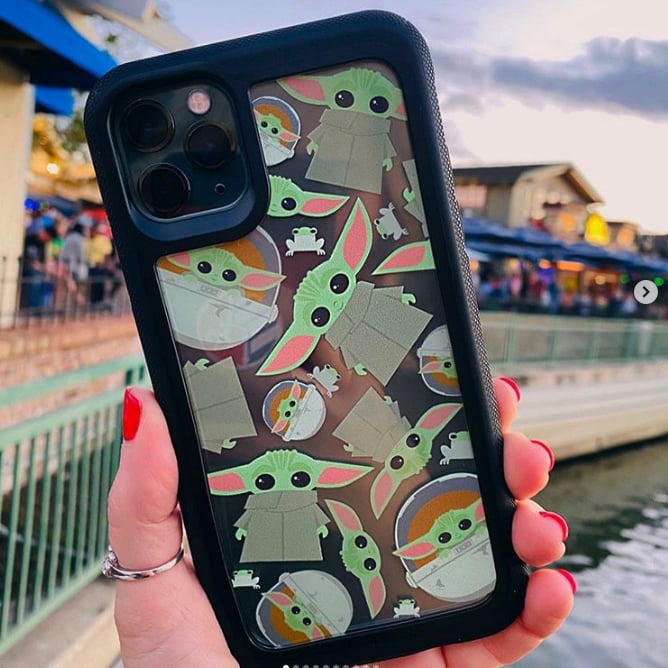 Ever since The Mandalorian premiered on Disney+ late last year, all anyone can talk about is "the Child," aka Baby Yoda. The adorable Star Wars character has become an instant icon, so it should come as no surprise that all over Walt Disney World and Disneyland, merchandise featuring the lil guy has been popping up! From spirt jerseys to phone cases, there are now multiple ways you can show off your love for Baby Yoda. For the best selection, you're going to want to head to World of Disney at either Disney Springs or Downtown Disney, but the merchandise can also be found inside the parks. Keep reading to see some of our favorite items!
01
The Child Spirit Jersey
Disney really went all in on this spirit jersey, which can be found at World of Disney at Disney Springs at Walt Disney World and Downtown Disney at Disneyland. The spirit jersey features Baby Yoda on the front and "The Mandalorian" written in dark blue across the back.
02
Baby Yoda Socks
There are two different styles of Baby Yoda socks available throughout Disneyland and Walt Disney World. One features the Child in his carrier on a cream background, and the other has an all-over Baby Yoda print on a navy background. For the best chance of finding these on either coast, be sure to look at World of Disney or at the store at the exit of Space Mountain.
03
Loungefly Backpack
While this one technically isn't The Child, it would be great for a Mandalorian Disneybound inside Star Wars: Galaxy's Edge. The backpack features a smiling Yoda in his distinct green coloring.
04
Baby Yoda T-Shirts
A variety of Baby Yoda t-shirts are popping up across Walt Disney World and Disneyland. They can be found in adult and kid sizes and feature a standing Baby Yoda in his carrier.
05
The Child Car Sign
If you're a new parent, you're going to want to head to D-Tech at Disney Springs to create your own "The Child on Board" car sign. The sign features Baby Yoda in his carrier and a space frog looking super cute.
06
Baby Yoda MagicBand
Available at Walt Disney World only are a variety of Baby Yoda MagicBands. We're partial to the one that says "Protect, Attack, Snack," but we also think the one with Baby Yoda all over it is super cute. You can find these at Launch Bay Cargo at Disney's Hollywood Studios, D-Tech at Disney Springs, and the store near Space Mountain in Magic Kingdom.
07
Baby Yoda Phone Case
This Baby Yoda phone case can be found at D-Tech at Disney Springs. The case features Baby Yoda in his carrier and standing up. At D-Tech, you can also customize MagicBands with Baby Yoda on them!