Here's How the Béis Mini Weekender Held Up as a Personal-Item Carry-On Bag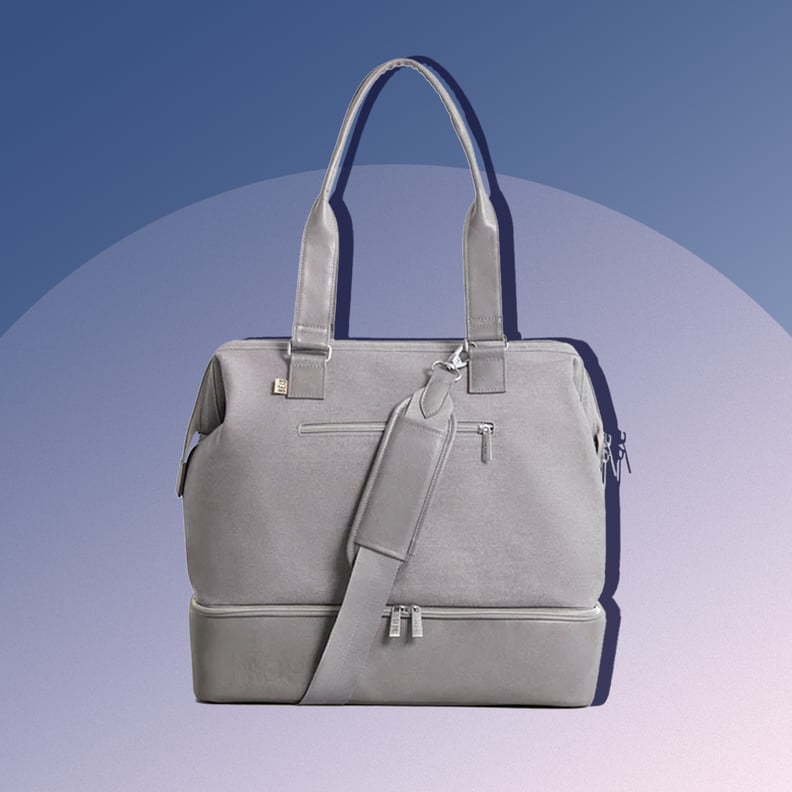 Béis Travel
Photo Illustration: Aly Lim
Béis Travel
Photo Illustration: Aly Lim
As POPSUGAR editors, we independently select and write about stuff we love and think you'll like too. If you buy a product we have recommended, we may receive affiliate commission, which in turn supports our work.
I've been traveling domestically more than ever, whether it's visiting family and friends or exploring a city or a beach on my bucket list. I'm a newly minted frequent flyer who's always on the hunt for the cheapest flight options. That usually means flying no-frills options like Spirit Airlines and Frontier or getting basic economy seating. Airlines are charging a pretty penny for carry-on luggage and checked bags, so I became determined to find the best personal-item carry-on bags, since it's the only bag we can carry that's free of extra costs.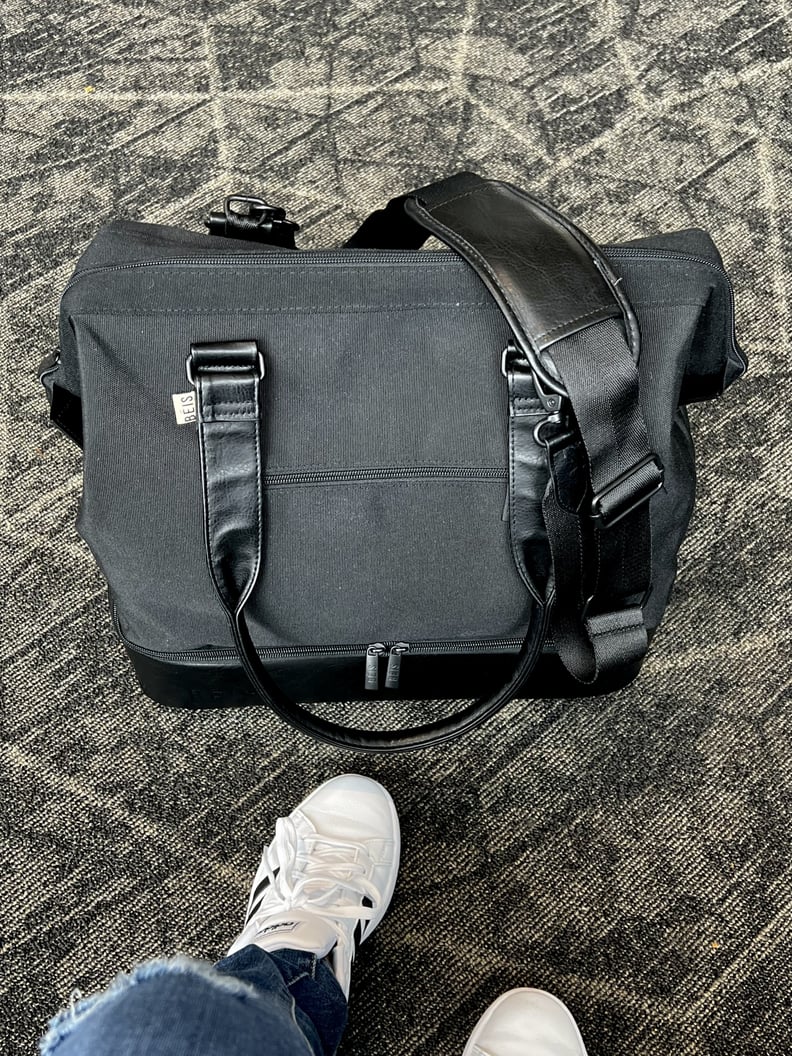 A while ago, I got to test out the bestselling Béis The Weekender Bag, and I loved how functional it was without compromising on style. When I found out the chic luggage brand was creating a mini version that fits the personal-item carry-on qualifications, I had to try it out. I went on a three-day trip to see my friends in DC and flew United Express with basic economy seating. It was the perfect time to test out the Béis Mini Weekender ($98) bag during a flight-bound experience. Last time I got the elegant beige color, and my only gripe was that it scuffed up easily; this time, I got the sleek all-black version.
What I Like About the Béis Mini Weekender
I adore my original Weekender bag, so I had high expectations for the mini version. This bag does not disappoint, especially as a personal-item carry-on bag. For starters, the Béis Mini Weekender Bag has the two main features I loved from the original version: the double-zip shoe compartment and the pass-through trolley sleeve. Plus, this bag has a padded, built-in laptop sleeve; two exterior zip pockets; a large zip pocket on the inside; as well as two small slip pockets. It even has a key-ring strap where you can attach pouches, keys, or your wallet for easy access.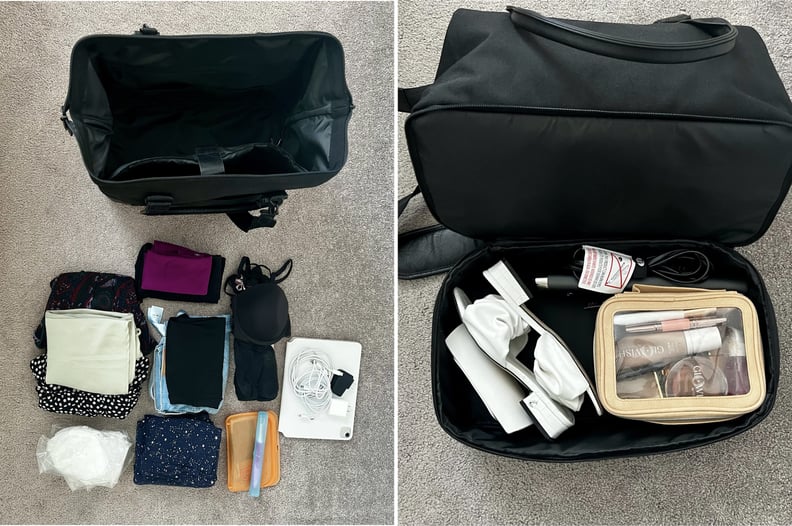 With this organizational setup, it was easy to consolidate, fold, and pack my things. The top section fit three dresses, a pair of leggings, two tank tops, jean shorts, undergarments, socks, a set of pajamas, a small pouch of medications, and plenty of KN95 masks. This was more than what was needed for the three-day trip, but you can never deny the benefit of having options. I used the two slip compartments to store my charging accessories and toothbrush and other toiletries. The internal zip pocket came in handy when flying back; I used it to separate my dirty clothes. I kept my iPad in the padded laptop sleeve. The bottom shoe compartment fit a pair of Circus by Sam Edelman Janis Sandals, my flat iron, and my makeup case, featuring a few skin-care products, contacts solution, a tiny hairbrush, and my go-to makeup. I had enough leftover room to pack a few snacks and put my handbag inside.
The Mini Weekender Bag has top handles and a removable and adjustable crossbody strap, making it easy and convenient to carry around. I appreciated the thick and cushioned padding on the longer crossbody strap as well as rolled top handles. Another clever feature is the expandable, clamshell-like zip-top opening of the top compartment. The bag opens up quite wide, so you can easily see and access your stuff and take out your electronics, which came in handy when going through security. It also has metal feet on the bottom, so it can stand up on its own without slumping over and slouching.
What's Worth Nothing About the Béis Mini Weekender
Although the Béis Mini Weekender has the space to pack extra stuff, including backup clothing and shoes, that doesn't mean you should. Like the original Weekender bag, this bag does not have wheels, and you should pack according to how much weight you can carry. If this is the only bag you're carrying, it's best to pack smart and light so you won't feel tired or topple over from carrying excess weight. However, if you're bringing a suitcase, make life easier and slide the Béis bag on top using the zipper-pocket trolley pass-through sleeve on the back.
Another thing to keep in mind is that traveling is rough. The bag will get shoved underneath seats and into the TSA conveyor belts. It'll bump into seats and walls, inevitably going through the wringer. It's no surprise that the bag will most likely endure a few scuffs. I intentionally chose black so wear and tear aren't noticeable. The other colors that are lighter are so chic, but it's something you should consider when choosing your shade preference.
Who Is the Béis Mini Weekender Best For?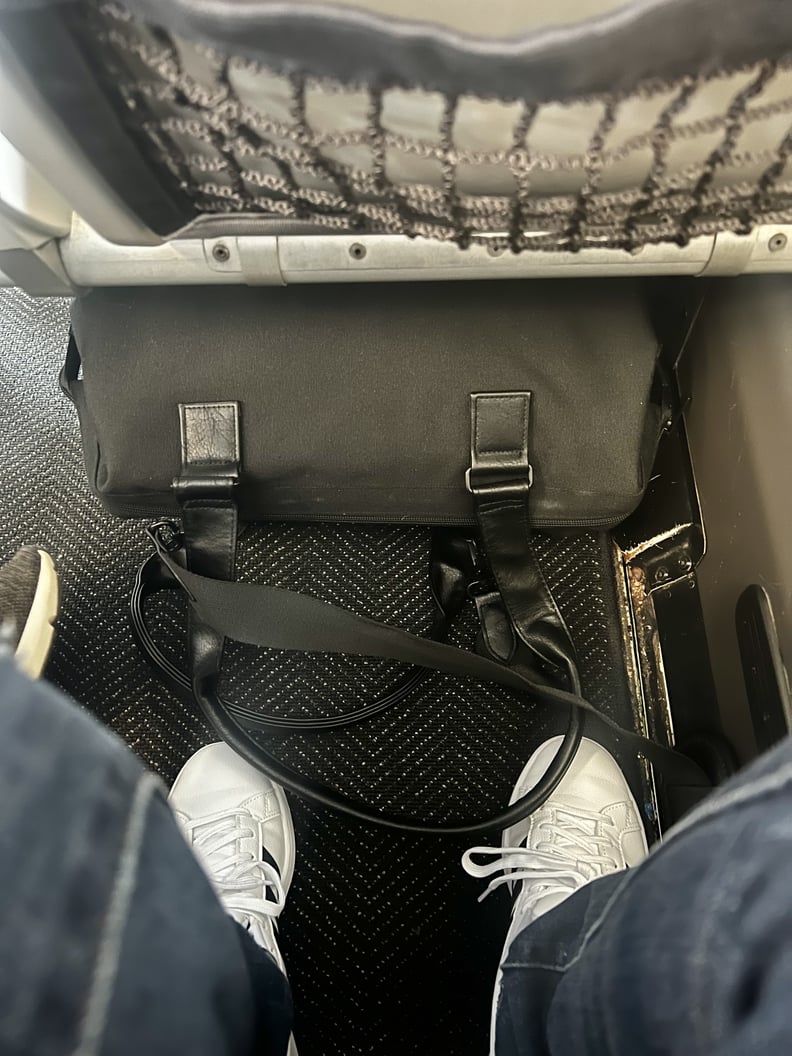 The Béis Mini Weekender is ideal for any traveler, whether you're a frequent flyer or someone who goes on the occasional vacation. It is great for overnight trips and was a dream to use on my quick weekend getaway. The dimensions of this bag fit most airline requirements for a personal-item bag. For my United Express flight, it perfectly slides horizontally underneath the seat in front of me. I was able to tuck the straps underneath the bag as well. If you prefer to fly the cheapest options (Spirit Airlines, Frontier, or basic economy seating), this bag will be your go-to for fitting all your vacation must haves and in-flight necessities.
Is the Béis Mini Weekender Worth the Splurge?
With the costs of air travel increasing and the extra fees for carry-on luggage and checked bags, it's worth investing in a quality personal-item bag that can fit all your quick-trip needs. The price point of the Béis Mini Weekender bag is around the same as checking your bag for a round trip. If you love the features of the original Weekender bag as I did, this is no different. It has the separate sturdy shoe compartment and the trolley pass-through sleeve. This bag is just a smaller version of the original, so obviously, it can't fit as much. However, it fits the right amount of clothing and necessities for a three-day trip, including a few extra outfits if you pack smart (like dresses and repeatable wardrobe essentials). The original Weekender bag fit both mine and my dad's stuff; the Mini Weekender bag only fits my things. It has a few internal and external pockets that make it easy to find my things and organize my bag. In fact, after testing out the original Weekender and the Mini Weekender, I find myself utilizing the Mini Weekender more because it fits underneath the aircraft seat.
Additional Details
The Béis Mini Weekender is around 16 inches wide, 16 inches tall, and eight inches deep.
It has a 33-liter capacity and weighs 3.4 pounds on its own.
The Mini Weekender bag comes in nine colors: black, navy, gray, beige, atlas pink (pastel pink), berry magenta, citron lime green, creamsicle orange, Barbie pink.
It has a polyester canvas body with a 100 percent polyester lining and a vegan leather trim.
It's also available in a convertible version ($118) that lets you to take off the shoe compartment completely.
Where Is the Béis Mini Weekender Available?
The Béis Mini Weekender is available on the brand's site and Revolve ($88).
Rating:
★★★★★