Béis Weekender Bag Review
Here's How the Béis Weekender Bag Holds Up During a 3-Day Trip
As POPSUGAR editors, we independently select and write about stuff we love and think you'll like too. If you buy a product we have recommended, we may receive affiliate commission, which in turn supports our work.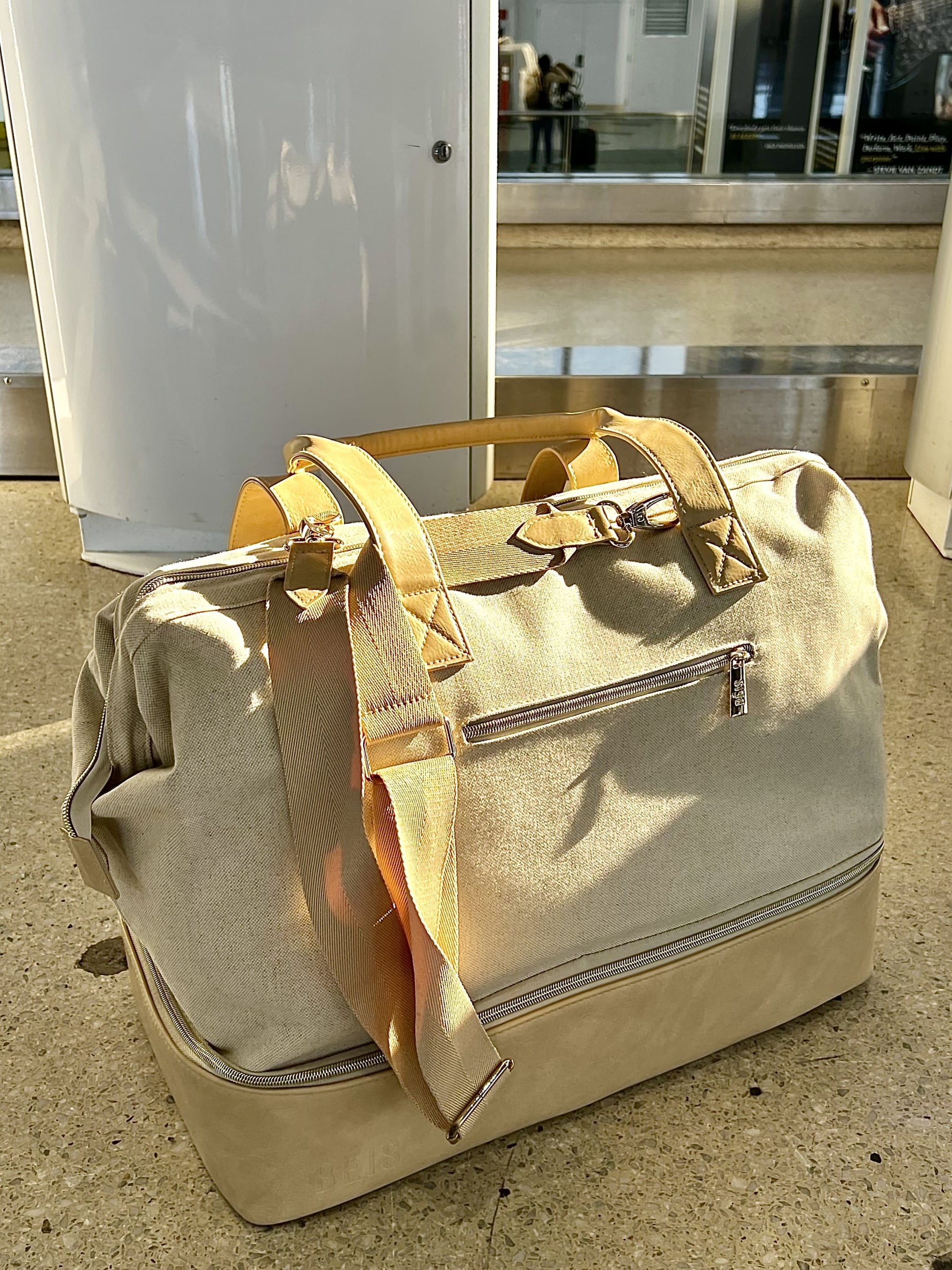 The Weekender Bag ($98) is the first travel bag that Béis created and instantly became a bestseller. It's chic and functional, something that's quite rare in the luggage world. Founded by Shay Mitchell, whose Instagram is #travelgoals, Béis was created to make traveling and everyday life easier with bags and accessories that keep your things organized without compromising on style. I'm instantly drawn to celeb-owned brands, so I needed to put the beloved Weekender Bag to the test.
My dad and I had to take an impromptu trip to Florida, and it was the perfect time to test it out during a flight-bound experience. The bag has two main compartments: a flexible tote-like section on the top and a sturdier, PVC-bound bottom compartment. The top part has an interior padded pocket for laptops and tech accessories, plus an internal zip pocket. The exterior has an easy-access zip pocket in the front, where you can keep boarding passes, passports, extra protective masks, and more. The bag also has an exterior pocket at the back that doubles as a trolley sleeve, so you can easily secure this bag onto a carry-on suitcase. It also has metal feet on the bottom, so it can stand up on its own without slumping over and slouching. The Weekender Bag has longer top handles so you can wear it like a shoulder bag, plus a removable, adjustable crossbody strap.
My Packing Experience With the Béis Weekender Bag
According to the website, the Béis Weekender Bag was designed to take the hassle out of packing for the weekend, and this bag definitely did so. It fit everything we could need for the weekend and then some. In the top tote section of the Weekender Bag, I was able to fit my clothes, my dad's clothes, two thin towels, my iPad, and a small pouch holding my tech accessories. I packed two tops, two pairs of jeans, two dresses, and a pair of PJs, plus undergarments. My dad packed two pairs of jeans, shorts, three collared shirts, and PJs, plus undergarments. The bottom compartment consisted of my dad's toiletries, my toiletries, my skin-care pouch, my makeup bag, my flat iron, my mini hair dryer, and a pair of dressy shoes. The separation between the two compartments was very helpful in packing things in an organized way.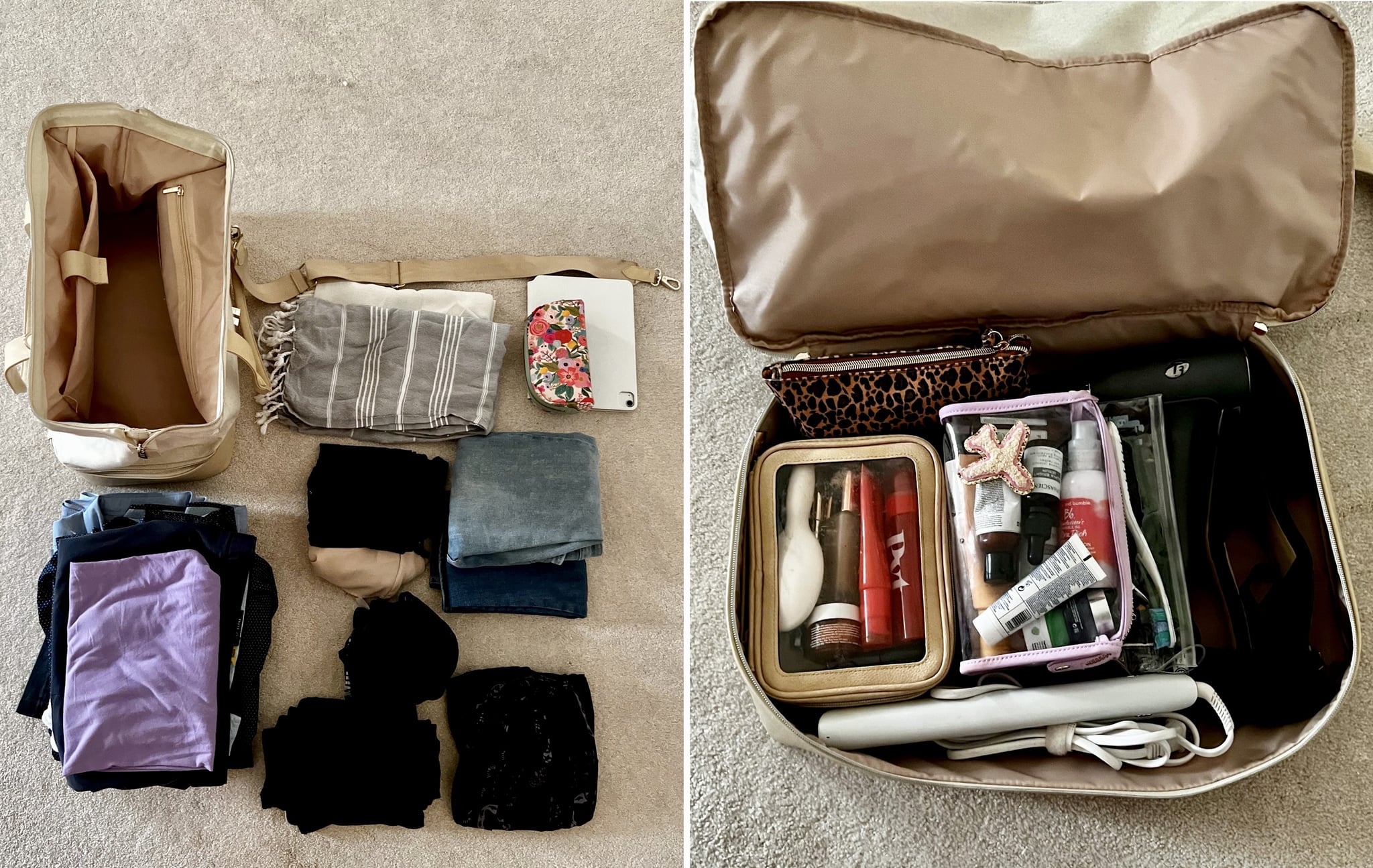 Although the bag can fit a lot without compromising on organization, that doesn't mean you have free rein to pack everything. Unfortunately for me, I am a chronic overpacker — but, in my defense, you can never be too prepared, especially while traveling. I'm 5'1", and although I'd like to think I'm Lady Thor or She-Hulk, there's only so much I can lift and carry without toppling over. Since it does not have wheels, you have to pack according to how much weight you can carry, especially if this is the only piece of luggage you're using. If you're using another suitcase equipped with wheels, you can pack as much as you want and simply slide the Béis bag on top using the zipper-pocket trolley sleeve on the back.
Is the Béis Weekender Bag Worth Buying?
I really enjoyed using the Béis Weekender Bag for my short trip to Florida. It fit everything my dad and I needed for the weekend, plus an extra outfit each. But the best part of this bag is its versatility. It's ideal for a quick weekend trip on its own, but it's also great as carry-on luggage for a longer trip, whether you're flying or driving. I even used it to store and pack everything I needed for my best friend's wedding. I loved distinct sections for clothes and more delicate items vs. heavier, durable items like shoes, hair tools, and toiletries. The trolley passthrough sleeve in the back is one of the most clever features of this bag.
On the way to Florida, I had to check in the bag, and on the way back, I was able to use it as a carry-on bag on the flight. The flexibility of the top section was ideal for storing the bag in the overhead compartment without taking up too much space. However, checking in the bag was not ideal, since it caused a few scuffs and black marks all over the bag. In hindsight, I wish I got the all-black Weekender Bag. Although the beige looks so stylish, luggage tends to get dirty and beat up pretty easily, and the color doesn't do it any favors. At least the black shade can hide the wear and tear better. If the next iteration of the Weekender Bag has wheels, it would be chef's kiss perfection. The Béis Weekender Bag is a great travel bag to have on hand for its multifunctionality and versatility. It's not as bulky as a traditional carry-on suitcase, yet it can fit as much and keep things organized. It's great to have on hand for local or domestic trips, yet it can be put to use for longer, international travel as well.
Ratings:

Image Source: POPSUGAR Photography / Anvita Reddy